Issues
Accelerating the connected digital future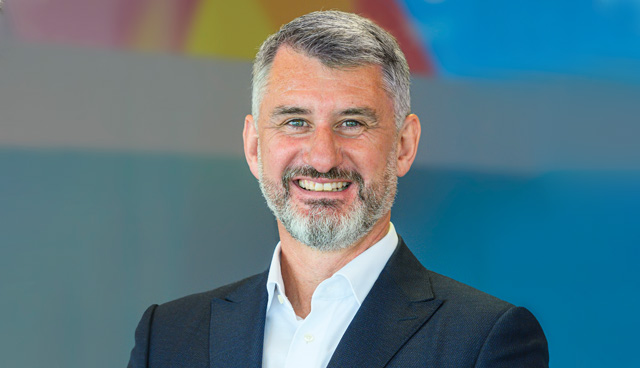 Inadvertently, the Covid crisis along with the advent of 5G, have coalesced to accelerate the connected digital future. In this context, head of public sector sales with Three Ireland, Ken McGrath, sits down with eolas to discuss the recent evolution of communications technology and its associated opportunities.
With close to 20 years of experience working in the public sector space, McGrath pinpoints the past two years of his career as the most interesting to date. In that time, the Covid pandemic has necessitated the digitalisation of existing services and the swift introduction of several nascent ICT solutions across the public sector. Specifically, McGrath identifies the emergence of 5G as having unlocked previously untapped potential.
"Having joined Three Ireland in 2019, I have seen how Covid-19 has accelerated the advancement of a connected digital future. In this regard, I am excited about the opportunities offered by the solutions Three has brought to the public sector market.
"Connectivity is critical and has become the lifeblood for Ireland over the past 18 months. Having a robust and resilient communications infrastructure is fundamental to the public sector. As such, the investment being made in mobile technology is crucial to continuity of service across that sector.
"We have seen huge advances in the way that public sector organisations are seeking our services. Three Ireland has been particularly successful in the spheres of local government and central government. Our significant network footprint is driving this," he asserts.
Accordingly, Three Ireland annually invests over €100 million into its network "to ensure we continue to deliver the best experience and service for our customers". To date, it has invested over €2 billion in its business in Ireland, including €700 million since 2015 in upgrading and expanding Three's network and IT infrastructure, including a significant digital transformation project.
Network
Three has been named by Ookla® as Ireland's Speedtest Award™ winner for the fastest mobile network, Three was also designated Ireland's Speedtest Award™ winner for the fastest 5G mobile network. Indeed, the speed score achieved by its 5G network exceeds the corresponding speed score achieved by any fixed broadband provider in Ireland.
As of March 2021, Three Ireland has captured a 36.8 per cent share of the mobile operator market, representing 2.6 million customers. With a population coverage of 99 per cent for its 4G network, Three carries 60 per cent of all mobile data in Ireland on its network and launched its 5G network in 2020 which it consciously made available to customers in every county.
With speeds that are up to 10 times faster than 4G, the real advantage of 5G offers lower latency or almost instantaneous connectivity. Lower latency translates into an enhanced performance when using applications that require 'always on' connectivity. Typical examples include videoconferencing platforms, media streaming services and new IoT connections. While they do not require large bandwidth, they are time sensitive in terms of application.
5G opportunities
Outlining the opportunities associated with 5G, McGrath emphasises the public sector experience of pivoting to remote working in response to the onset of the pandemic and considers the future of work post-pandemic.
"As we journey through the Covid-19 pandemic and seek to emerge out the other side, the profile of how people are pursuing their work lives and personal lives has dramatically changed," he says, adding: "While the National Broadband Plan is an ambitious project, delivering ubiquitous coverage will take until 2027. However, 5G mobile services are an alternative, providing broadband speeds from a wireless service.
"The Covid crisis encouraged people to move out of the urban centres and relocate to different parts of the country. Having 5G broadband with the same speeds and a more reliable service than a wired service provides the flexibility to work anywhere, mitigating the dependency on having a wired or fibre connection to a location. Therefore, 5G is set to change work and social patterns forever."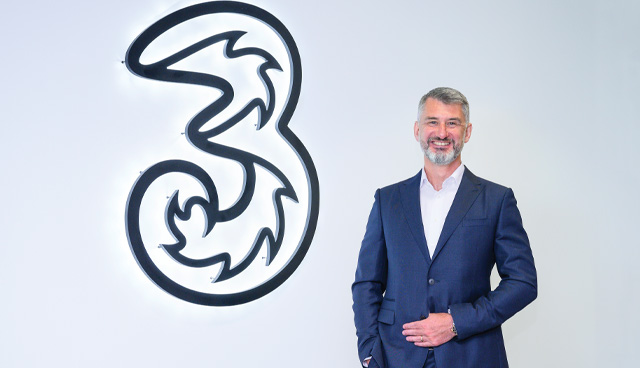 "I have seen how Covid-19 has accelerated the advancement of a connected digital future. In this regard, I am excited about the opportunities offered by the solutions Three has brought to the public sector market."
Providing the best 5G network in the country that can enable high-bandwidth services, irrespective of a person's location, therefore, is a key objective for Three Ireland and of significant importance to its public sector customers. Regarding the adoption of its 5G network, Three Ireland is observing an average monthly usage increase of 22 per cent.
"With 63 per cent population coverage and continued expansion each week, the 5G footprint is not merely concentrated in urban areas. Rather, 60 per cent of our sites are in suburban and rural communities. Alongside our consistent approach and dedicated 5G radio spectrum across over 750 sites, we are providing a better-connected life to customers across Ireland," McGrath outlines.
Overall, therefore, 5G is set to enable an increasingly digital and remote society in the years prior to the completion of the National Broadband Plan and mitigating the digital divide between urban and rural areas.
Collaboration
In July 2021, Three Ireland announced its partnership with Glanbia and Ericsson, to introduce smart manufacturing within Glanbia's flagship plant at Ballyragget, County Kilkenny, through the installation of an indoor 5G network.
Consequently, the 5G network solution will inform more agile and accurate maintenance within the plant while negating manual administrative tasks and providing more detailed analysis of plant processes.
"This rollout demonstrates the utilisation of 5G in a live manufacturing environment, developing further use cases for future cross-sectoral application. Connectivity is critical to the predictive maintenance in the plant along the supply chain, maximising production uptime. It will also create new insights that may not have been captured until now," McGrath explains.
People
While Three Ireland's network is the foundational stone of connectivity, the head of public sector sales is keen to emphasise that investment in people is equally important. In praising the work of the wider Three team, he outlines that its central ambition is to work together to exceed customer expectations through the delivery of connectivity solutions that ensure the optimal experience for their customers.
"While it is great to have a fantastic network, it is even better to have the people in place to support customers who come onto that network. Our people are instilled with an attentiveness to the needs of the customer, and we have a continued focus on retaining those customers, while embracing the opportunity of winning new customers," he affirms.
Through proactive management of customer relationships, the public sector sales team seeks to understand its customers' ambitions and demonstrate the best possible connected experience offered by Three.
"Our public sector sales team is dedicated and passionate about their customers," McGrath remarks, continuing: "We are supported by a wider and more extensive team – from product managers to our customer service centre colleagues in Limerick – which are equally passionate and play a critical role in ensuring firstly, that we listen to our customers and secondly, that we respond to their needs. We take that seriously as part of our continuous improvement programme."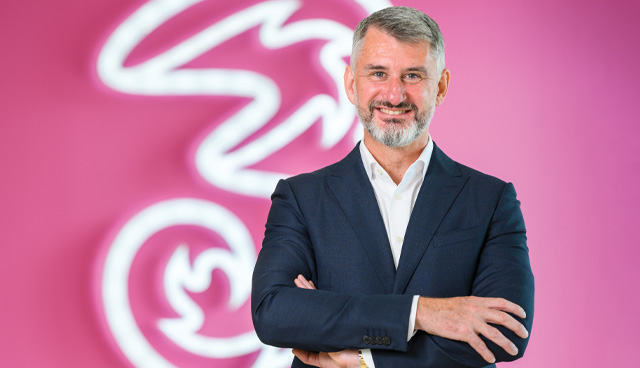 Three Ireland collaborates with Behaviour & Attitudes Limited to capture 360-degree feedback from customers. In recent reports, Three Ireland has attained the number one position across several key metrics including: customer care; propositions, billing, and account management.
"We are invested in and motivated by the success of our customers. We understand what they are trying to achieve and when they are successful, we are successful. It is a hand-in-glove relationship," McGrath adds.
Use cases
Alongside several other state agency customers, the needs and strategic direction of the HSE were radically altered by the pandemic and the subsequent shift to remote working. As its staff were dispersed across the country, the requirements of the organisation became more immediate, and a more personalised service was necessitated. This included Three's provision of mobile broadband and other services such as the Healthmail communications platform which migrated to the cloud in 2020.
"Three Ireland had to adapt and change in response, creating dependencies right across the organisation from logistics, products, services, and support. Very often the timeframes could be quite aggressive because of the huge shift from a traditional way of working to a new way of working. The public sector sales team was able to pivot to meet the new requirements of our customers," McGrath notes.
A similar scenario unfolded in the education sector where many of the education and training boards sought to maintain the delivery of services while finding themselves unable to utilise traditional infrastructure. In this case, the delivery of soft clients onto a mobile device recreated the office experience and helped maintain a full service.
Likewise, for organisations such as Three's charity partner Aware, the support and education service for those impacted by anxiety, depression, bipolar disorder and related mood conditions, whose counsellors and agents were unable to enter their main premises, enabling a soft client on a mobile device ensured flexibility around scheduling and the availability of staff from anywhere across the country, especially at a time when mental health services became increasingly in demand.
"Subsequently, the 360-degree feedback that we have received from customers indicates that our ability to respond with agility to their needs is greatly appreciated. This feedback gives everyone a lift because instinctively we want to do a good job. A rising tide lifts all ships," the head of public sector sales reflects.
Solutions
Covid and the increase in ransomware attacks have had a catalytic impact on the digital advancement of the public sector business, while engendering an appreciation of the services that Three Ireland can provide to match this evolution.
While historically there was a perception that Three Ireland was purely a mobile provider, its unique suite of business solutions, including converged connectivity, collaboration, mobility and IoT solutions, enable public sector organisations to seamlessly transition to new ways of working.
"With 63 per cent 5G population coverage and continued expansion each week, the 5G footprint is not merely concentrated in urban areas, 60 per cent of our sites are in suburban and rural communities."
"This suite is demonstrating that Three Ireland has listened to our customers' needs and is delivering solutions that provide flexibility, cost benefits, continuity of service and, most of all, smooth interactions with stakeholders.
"Already, with over one million connections or a 58 per cent market share, Three is the top provider of IoT in Ireland. Meanwhile, the value and strength of solutions such as 3Connect, 3Communicate and 3Mobile Protect have been proven over the last 18 months as customers experienced their tangible benefit," McGrath insists.
3Connect
Traditional organisations may have a private branch exchange or a PBX, which is an on-premises solution which restricts the delivery of telephony services to that location. 3Connect disaggregates a PBX to a fully hosted phone system, ensuring seamless communication regardless of where employees are located or the devices they use. "This ensured continuity of service throughout Covid and proved very successful, particularly for instance, for Louth and Meath Education and Training Board," he highlights.
3Communicate
Similarly, 3Communicate is a multi-channel communications platform for large and small organisations alike. The platform can facilitate internal communications with employees alongside public information delivery to customers, via bulk SMS.
"When the HSE fell prey to a ransomware attack, 3Communicate was used to connect with and engage employees as a trusted channel, helping to alleviate some of the concerns in relation to the organisation's communications," McGrath adds.
3Mobile Protect
In addition, 3Mobile Protect defends mobile devices from cyber threats such as phishing and malware. At the same time, its advanced filtering enables organisations to block non-work-related content such as social media, gambling, and other inappropriate websites, while establishing caps on domestic and roaming usage.
"When remote working was introduced, the boundaries of organisations were no longer confined to a building. 3Mobile Protect is a critical solution which guarantees the integrity of a company's devices from cyber threats. We have listened, we have seen the risks and enabled a solution that's easy to deploy, cost effective and proven it can address those issues."
Innovation
As the Irish telecommunications arm of multinational technology conglomerate CK Hutchison Holdings, Three Ireland has the expertise and backing of a global organisation to mature its solutions and bring them to market.
Looking ahead to the next 12 or 18 months, the head of public sector sales highlights the potential of the solutions that Three Ireland will deliver as 5G services are consolidated. "Three Ireland has already undergone a significant journey over the last 18 months, proving the solutions that have already been brought to market, as well as incubating new solutions. Informed by customer feedback, Three Ireland has prepared a portfolio of solutions ready to benefit both public and private sector organisations," he states.
Vision
Looking ahead to his vision for public sector sales, McGrath maintains a simple mantra: "Keep doing what we do and acquire more customers." Cognisant that it is operating in a highly competitive space, Three Ireland is continuously thinking of new ways of exhibiting unique value when compared with its rivals.
"We aim to be recognised as the number one solutions provider for telecommunications services across the public sector in Ireland. Three is committed to investing in our network, our people and our solutions to continue to provide value for the public sector that ultimately delivers on their success," he concludes.
---
Profile: Ken McGrath
Ken McGrath is Head of Public Sector Sales at Three Ireland. Ken has been in the role since 2019, having joined from Eir where he was Head of Public Sector Sales for five years. Prior to that he held the position of Sales Director Ireland & Benelux with Adtran for two years. From Galway, Ken holds a bachelor of business studies, Galway Mayo Institute of Technology (GMIT).