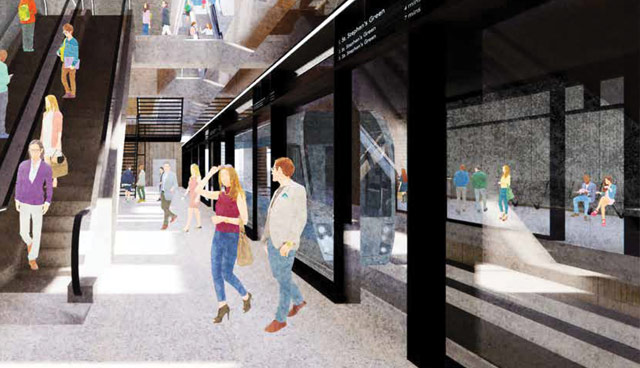 Just over a year ago, the Project Ireland 2040 – National Development Plan was published with funding earmarked for projects such as MetroLink, BusConnects and DART Expansion. This meant that we could, for the first time in a long time, begin to look forward to a public transport system that would meet the needs of a dynamic, vibrant and competitive economy and that would deliver for the people of Ireland, writes Anne Graham.
The last 12 months or so have seen some dramatic developments in terms of public transport plans for Ireland. With funding now becoming available for major infrastructural improvements in our public transport network, work in earnest is now underway in turning them into a reality so that we can tackle the bottlenecks and the congestion that are impeding our progress as a country.
As a result, implementation of the NTA's "Transport Strategy for the Greater Dublin Area, 2016-2035" is beginning to gather momentum. This is good news for people who have found it increasingly difficult to get to about using public transport which has become more and more delayed as a result of congestion.
It is also good news for our environment, and with the recent Oireachtas Climate Change Committee Report, calling for accelerated investment in public transport projects, we believe that we our plans can make a difference when it comes to tackling greenhouse gas emissions.
Under Project Ireland 2040 these major public transport projects are to become a reality:
MetroLink
DART Expansion
Bus Connects
Cork Transport Strategy
The completion of these projects over the next 10 years or so will be good news for the travelling public, good news for communities that will be served by a vastly-improved public transport network, and good news for the country. It will also be good news for the construction sector and for the various industries and sectors that feed into that, and with several billion euro earmarked, the level of activity from that point of view will be significant.
MetroLink
A metro for Dublin has long been mooted as a piece of transport infrastructure that needs to be delivered. Last year, with Transport Infrastructure Ireland, we published for consultation, the Emerging Preferred Route for Metrolink.
That route was to run between Swords and Sandyford, connecting key destinations along the route, including Dublin Airport and the City Centre. The plan also provided for an upgrade to Metro standard of the Luas Green Line, south of Charlemont.
There was a very positive level of engagement and we received almost 8,000 submissions from members of the public during the consultation process.
Members of the public took the opportunity to draw attention to concerns they had around matters such as the siting of excavation sites, continued permeability in residential areas, and existing public transport services. They also took the opportunity to let us know how important they feel the project is for the future of Dublin and for their communities.
In March 2019, we published a revised plan that we believe reflects the concerns raised.
Among the most significant changes is the proposal that the construction in the Mobhi Road area will be on a smaller scale than previously and will no longer require the acquisition of the pitch belonging to the local GAA club, Na Fianna.
During consultation a concern arose about the need to close the Green Line for a prolonged period during an upgrade. Acknowledging these concerns, an alternative approach has been developed that allows the new section of metro line to be built now, with the Green Line conversion to metro, to occur at an appropriate point in the future.
In the city centre, changes have been made to the plan that will reduce disruption and make it easier for other public transport services to continue to operate during construction.
In O'Connell Street, an opportunity has arisen to create an integrated station, under what was the old Carlton cinema and that surrounding area. The location and construction of this station in the original proposal would have presented a significant challenge to Luas services, bus services, and vehicular traffic on O'Connell Street. We are working with the owners of this property with a view to including the station within the proposed development.
Disruption in St Stephen's Green area will also be reduced under the new plans. This station will be located as previously proposed at St Stephen's Green East, but we are now moving it slightly south so that Hume Street can remain open during construction, and slightly west so as to avoid closing the road during construction.
It is expected that a Railway Order application will be made in 2020, with a decision from anticipated the following year. Construction is likely to take six to seven years.
There are very significant benefits associated with MetroLink, particularly in terms of the integrated transport system that it will bring about for Dublin. For example, thanks to MetroLink, there will finally be a rail link to Dublin Airport, and with easy interchange with other modes including bus, DART and commuter rail, MetroLink will make it easier than ever to move into and around the capital.
It is also of benefit in providing a more sustainable transport alternative and by providing a great incentive to get people out of their cars and on to public transport.
DART Expansion
The DART Expansion Programme is a series of projects that will create a full metropolitan area DART network for Dublin with all of the lines linked and connected.
Under Project Ireland 2040 we are prioritising investment in the non-tunnel elements of the DART programme particularly as Phoenix Park tunnel is now operational and connects Kildare line to Maynooth line and DART. This will enable additional DART services to be put in place much earlier, using existing infrastructure with some enhancements.
We believe that DART can be expanded, initially at least, without electrification. This can come by using electric and bimode train sets that can operate as electric or battery powered sets. Iarnród Éireann is about to commence a procurement process for rail fleet that will do precisely that.
This integrated rail network will provide a high-capacity, high-frequency electrified rail system for the region and will deliver a very substantial increase in peak-hour capacity on all lines from Drogheda, Maynooth, Celbridge/Hazelhatch and Greystones.
The route for the remaining element of the overall DART Expansion Programme, the DART Underground Tunnel, will be established and protected to allow for its future delivery.
BusConnects Dublin
Bus is by far the most popular mode of sustainable transport and we anticipate that will remain so. At the heart of the BusConnects project is our proposal to develop continuous bus lanes, as far as practicable, along the busiest bus corridors in Dublin and the regional cities.
Overall, the proposal envisages the provision of about 230 kilometres of bus lanes on sixteen of the busiest bus corridors in Dublin.
At present, these busy corridors only have dedicated bus lanes along less than one third of their lengths. This means that for most of the journey, buses are competing for space with general traffic and so are affected by the increasing levels of congestion. This delays services causing real frustration for people looking for consistent and predictable journey times. It also makes the overall system less efficient, less reliable and less punctual.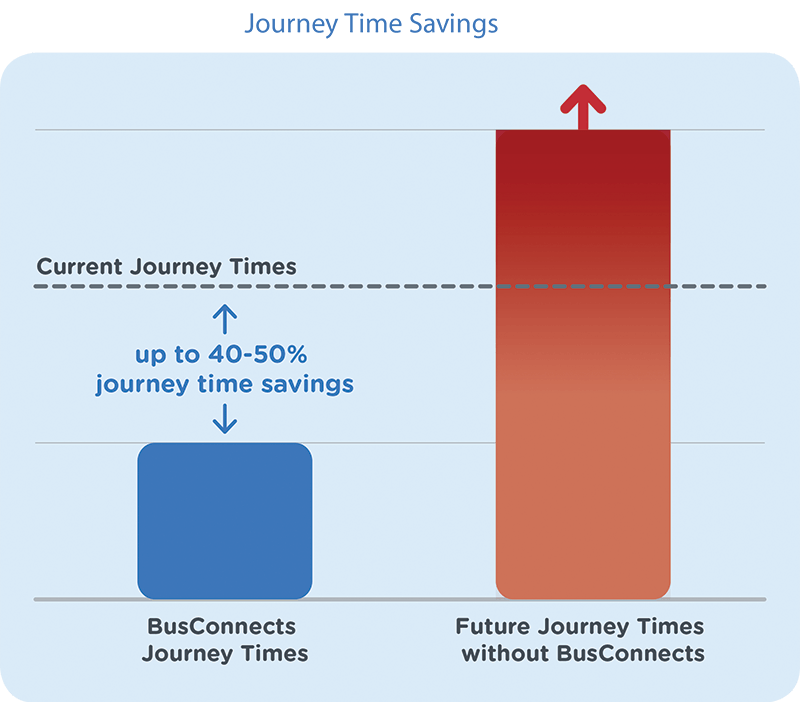 These new bus corridors will deliver a transformation in the performance of these routes, making it easier and quicker for passengers to come and go by bus.
We want to remove the current delays and uncertainties, so that in the future, bus journeys will be faster, more punctual and more reliable. That's what we mean when we talk about a vastly improved service for passengers.
In addition, we also want to provide a dedicated cycle track on each side of the road, providing safe cycling facilities, segregated from other vehicular traffic.
Under BusConnects we will see:
bus journey time savings of up to 40-50 per cent;
a more reliable and punctual bus services; and
capacity to carry an additional 50 per cent above the current 140 million passengers per year.
Public consultation on Emerging Preferred Routes for these corridors is drawing to a conclusion.
Cycling
BusConnects is the single biggest cycling infrastructure plan in the history of the state, 200kms of cycle tracks/lanes, and delivery of the BusConnects corridors will provide the foundation of the overall Greater Dublin Area cycle network plan.
In addition, the Liffey Cycle Scheme presented to Dublin City Council by NTA in April, has been greeted very positively. The Liffey Cycle aims to provide a safe, continuous and segregated 5km long-cycle facility in both directions between Phoenix Park/Heuston Station and the Tom Clarke East Link Bridge.
This plan means there will be safer cycling facilities and an improved environment for pedestrians along the Liffey and we believe that this will encourage more people to cycle and walk as part of their daily commute.
To increase the delivery rate of cycling infrastructure NTA will set up a dedicated Cycling Office later this year.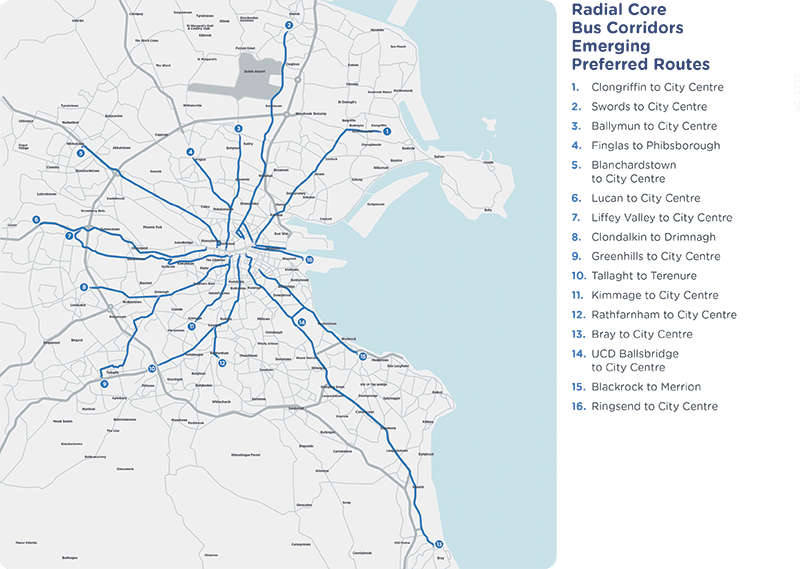 Cork Transport Strategy
In May with Cork City Council and Cork County Council, we published the Cork Transport Strategy, (or CMATS – the Cork Metropolitan Area Transport Strategy).
This strategy seeks to cater for current movements and growth of 50 per cent to 60 per cent to 2040. It focusses on moving more people by sustainable modes such as walking, cycling and public transport
The strategy proposed major investment in bus infrastructure, commuter rail, and a light rail, all of which will allow a more consolidated city and metropolitan area to be developed.
BusConnects Galway
Galway City Council will begin the implementation of a key part of the Galway Transport Strategy by seeking Part VIII permission for the "Cross City Link", a proposed corridor through the centre of Galway with higher levels of priority allocated to walking cycling and public transport over car traffic.
In conclusion
So without doubt, there are exciting times ahead for all of us who are involved in planning, delivering and operating public transport.
I believe that people can at last look forward to enjoying the benefits of the top-quality transport service that we have been asked to provide. That includes people living along the MetroLink route in places like Swords who will be able to get to the city centre in 20 minutes or so; people in places like Drogheda, Balbriggan, Maynooth and Celbridge who will now be served by the DART; people in Glanmire and Ballincollig who see the most ambitious programme of investment in public transport ever in Cork; people in Galway city who will see more priority given to sustainable transport, and people in all parts of the Dublin area who will be able to move around with ease, on a bus network that is among the most punctual and reliable in the world.
Anne Graham
CEO National Transport Authority
W: www.nationaltransport.ie
Twitter: @TFIUpdates