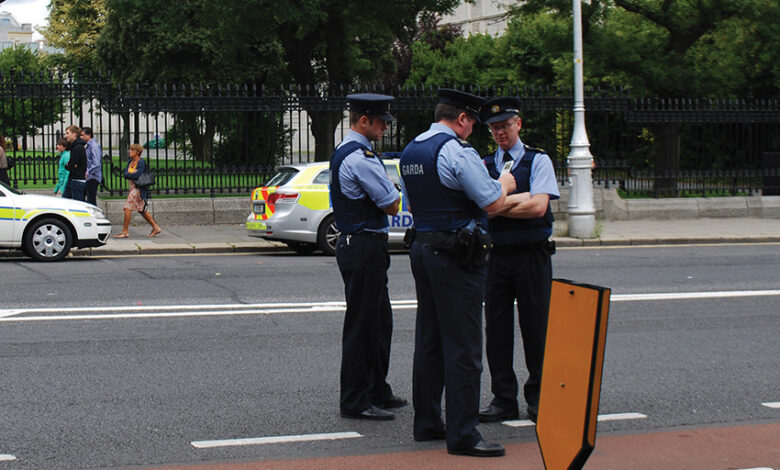 The Irish justice sector is undergoing significant change in every area under the aegis of A safe, fair and inclusive Ireland. This change has not been without its growing pains, especially in policing.
An Garda Síochána
The first goal of A safe, fair and inclusive Ireland pledges to "tackle crime, enhance national security, and transform policing" and it is the latter that been central to headlines about policing in 2023. A new operating model has been introduced, restructuring policing across the State and at regional and divisional levels and reducing the number of Garda regions from six to four and Garda divisions from 28 to 21. The number of divisions was originally set to be 19, but complaints from rank-and-file gardaí prompted a compromise in August 2023.
Each division will be headed by a divisional chief superintendent, who will oversee four new functional areas: business services; performance and assurance; crime; and community engagement. The changes in working patterns for gardaí associated with these changes have caused major disagreements between top-level gardaí and rank-and-file gardaí.
Under these reforms, gardaí would return to pre-pandemic working patterns of a six days on, four days off working roster that will see them work 10-hour shifts in units. In order for these units to be adequately staffed, gardaí have been reallocated from drug and community policing units to the response units. Local Garda Representative Association (GRA) representatives have protested that the winding down of community policing and drug squad units to staff these generalised units will negatively impact crime prevention and that the return to six-day weeks would mean an additional 47 days on duty per year for some members.
Tensions between Garda leadership and the GRA came to a head in September 2023 when the GRA voted on a no confidence motion on Garda Commissioner Drew Harris. 98.7 per cent of the 10,803 members who voted in the GRA's first ever confidence vote on a commissioner responded no when asked: "Do you have confidence in the Garda Commissioner?"
In his initial reaction to the vote, Harris stated that the result was a "kick in the teeth" but that he would not resign his position and that the changes would proceed as planned from November 2023 onwards. In response, the GRA voted to withdraw voluntary overtime on all Tuesdays in October 2023 and to strike on 10 November if the dispute was not resolved before then. With the GRA seeking the retention of current working patterns of four days on, four days off in 12-hour shifts, Harris responded to the vote for strike action by indicating a willingness to compromise. The GRA has called for the Government to intervene, but the position of Minister for Justice Helen McEntee TD is that this is an internal Garda matter.
What could be key to the solving of this impasse is the recruitment of new gardaí, but figures released by the GRA in May 2023 show recruitment figures to have been 32 per cent behind targets in the first half of the year. The first intake of 2023 in the Garda College at Templemore was due to have 200 new recruits, but only 134 took up their places, while the second intake in May was due to have 225, but only 154 took up their places.
Garda numbers were at a record high of 14,750 in March 2020 before the onset of the Covid-19 pandemic, but the Garda College was either closed or running at reduced capacity during the pandemic, resulting in a fall in Garda numbers to 14,000. The figures from the first half of 2023 make it unlikely that the Government's target of recruiting 1,000 new gardaí in 2023 will be achieved, but accelerated progress towards this goal could go a long way towards smoothing tensions within An Garda Síochána.
Perhaps consistent with a declining number of gardaí is an increasing rate of crime, as is laid out in Central Statistics Office data for Q2 2023. The data found just one category of crime – fraud, deception, and other related offences, down 37 per cent annually – to have decreased since Q2 2022. Attempts/threats to murder, assaults, harassments, and related offences increased by 3 per cent; robbery, extortion, and hijacking offences increased by 21 per cent; theft and related offences increase by 25 per cent; and homicide and related offences increased by 31 per cent.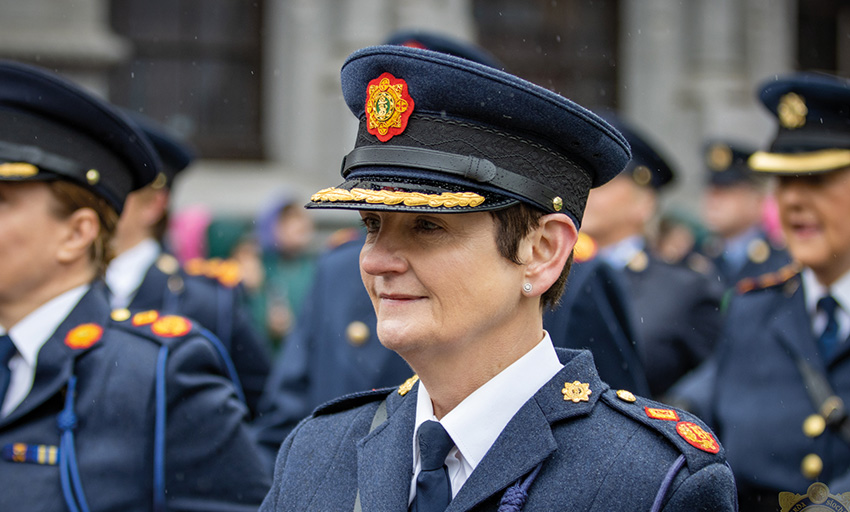 Modernising the courts system
The second goal of A safe, fair and inclusive Ireland is to "improve access to justice and modernise the courts system". Some of this modernisation has revolved around the judiciary itself, with efforts to reform the appointments to the judiciary through the Judicial Appointments Bill on hold for now, having been referred to the Supreme Court by Uachtarán na hÉireann Michael D Higgins (see page 47). Plans are also underway to increase the number of judges in Ireland from 173 to 217 by 2025 (see pages 62-63), with Ireland currently having the lowest rate of judges per 100,000 people in the European Union.
Justice Plan 2023 outlines some of the key reform goals in this regard for the courts system, with the establishment of new courts for planning and environment and family law set to play a central role in the broadening of access to the courts system. Among the actions to be taken with regard to the establishment of a family court will be the "examination of the role of expert reports in the family law process and the proposal of recommendations regarding their future application and function". The examination will "consider the commissioning and availability of these reports, including their content and future use".
The Review of the Administration of Civil Justice in line with the Implementation Plan on Civil Justice Efficiencies and Reform Measures has been an important guiding document for enabling easier, more affordable, and quicker access to civil justice, with five actions to be undertaken throughout 2023. Perhaps the most important of these will be the development of the general scheme of the Civil Reform Bill, due to take place in Q4 2023.
The aforementioned increasing of judicial resources will be "complemented" by ongoing implementation of the Courts Service Modernisation Plan, which received additional funding for 2023, and the reforms to court operations with regard to frequency, location, and management of courts. Actions to be taken with regard to the Courts Service Modernisation Plan include the reform of the Abhaile Scheme, the publication of the Criminal Legal Aid Bill – for which the Oireachtas Joint Committee on Justice met for pre-legislative scrutiny in October 2023 – and the bringing of proposal to government to agree and commence reform of professional legal education, with a view to introducing independent oversight for the first time and removing barriers to becoming a solicitor or barrister.
The first half of the 2020s has marked an ambitious turn from a justice sector attempting to modernise across almost every area of work. Garda staffing disputes and the Judicial Appointments Bill show that these efforts have not been without their teething pains, but it is clear that when these reforms come to pass, Ireland will have a sector almost unrecognisable from the 2010s.