eolas looks at the International Monetary Fund's fourth post-program monitoring discussion with Ireland which highlights strong economic growth although challenges remain.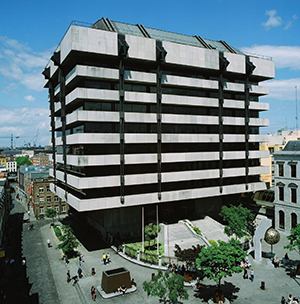 In January, the Executive Board of the International Monetary Fund (IMF) concluded its fourth post-program monitoring discussion with Ireland.
The report notes that the economy continues to improve at a robust pace. In the first three quarters of 2015 real GDP expanded by 7 per cent with investment providing the largest contribution to growth followed by private consumption. There was also steady job growth of around 3 per cent year-on-year which helped reduce the unemployment rate to 8.8 per cent in December 2015.
Financial conditions have remained largely supportive despite volatility in global capital markets. The European Central Bank's quantitative easing policy has helped keep Irish Government yields close to their historical lows. However a rise in the residential property markets has decreased in the wake of macroprudential measures enacted by the Central Bank of Ireland during February 2015. The supply of new residential housing remains modest although upward price pressures are stronger in the commercial real estate market. Banks' asset quality is improving and mortgage arrears have continued to fall, but profitability remains modest and the loan portfolio continues to contract.
Challenges remain
The IMF's Executive Board states that Ireland is enjoying the fastest growth in the European Union but warns that challenges still remain. While the recovery accelerated in 2015 with domestic demand overtaking net trade as the dominant driver in growth, employment expansion continuing and financial conditions remaining favourable, vulnerabilities are still elevated. The report notes that both public and private debt burdens are high, which lends increased importance to the unfinished task of rebuilding economic resilience.
Despite an acknowledgement of the need to share some fruits of the recovery after years of difficult adjustment, the IMF urges further fiscal discipline to rebuild room for policy manoeuvre. Looking at current policies, the report notes that strong growth in 2015 has enabled outperformance of the fiscal targets. Public debt is set to fall below 100 per cent by the end of 2015 and the fiscal plans outlined in Budget 2016 is, according to the IMF, consistent with reaching a structural balance in 2018.
Once this structural balance has been met, the report states that maintaining it will be all that is required to ensure a prudent pace of debt reduction. However, the report notes that budget measures could have avoided tax base erosion, been better targeted and more protective of budget resources. The resulting savings from these measures would have created additional room for capital spending and support for sustainable growth. Looking ahead, the IMF recommends using any future fiscal space to accelerate debt reduction and to rebuild buffers allowing Ireland's small and open economy to prepare itself to face external shocks.
Much still needs to be done to repair Ireland's banking system. Achieving durable profitability while accelerating balance sheet clean-up would support future lending growth and boost banks' resilience to shocks. Provision releases should be based on conservative assumptions and collateral reappraisals. The IMF's Executive Board have also advised supervisors to ensure that banks' business models appropriately balance profit seeking and risk management, and that loan pricing adequately reflects credit risk and barriers to collateral realisation.
As economic conditions change, periodic impact assessment and recalibration of macroprudential measures will be needed to ensure their effectiveness in enhancing the resilience of banks and households. This will help reduce the likelihood of another cycle of boom and bust.
Measures to boost the supply of housing should help reduce building costs and could jump start construction activity, particularly of lower-cost homes where profit margins are tighter. However, the IMF has warned against administrative measures on rents which could reduce the return on investment properties and thus dissuade construction.
Outlook
Given the robust performance of the economy during 2015 and the positive confidence effects from the ECB's quantitative easing policy, the IMF has raised the GDP growth forecast for 2015–16. Medium-term growth was also revised upward to reflect the strong investment momentum and healthy private consumption levels. Growth is projected to decelerate gradually to a potential rate of 3 per cent with the output gap expected to turn positive in 2016.
The risks associated with Ireland's economic recovery are broadly balanced. In the near term, the main risk is of a disruptive asset price shift resulting from a reassessment of global growth prospects, geopolitical developments, or uncertainty around the pace of U.S. monetary policy normalisation. Yet the quantitative easing policy, the government's limited financing needs for 2016, and cash buffers of around 5 per cent of GDP should, the IMF states, mitigate the impact of the associated tightening of global financial conditions.
Risks from an extended period of low Euro area growth could hurt confidence and investment. Although Ireland's trade with emerging markets is relatively limited, weak growth in key emerging economies could feed in through second-round effects. At home, lower drag from deleveraging and increasing property prices could lift private consumption and investment growth above baseline projections. However, if this increase is excessive it could also generate new vulnerabilities. The IMF also states that with investment recovery the impaired credit channel remains a medium-term risk as demand for renewed bank lending increases.
The IMF concludes that on the back of such robust economic and fiscal performance, Ireland's capacity to repay the fund is strong. Ireland has raised
€13 billion in long-term bonds in 2015, while revenue over-performance has helped increase the government's cash balance to €14 billion in October 2015, more than double the outstanding obligations to the Fund and equivalent to over 12 months of projected gross financing needs.
Medium-term financing needs also appear manageable, and the falling public debt burden reduces risks going forward. Strong growth and fiscal performance have dramatically lowered the baseline public debt path and gross public debt is now expected to have fallen below 100 per cent of GDP by the end of 2015, a full two years earlier than anticipated.
Ireland's funding strategy has significantly smoothed medium-term gross financing requirements, and it is likely that the projected hump in 2020 will be dealt with well in advance through debt management operations. Finally the report also states that the 2021–23 period, when the remaining liabilities are due to be repaid to the IMF have relatively modest gross financing needs, further lowering risks to the Fund and highlighting just how impressive Ireland's economic recovery has been to this point.