Issues
A shared island: Mental health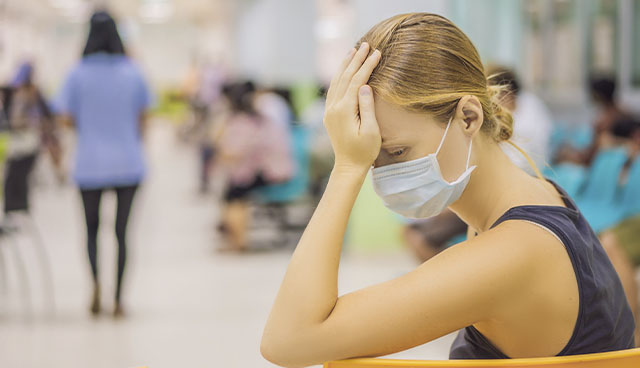 Despite an increase in awareness and a move towards de-stigmatisation of mental health issues, many people still find it "frustrating, difficult and sometimes even impossible" to access mental health supports on the island of Ireland.
Additional efforts and resources will be needed to not only address the increased demand for mental health services as a result of the pandemic in Ireland but also to catch up in some areas where services were cut back as a result of lockdowns and restrictions, a report by the National Economic and Social Council (NESC) has found.
The state-of-play review on mental health policy and practice, and on current and potential areas of cooperation on the island of Ireland, was developed as part of an overall comprehensive report on the shared island being developed by NESC on request of the Department of the Taoiseach.
Understandably, the report sets out that health services in the two jurisdictions are facing many of the same problems around funding, staffing, and waiting lists. However, there are also areas where the context is different. For example, in 2018 the North's official suicide rate was 18.6 per cent per 100,000 population, compared to a 9 per cent rate in the Republic in the same year.
Highlighting that the legacy of 'the Troubles' still has a significant impact on mental health in Northern Ireland, with mental health issues being most prevalent in deprived areas and areas affected by the violence, the report states: "The social determinants of health, such as income, education and employment status, play a big part in mental health, and this is particularly pronounced in Northern Ireland as a result of the conflict."
"The pandemic illustrated the difficulties inherent in having two different public health responses in such close proximity."
Both the Irish Government and the Northern Ireland Executive have increased efforts to promote and support mental health services in the last number of years. In 2021, the Republic launched a new policy for mental health, while Northern Ireland's first mental health strategy funding plan was published earlier in the year.
Over the last decade, the broader ambitions of the development of mental health services have been similar in both jurisdictions, through a move away from institutionalised and hospital-based services. Instead, the shift has been towards community-based services, early intervention, and preventative measures to avoid and alleviate mental health problems. This is despite some fundamental differences between the healthcare systems, with Northern Ireland's free universal healthcare, compared to the mix of private and public charges services in the Republic.
The report points to evidence of good collaboration in the mental health area between public, community, and voluntary stakeholders on an all-island or north-south basis but says that the potential to build on the knowledge and experience already in existence in these organisations, by providing them with consistent support to enable them to further develop and mainstream successful programmes.
"Despite the existence of some structures of cooperation, the consensus seems to be that a more formalised setting or forum, dedicated to mental health co-operation, would be desirable," report author Jenny Andersson states.
"Many stakeholders said that it would help to place, and keep, mental health issues on the agenda, and that it could be useful in ensuring consistent funding for mental health initiatives."
Funding
In the Republic, mental health services have shown an increase in both funding and service activity over the last decade but there has also been an increase in demand for mental health services. However, spending on mental health as part of the wider health budget remains comparatively low in both jurisdictions, with a figure of around 6 per cent for the Republic and the same for Northern Ireland. By comparison, in England that figure is 12 per cent.
While the pandemic has pushed the issue of mental health and related services up the policy agenda, evidence of increased demand already exists but the full impact of the Covid crisis on mental health is not expected to be revealed for a number of years. Anxiety of the disease as well as curbs on social interaction, education and prolonged stress have all been identified in a range of issues potentially having a negative impact on mental health.
The pandemic illustrated the difficulties inherent in having two different public health responses in such close proximity.
"During the pandemic, both jurisdictions moved by necessity towards increased provision of online supports. While they are not suitable for every individual and situation, there does seem to be consensus around their many potential benefits, not least in increasing the reach of services to those that might be unable or reluctant to attend in-person services. The main advantage of online supports in the particular context of north-south cooperation is, of course, that there are no physical borders inherent in these types of interventions," Andersson says.
In conclusion, the paper outlines a number of topics for further consideration, including:
possible benefits from enhancing the level and range of settings for cross-border engagement between the two administrations, and in professional and clinical terms, on mental health cooperation;
how to ensure consistent funding and subsequent mainstreaming of successful cross-border and all-island projects;
the possible role of a Mental Health Champion in the Republic, building on the experience in Northern Ireland;
improved and more standardised data collection on mental health, as a tool for comparing policy outcomes, and to help share learning and information;
how to build on and use the growth in online supports as a tool in cross-border cooperation; and
whether scope exists for more policy cooperation, and, given the public health aspect, whether there is potential for more cooperation around prevention and early intervention.