Transport
A pathway to better public transport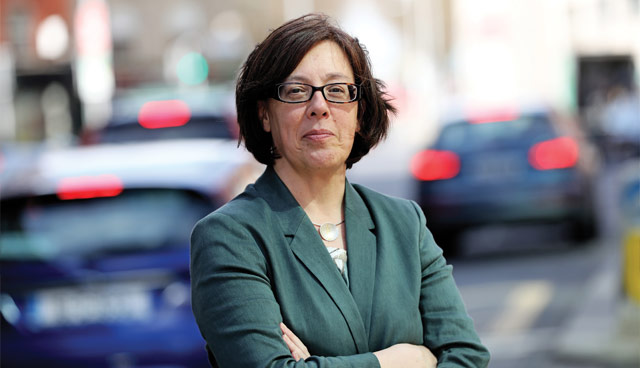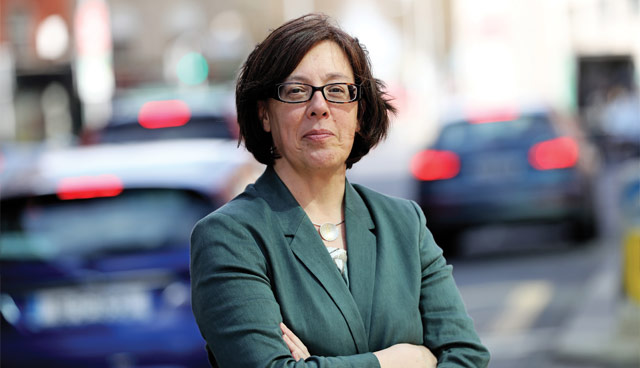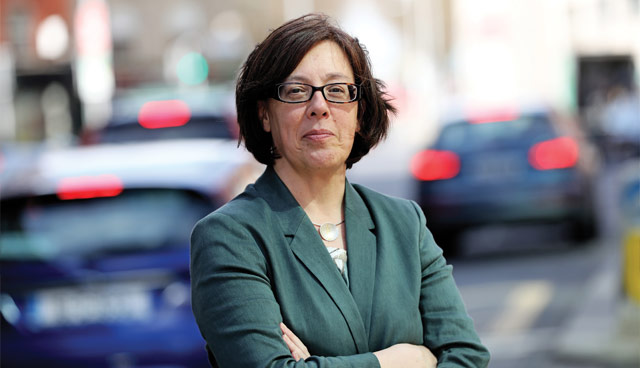 The National Development Plan 2018-2027 was published recently, and there's no doubt that it contains some very good news for those who have been calling for significant investment in public transport. With funding earmarked for projects such as MetroLink, BusConnects and Dart Expansion we can begin to look forward to a public transport system that meets the needs of a dynamic, vibrant and competitive economy and that delivers for the people of Ireland, writes Anne Graham.
The recent publication of the National Development Plan (NDP) marked the first time in a number of years, certainly since the economic crash, that funding for major infrastructural improvements in our public transport network was to be made available.
The Luas Green Line extension (or Luas Cross City) was completed in December of last year, but other than that, plans to build or extend our public transport infrastructure were largely put on hold as the country tried to weather the economic storm in the last decade.
Now as the economy continues to recover, and as more and more people are at work, there is at last, scope to address the infrastructural deficiencies that have accumulated in recent years and to tackle the bottlenecks and the congestion that are impeding progress.
Under the NDP three major public transport projects are to become a reality:
MetroLink
Dart Expansion
Bus Connects
The completion of these projects over the next 10 years or so will be good news for the travelling public, good news for communities that will be served by a vastly-improved public transport network, and good news for the country. It will also be good news for the construction sector and for the various industries and sectors that feed into that, and with €8.6 billion earmarked, the level of activity from that point of view will be significant.
MetroLink
A metro for Dublin has long been mooted as a piece of transport infrastructure that needs to be delivered. When we refer to a metro, we're talking about a high capacity urban railway system which is fully segregated from all other traffic. Because of its segregation, it provides a high frequency of service with a high level of reliability. Metros are designed for operations in tunnels, on viaducts and on the surface with segregation, and carry higher number of passengers than a standard light rail system.
A metro project connecting Swords and Dublin City Centre has been proposed and suggested for many years. A detailed proposal was developed for a scheme extending from St Stephen's Green to Swords and the planning go-ahead was given when a Railway Order was issued in 2010, although the project was postponed the following year.
In 2015, the National Transport Authority published the report of the Fingal/North Dublin Transport Study, which assessed the need for a metro solution against various alternatives that had been identified. It concluded that a metro scheme was the appropriate solution to meet the public transport needs of the Swords – Airport –City Centre corridor. This was then included in the Transport Strategy for the Greater Dublin Area which was approved by the Minister for Transport Tourism and Sport in 2016. In fact, a full north-south metro spine connecting Swords to Sandyford through the city centre was identified as a key project to meet the growing transport demand in the region.
The Luas Green Line opened for operation in 2004, and when it was designed, it was future proofed so that it could be upgraded to metro standard relatively easily. When NTA and TII were looking again at Metro in the context of the NDP, a Green Line Metro Upgrade study was carried out to determine the extent of the infrastructure works required to upgrade the current Luas Green Line to a fully segregated Metro standard, and the benefits that such investment would bring. On foot of that study, we recommended that such an upgrade should take place as part of a single MetroLink project.
So now, MetroLink is a north-south railway service that will run between Swords and Sandyford, connecting key destinations along the route, including dublin airport and the city centre. Large sections of the route will be underground, including through the important city centre area.
The tunnelled section will be some 12km in length and we are still considering whether the tunnel will be twin bore or single bore.
There will be a total of 25 stations, (including 15 new stations), 3,000 park-and-ride spaces, with a journey time of about 50 minutes from Swords to Sandyford.
The emerging preferred route identified by NTA and TII was published in March, followed by a period of non-statutory public consultation which concluded in May. Members of the public took the opportunity to draw attention to concerns around matters such as the siting of excavation sites, continued permeability in residential areas, and existing public transport services. They also took the opportunity to let us know how important they feel the project is for the future of Dublin and for their communities.
TII and NTA will consider all submissions made and will publish a report on the consultation process later this year.
We hope to be in a position to make an application to An Bórd Pleanála (ABP) for a Railway Order in Q3, 2019. A decision in 2020 by ABP would mean construction could get under way in 2021.
The construction will take an estimated six years to complete, with MetroLink becoming operational in 2027.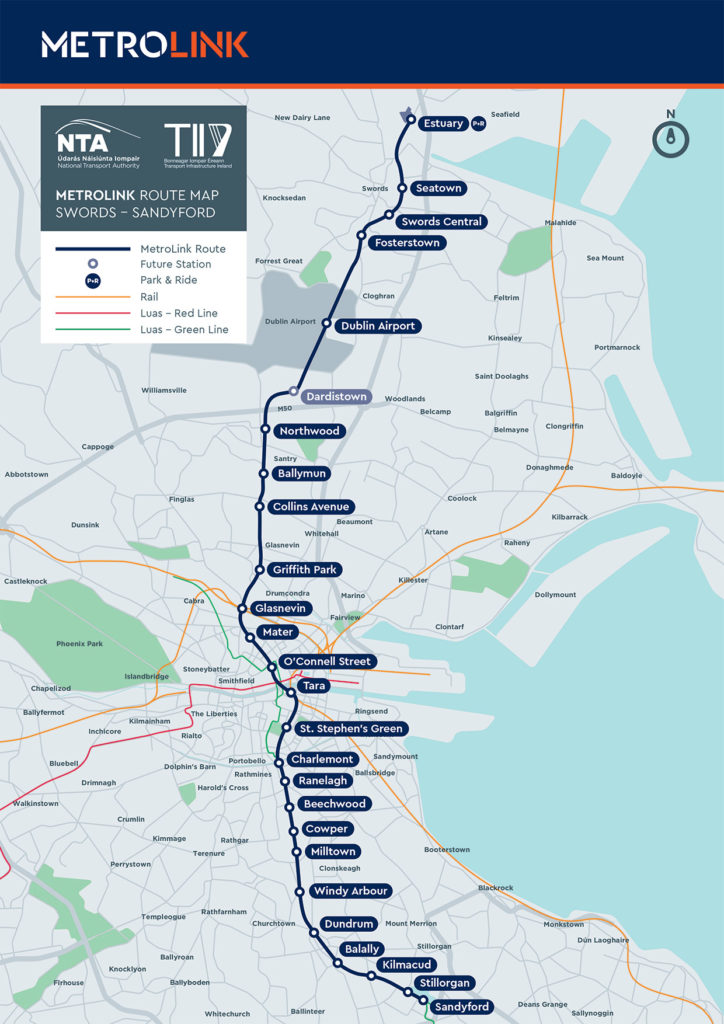 Dart expansion
The Dart Expansion Programme is a series of projects that will create a full metropolitan area Dart network for Dublin with all of the lines linked and connected. The initial sequencing of investment will focus on delivery of non-underground tunnel elements of the programme using the recently opened rail link and existing connector tunnel under the Phoenix Park.
This includes buying additional fleet for the Dart network and measures such as re-signalling, junction and station changes to provide expanded services. The next step will be to provide fast, high-frequency electrified services to Drogheda on the Northern Line, Celbridge/Hazelhatch on the Kildare Line, Maynooth/M3 Parkway on the Maynooth/Sligo Line, while continuing to provide services on the South-Eastern Line as far south as Greystones.
It will also include new stations to provide interchange with bus, Luas and Metro networks. The significant benefit to using the recently opened rail link and existing connector tunnel under the Phoenix Park and the proposed sequence of investment, is that it will enable additional passenger services to be put in place much earlier using existing infrastructure with some enhancements.
This integrated rail network will provide a core, high-capacity transit system for the region and will deliver a very substantial increase in peak-hour capacity on all lines from Drogheda, Maynooth, Celbridge/Hazelhatch and Greystones.
The route for the remaining element of the overall Dart Expansion Programme, the Dart Underground Tunnel, will be established and protected to allow for its future delivery.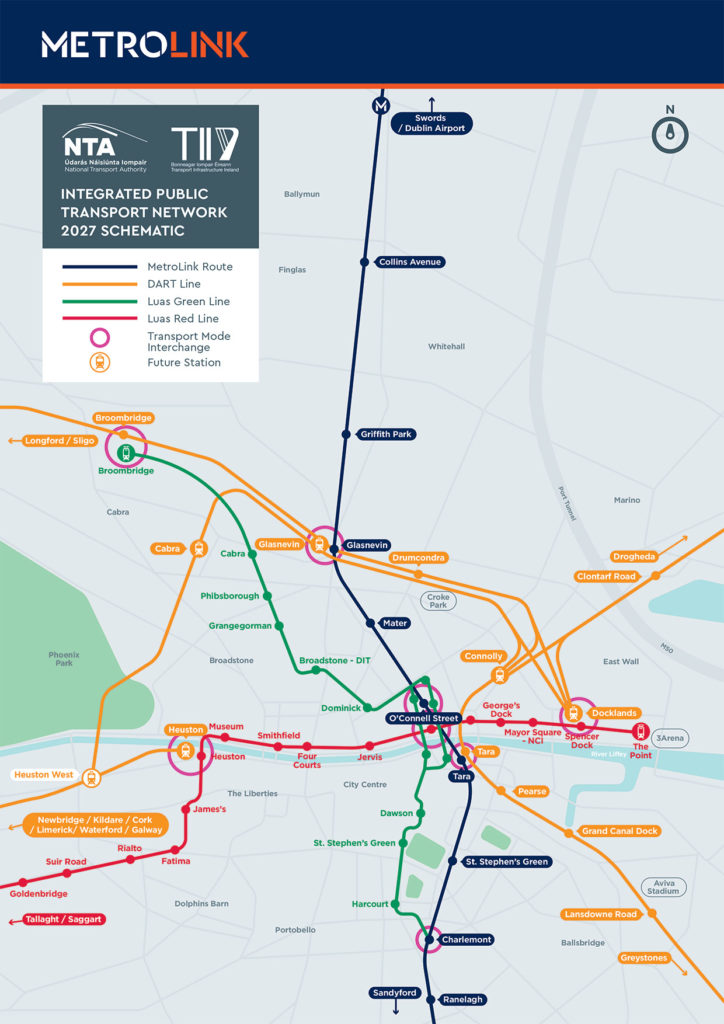 BusConnects
At the heart of the BusConnects project is our proposal to develop continuous bus lanes, as far as practicable, along the busiest bus corridors in Dublin and the regional cities.
Overall, the proposal envisages the provision of about 230km of bus lanes on 16 of the busiest bus corridors in Dublin, which we refer to as 'Radial Core Bus Corridors'.
At present, these busy corridors only have dedicated bus lanes along less than one third of their lengths. This means that for most of the journey, buses are competing for space with general traffic and so are affected by the increasing levels of congestion. This delays services causing real frustration for people looking for consistent and predictable journey times. This makes the overall system less efficient, less reliable and less punctual.
These new bus corridors will deliver a transformation in the performance of these routes, making it easier and quicker for passengers to come and go by bus.
We want to remove the current delays and uncertainties, so that in the future, bus journeys will be faster, more punctual and more reliable. That's what we mean when we talk about a vastly improved service for passengers.
In addition, we also want to provide a dedicated cycle track on each side of the road, providing safe cycling facilities, segregated from other vehicular traffic.
The standard layout also includes footpaths for pedestrians and supporting elements such as pedestrian crossings at all key road crossing points, and bus shelters for waiting passengers.
In the shorter term
Supplementing those larger projects, other measures are being taken in the short-term to deliver additional transport capacity, including:
A 10-minute DART service will be provided later this year;
the current peak time rail services from the Kildare Rail Line through the Phoenix Park Tunnel will be expanded to provide an all-day service;
additional capacity will be provided on the Luas Green line;
diesel-electric rail fleet to provide an extended DART service to be ordered in 2019;
the Go-Ahead contract for bus services on 24 Public Service Obligation (PSO) bus routes in the Dublin metropolitan area will start operations in Q3 of this year;
additional bus fleet will be acquired and additional capacity will be added on busy routes currently experiencing high passenger numbers in peak hours; and
there will be increased level of investment in cycling projects.
In conclusion
So, without doubt, there are exciting times ahead for all of us who are involved in planning, delivering and operating public transport.
More importantly perhaps, there are exciting times ahead for those who will ultimately enjoy the benefits of the top-quality transport service that we have been asked to provide. That includes people living along the MetroLink route in places like Swords who will be able to get to the city centre in 20 minutes or so; people in places like Drogheda, Balbriggan, Maynooth and Celbridge who will now be served by the Dart; and people in all parts of the Dublin area who will be able to move around with ease, on a bus network that is among the most punctual and reliable in the world.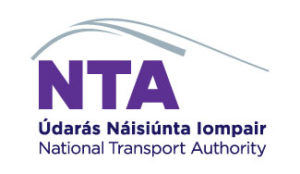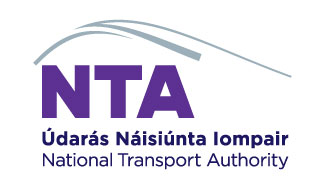 Anne Graham
CEO
National Transport Authority
W: www.nationaltransport.ie
Twitter: @TFIUpdates