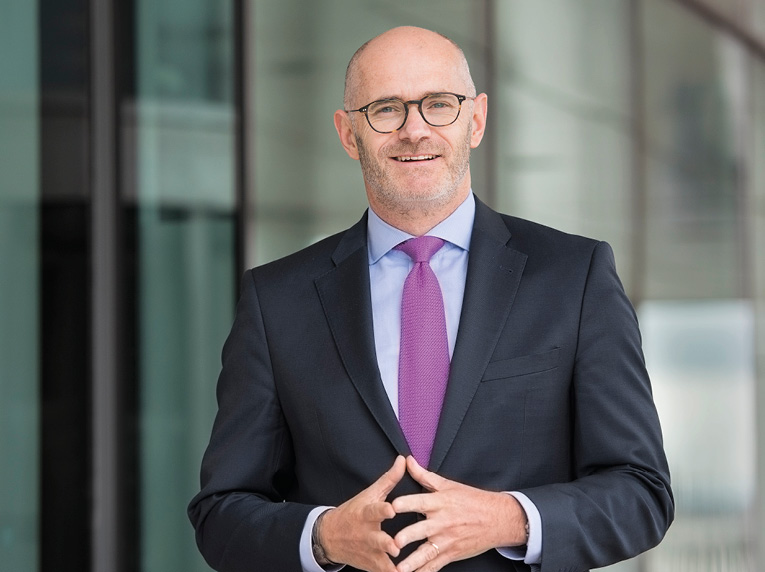 Three Ireland's Business Director Eóin MacManus talks to Owen McQuade about the relevance of mobile technologies for companies and government bodies and how the telecommunications sector is radically changing.
The relevance of mobile telecommunications is increasing rapidly. In 2017 a significant amount of commerce is now mobile and with the change in device and screen sizes, companies who have been mobile dependent and now becoming mobile centric – the mobile is becoming central to how they go about their daily business.
"Companies and government bodies are now putting the mobile phone at the centre of how they work and operate," observes MacManus. Research carried out for Three Ireland shows that 70 per cent of owner-managers of businesses said that the mobile phone is the most important device to help them do business. "If you had have done that survey five years ago, mobile would have been there but the laptop would have been top of the list," he adds.
To facilitate this change in working, mobile phone manufacturers are now producing accessories that facilitate this central role in conducting business. MacManus gives the example of his own phone, the Samsung S8, that has an accessory called the Samsung DEX. This is a docking device that connects to a screen and keyboard and has essentially turned the mobile phone into a laptop. "I no longer bring a laptop home. I plug in my phone into the docking station. It doesn't just put my mobile screen onto a larger screen, the software gives me the full functionality available from a laptop. I can access all my customer files and any documents that I need to work on."
For many business people the mobile phone has replaced their laptop, which they no longer take with them when they travel. This shift raises the issue of how mobile phones and other devices are managed within organisations. Much emphasis, from a data security perspective, has been on the use of laptops outside the office environment. "The days of giving everyone a mobile handset and letting them get on with it are now gone, companies now need to manage these increasingly smarter devices, just like they manage the rest of their IT infrastructure.
"The concept of Enterprise Mobile Management (EMM) is becoming really important. The use of mobiles is a bit of carrot and stick for organisations. The carrot for this change is that it allows people to be much more efficient and to work remotely and to interact more, accessing files and data in a more collaborative environment."
He adds: "The stick is GDPR, which is making companies much more accountable for the data they have and the ability to remove data at a customer's request and to provide data to customers whenever and however they want it. This is becoming a significant issue for companies that don't have a policy for managing their devices. EMM is becoming an increasingly important part of the mobile story.
"It is surprising how many companies don't understand the implications of GDPR with regard to the management of their information."
The changing telco
This transformation to mobile centric organisations has led to changes in what companies are looking for from telcos. "In the past, 10 or 15 years ago, it was very much a consumer-supplier relationship. Then it became more of a partnership relationship. Now it is much more of a strategic advisory role, where companies look for us to advise them on how they should set up their communications infrastructure and on how they can work differently as a company. It is now about how we can support the CIO [Chief Information Officer] and how we can add value in terms of driving efficiencies, improving collaboration and increasing profitability. The role of the CIO in what is a much more technology and data centric world is becoming a much more important strategic role in the board room. In the past, telcos were looked upon as either a mobile operator, a fixed line operator or an ICT provider. The role of the telco today is to bring all this together to provide a complete suite of communications services.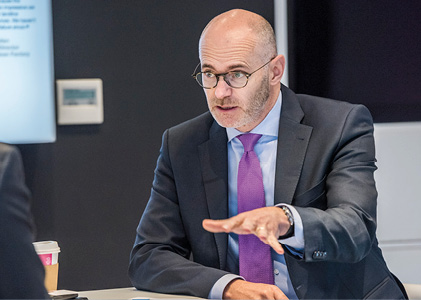 "The days of giving everyone a mobile handset and letting them get on with it are now gone."
"When we talk to companies, we don't talk to them about just about mobile, we talk to them about how they connect their offices together; how they manage their IT infrastructure and mobile devices. For some companies, such as Applegreen, we manage their whole IT infrastructure, including mobile, WAN, IT infrastructure and WiFi, across the whole island of Ireland. We are Applegreen's strategic adviser and communications partner in a multi-site and multiproduct environment."
MacManus details a number of enablers that improve company efficiencies including Apple's DEP and Samsung's Knox Enabled apps that have addressed what was once a difficult chore for organisations; the setting up a new hand held device for an employee with the right image, apps and the right level of control and security. "We have now just put in place infrastructure into our network that allows someone with a new Samsung or Apple device to log into their Apple or Samsung account and automatically download pre-set settings and apps. This takes away huge amount of hassle away from companies in setting up new devices. It doesn't sound the most exciting of initiatives but for companies it is a key enabler, saving time and resources whilst improving the consistency and security of its devices."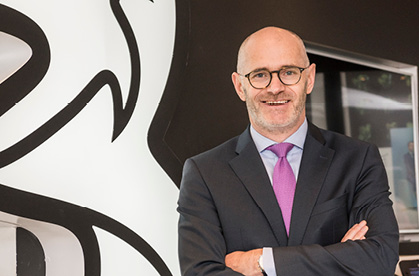 "5G is going to completely revolutionise the use of IoT. It will facilitate many thousands of SIMs to be connected to a single mast on the network."
Internet of Things
Internet of things (IoT) is another major development MacManus sees as playing an increasingly important role in changing the services telcos provide client companies. He says that IoT has been around for some time; it was previously known as M2M [machine-to-machine] but it is now accelerating at a pace, with over 20 billion devices estimated to be connected in the next decade across the world. "Three Ireland is taking a leadership role in IoT and currently has a 49 per cent market share in Ireland. We are just about to launch a new manageability platform on our network that allows client companies to manage their IoT infrastructure much better in terms of switching on and off SIMs."
There is a lot of change in the IoT area. The pricing is coming down all the time and the number of uses is increasing rapidly. Some interesting solutions include Europcar installing a device on all its rental cars based on a mobile technology Three provides. This allows the car rental company to track, monitor and manage all the cars in its fleet. As a result insurance costs have been reduced and it has also helped eliminate instances of fraudulent insurance claims.
Moocall is another IoT application Three Ireland has been involved in. It is a tracker device that goes onto the tail of a cow. When a cow is about to calf it lifts its tail and its temperature increases also. The device sends a signal to the farmer that the cow is about to calf. There are now nearly 10,000 SIMs that use this application as it is incredibly useful for farmers.
Outside Ireland, Three has linked up with Nordsense in Copenhagen that fits sensors into bins. This allows the waste collection company to know what bins need emptying and the software also works out the optimum route to pick up the bins that need collecting.
Three Ireland's network is now over 90 per cent 4G enabled. The company's network is very data-centric with the amount of data doubling every two years. In the last auction of 5G in the 100 MHz spectrum Three Ireland was allocated an even spread of spectrum across the whole country which will allow it to provide a consistent product nationwide. "Although 2G, 3G and 4G are important, 5G is going to completely revolutionise the use of IoT. It will facilitate many thousands of SIMs to be connected to a single mast on the network. 5G is a technology for the future."
---
Profile: Eóin MacManus, Business Director, Three Ireland
Eóin was born in Zambia to Irish parents and has lived nearly half his life abroad. He left school at 18 and deferred entry into university until his late 20s when he studied for a Master's degree. "My career can be broken into three phases: the first 10 years in sales and sale management; then 10 years in marketing; and the last 10 years in general management." Most of his working life has been in the technology sector, including the last 12 years in telecommunications.
Much of the time outside work is focused on family, which is busy with three children and he has an eclectic mix of interests that range from sport, rugby and motor sports, "a car and motorbike freak, who often communicates to the office with his motorbike" to self-improvement, yoga and meditation. He has been practising Transcendental Meditation for the last 15 years and mediates for 20 minutes twice a day.