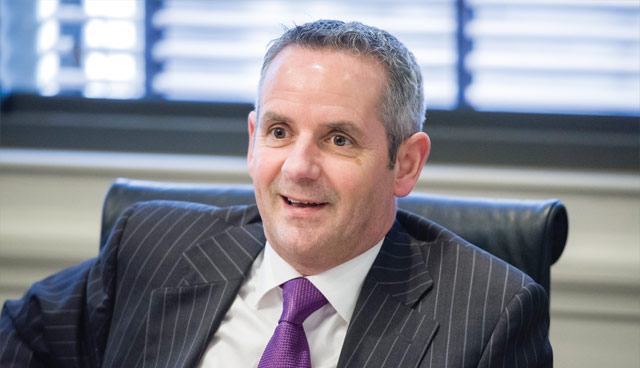 The new HSE Director General, Paul Reid, has ploughed his own career furrow, far removed from his early days as a trade union activist.
Most recognisable from his recent position as Chief Executive of Fingal County Council for the past five years, Reid's reputation precedes him from his stint as Chief Operating Officer of the then newly formed Department of Public Expenditure and Reform (DPER).
Reid was confirmed as Director General of the HSE in April, taking over from interim Director General Anne O'Connor, who took up the post following the resignation of Tony O'Brien. O'Brien stood down in July 2018 at the height of the CervicalCheck controversy and it has been reported that Reid could be paid as much as €100,000 more annually than his predecessor, after an initial competition with an increased salary in the region €250,000 failed to attract a suitable candidate.
Reid's new role is a leap away from his early career, where he was the chief shop steward in the Communications Workers' Union in Telecom Eireann. Well regarded for his energy and his thoroughness, Reid's move into management with the company was recognised as a blow to workers' reps, who understood the challenge of sitting opposite Reid, rather than alongside him.
Reid did well from the company's privatisation and rename as eircom. The subsequent decision to wind up the company in 2012 saw a windfall pay-out, on top of earlier pay-outs, for members of the employee share ownership trust (Esot).
A former member of the Workers' Party in the 1980s, Reid appears to have removed himself from the political arena in and around the time of the split from the Workers' Party by the Democratic Left, taking up membership with neither.
Reid went on to secure a job as Head of Organisational Development and Corporate Affairs with Trócaire, but it was his move to become a senior official of DPER, then under the direction of Labour Minister Brendan Howlin, which signalled his move away from his early career and political leanings.
Reid was the Government's chief negotiator in the talks with trade unions that led to the Haddington Road public service agreement in 2013 and was endorsed on his appointment to the HSE by Taoiseach Leo Vardkar, describing him as having "developed a strong reputation as a dynamic and ambitious leader, who was always up for a challenge, drove restructuring, controlled costs, delivered results and managed industrial relations well".
From the Department, Reid went on to take up the top post at Fingal County Council but has remained involved with health in his roles as member of the Advisory Council on Sláintecare and previously Vice Chair of the National Task Force on Youth Mental Health.
He continued his approach to reform at the Council introducing several innovations, many around the introduction of new technology. He opened up much of the Council's data into the public domain that laid to several innovative projects. 
Reid took part in the final monthly meeting of the current Fingal County Council on 13 May and will enter an arena where public confidence in health is at a low-point. Successive scandals, lengthening waiting lists, the CervicalCheck backlog and rising costs of the National Children's Hospital are just some of the challenges facing Reid.
Reid will service a five-year term and will be expected to improve delivery and management of the current service, while also leading the leading the reform of health and social care services under Sláintecare.
He will work with a newly appointed HSE board and with the Executive Director of Sláintecare, Laura Magahy.
Health Minister, Simon Harris TD said: "The appointment of Paul Reid comes at an exciting time for the health service with a clear policy direction as outlined by Sláintecare, record investment and a major capital programme."
However, Minister Harris' optimism about the future of the health service is not shared by all. In a recent article, writing for the Sunday Business Post, Reid's predecessor Tony O'Brien pointed to a "chronic shortage of overall capital funding for health and numerous other competing priorities".
Highlighting a decade of underfunding in maintaining and upgrading of health infrastructure since the financial crash, O'Brien points to his belief that amidst a decline in the health of the Department's estate, increasing amounts of capital funding allocation is being directed towards "a small number of high-cost flagship projects", pushing other projects and equipment renewals onto the long finger.
Reid will need all of his dynamic and ambitious leadership skills which the Taoiseach has indicated if he is to succeed.