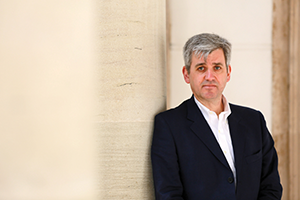 Google's Peter Barron discusses mobile search, privacy and doing business in Ireland with Peter Cheney.
"It's all about mobile," Peter Barron says of the digital world's over-riding trend. The Belfast-born man, now Google's Communications and Public Affairs Vice-President in Europe, has been with the company since 2008. He previously edited broadcasts for BBC Newsnight, ITN and Channel 4 News.
Barron has seen an "extraordinary shift to mobile devices" over the last two years "and, of course, that means that the way that we use search is changing very fast as well." He notes: "It's harder to type on your phone to put searches in so increasingly we're speaking to our phones."
Self-generated searches are also becoming a norm, bringing up scheduled meetings and highlighting local shops, restaurants, visitor attractions and weather conditions. Digital analyst Mary Meeker predicted significant growth for mobile but the rapid speed of change has meant major upheaval for a lot of companies which now need to have a mobile presence.
The speed and cost-free nature of online media has long been viewed as undermining the print media. In April, Google launched its Digital News Initiative (DNI), a partnership with European publishers to build a "more sustainable ecosystem" for their sector: "Sometimes the newspaper publishers have seen Google as an enemy or indeed a 'frenemy' but what we're saying is that we want to partner with the local news industry."
DNI's eight initial partners include the Financial Times and the Guardian, and the initiative allows publishers to feed into Google's product development, as well as providing a €150 million innovation fund to stimulate good ideas for the future of digital journalism, and training and research in newsrooms.
It's also open to start-ups and tech companies who want to get into the news business. The internet, it is put to him, is making it impossible for people to keep their lives private. "Privacy is very important," he comments. "We obviously handle a lot of data and, of course, data is extremely useful in providing the services that we provide but there's a great responsibility to handle that data responsibly."
Google aims to give users a certain level of transparency and control over what happens to their data. For example, Google Dashboard allows users to see the information held by the company and to control that by opting out of advertising etc.
The company used a "range of different factors" to choose Dublin for its Europe, Middle East and Africa headquarters, including the property offering and a well-educated workforce with good language skills. "A strong talent pool and a great environment to work [in] are really important."
Google pays a 20 per cent rate of corporation tax in the Republic – well above the 12.5 per cent rate. However, there is a vast difference between its last reported gross profit (€5.5 billion) and its operating profit (€45 million) mainly explained by royalties paid to its Bermuda office.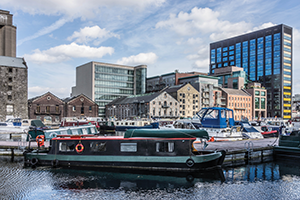 Barron adds that, under international tax law, companies pay tax where their products are created rather than where they are consumed: "Obviously, Google's products are consumed all around the world but the research and development and the risk that goes into Google's products, that happens in the United States." The company pays the full 35 per cent American rate and its global rate averages out around 18-19 per cent.
The company's informal culture differentiates it from many other multi-nationals. "We've grown from two guys in a garage to 40-50,000 people over the course of 16-17 years," he remarks. Google takes its culture "very seriously" and the company works very hard to attract the best staff and keep them "engaged and challenged and interested in their role."
Over the next year, Google is aiming to train 1 million people across Europe in digital skills.
Indeed, in a world where any company can now attract a global market, one of Google's main messages is that "businesses that embrace the web are growing way faster than businesses that don't embrace the web."
Not only that, their export potential is "far, far higher."