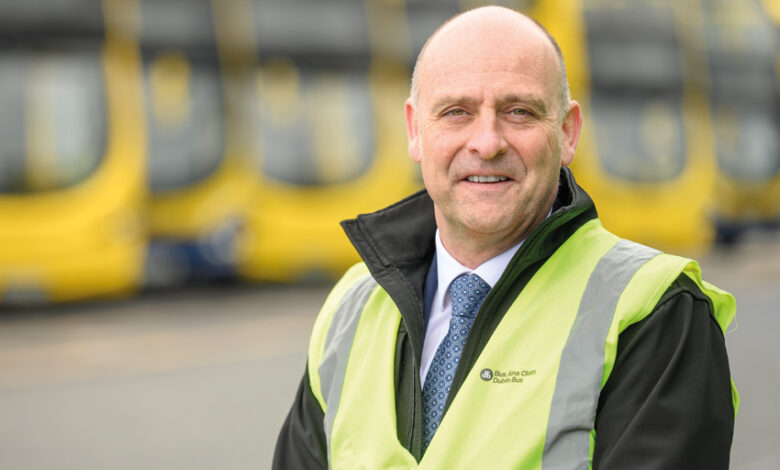 Dublin Bus CEO Billy Hann welcomes eolas Magazine to the Broadstone Depot to discuss the role his organisation plays in the socioeconomic life of Dublin city, why 'every journey matters', and plans to decarbonise its bus fleet.
Having trained as an engineer, Hann devoted almost 29 years to the Irish Aviation Authority (IAA), Ireland's air traffic control organisation, ultimately serving as Director of Air Traffic Management Operations and Strategy. Undaunted by his move to Dublin Bus in December 2022, the CEO insists that the transition has not been as dramatic as might be imagined.
"While Dublin Bus is a larger organisation and much more public facing than the IAA, the two roles have broad similarities, including operations and engineering support, and other corporate supports which are provided to a large service organisation. Ultimately, though, whether in air traffic services or Dublin Bus services, customers are the key stakeholder," he insists.
Born and raised in Dublin, Hann was honoured to take the wheel at Dublin Bus, Ireland's largest public transport provider and a quintessential Dublin brand. "As a bus service provider, Dublin Bus is a golden thread woven through the socioeconomic fabric of Dublin city," he asserts, adding: "Becoming CEO of Dublin Bus has been a fantastic opportunity and it is a great honour for me to be involved in such a progressive organisation."
Role
Most bus services in the Greater Dublin Area (GDA) are provided under a Public Service Obligation (PSO) contract directly awarded by the National Transport Authority (NTA). Operating in a context which is susceptible to change, the Dublin Bus CEO is keen to emphasise his organisation's strategic purpose in supporting the social and economic growth of the Greater Dublin Area. "Our strategy is centred around meeting and exceeding our customers' expectations. We do this by providing a safe, reliable, punctual, and quality bus services to the people of the Greater Dublin Area."
Passenger trends
Prior to the Covid pandemic, in 2019, Dublin Bus facilitated a total of 140 million annual passenger journeys across its range of services, including Cross City, Radial, Orbital, DART Feeder, Airlink, express limited stop commuter services, and Nitelink.
Highlighting Dublin Bus's role as an essential service provider during the pandemic, facilitating other essential workers, particularly healthcare workers in their journey to work, Hann expresses pride in the role played by his colleagues in helping to maintain critical services.
"Now, in the first four months of 2023, we are exceeding passenger figures for 2019 by 6 per cent. That is a very positive trend and I anticipate that we will surpass the 140 million passenger mark in 2023. This equates to approximately 2.7 million journeys each week, with a peak of 450,000 passengers each weekday.
"Each day, Monday to Friday, the total number of people transported by Dublin Bus is larger than the combined city populations of Cork, Galway, Limerick, and Waterford. We are transporting a phenomenal number of people and we are very proud of that fact."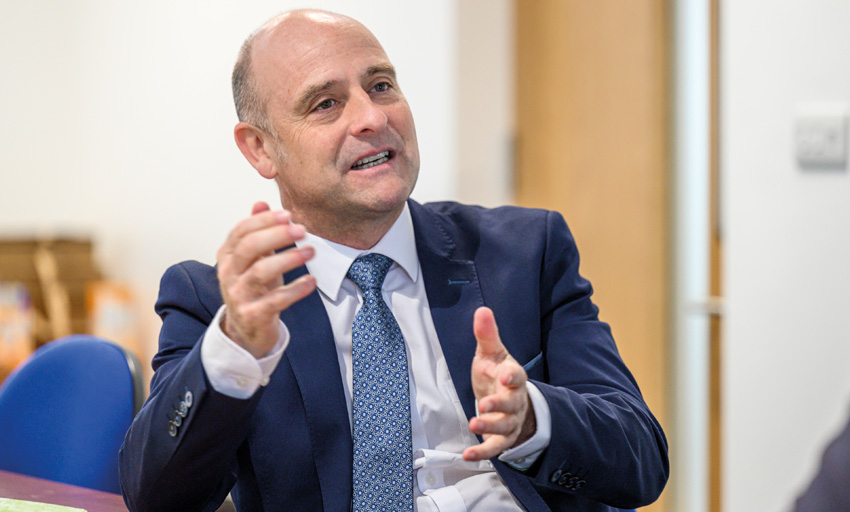 Increased demand
With increased demand comes the need for increased services and the challenge of recruiting bus drivers to deliver those services in an economy close to full employment.
"We are expanding services through BusConnects," Hann outlines, elaborating: "The challenge that this presents for us is ensuring that we have enough employees, particularly drivers and mechanics, to deliver additional services while maintaining our existing network of core services."
With applications for driver roles having increased by 900 per cent, Dublin Bus intends to train more than 300 additional drivers by the end of 2023. "It is a significant operation from a recruitment perspective. No other Irish bus provider is recruiting and training drivers at this pace," the CEO observes.
Reliability
Reliability is a key performance indicator within the terms of Dublin Bus's PSO contract with the NTA. Reliability of Dublin Bus services is measured against the lost kilometre rate.
Under its PSO contract, Dublin Bus must achieve a lost kilometre rate of 2 per cent or less. In other words, 98 per cent of scheduled services must be operated. Hindered by driver shortages, it is currently performing slightly under that figure at 97 per cent.
"Dublin Bus is a golden thread woven through the socioeconomic fabric of Dublin city."
Billy Hann, CEO, Dublin Bus
"Overall, we are 150 drivers short for the delivery of core services," Hann explains, asserting: "Regardless, we are very close to achieving the 98 per cent. That is why the driver recruitment programme is extremely important to us and will help with further expansion."
Closely allied to reliability is punctuality. Dublin Bus has approximately 5,000 bus stops and the NTA measures its punctuality against each of those stops. "The NTA expects our buses to arrive within seven minutes of the scheduled time at each of those bus stops, between 70 and 80 per cent of the time, depending on the route. Our buses must not be more than 59 seconds early or six minutes and 58 seconds late. That is difficult to achieve because post-pandemic traffic conditions are dynamic.
"As a customer standing at a bus stop, of course you expect your bus to arrive on time, all the time and we are working extremely hard to ensure this happens. If it does not turn up, then generally there is a very good reason for that."
BusConnects
Meanwhile, the October 2022 launch of Phase 4 of the BusConnects Network Redesign introduced the G-Spine routes operated by Dublin Bus and serving Red Cow-Spencer Dock, Liffey Valley-Spencer Dock, and Red Cow-Sir John Rogerson's Quay.
Reflecting on the latest expansion of the bus network, Hann remarks: "Ultimately, BusConnects is going to improve frequency and enhance the coverage of bus services across the Greater Dublin Area.
"We have implemented four phases and phases five and six are scheduled to be rolled out towards the end of 2023. However, BusConnects does have its challenges. Again, the most significant challenge for us with regards to the implementation of the BusConnects is the demand for additional bus drivers. We must maintain core bus services while also providing for the expansion of BusConnects."
Customer expectations
Recognising that its customers are its key stakeholders, Dublin Bus strives towards an "every journey matters" ethos. Reflecting on his initial months as CEO, Hann has observed the real-world application of this ethos by Dublin Bus drivers who, he says, exhibit a "recognisable and palpable joy in serving their communities".
"As far as we are concerned, our objective is to meet and, where possible, exceed the expectations of our customers through our service delivery. Without our customers, we do not have a business and it is as simple as that," he comments.
"Each of our buses are 100 per cent accessible, so we are very keen to provide services to all within our communities in Dublin," he comments. "For example, we are very proud to operate a free Travel Assistance Scheme which aims to instil confidence to use public transport among people with disabilities."
Through this scheme, any person with a disability can contact one of Dublin Bus's travel assistants who will then arrange to meet the individual at their home, identify the relevant bus route, and accompany the individual to the bus stop, on the bus journey, and all the way to their destination. They will do this as many times as required to ensure that an individual has the confidence to make the journey independently.
Other key performance indicators contained in the PSO contract with the NTA include cleanliness of buses and accuracy of real time passenger information (RTPI). "We are focused on exceeding the requirement in the PSO contract, which will help lift the overall performance of the organisation," Hann explains.
Electrification
Acknowledging that the wider transport sector represents almost one-quarter of Europe's greenhouse gas emissions – with a share of 17.7 per cent in Ireland in 2021 – Hann suggests that it is "a fantastic opportunity for Dublin Bus to make a difference". "Given that Ireland has committed to the reduction of carbon emissions in transport by 50 per cent by 2030 and a fully decarbonised transport sector by 2050, Dublin Bus will play a role through the electrification of its fleet.
"We are currently in the process of delivering this. For instance, the Dublin Bus depots at Phibsborough and Summerhill are being retrofitted with substations and chargers to facilitate electrification. We are also taking delivery of approximately 100 double-decker buses in 2023, with testing set to take place in Q3, before becoming operational in Q4.
"Over time, eight of our depots will be equipped with significant charging capacity and our goal is to have 40 per cent of our bus fleet electrified by 2027, with an ambition of 85 per cent by 2032. We aim to have decarbonised our entire fleet by 2035," Hann determines.
Addressing the obvious question of why electrification cannot be achieved sooner, he explains: "Firstly, the NTA has already invested in diesel buses with a 12-year life cycle; so, we are applying a phased approach, removing these from service as they approach the end of life, and replacing them with electric alternatives. Secondly, electric vehicle technology is still in relative infancy. As such, we want to learn from early adopters, ensuring that we invest in future-proofed assets and that our depots are as resilient as possible."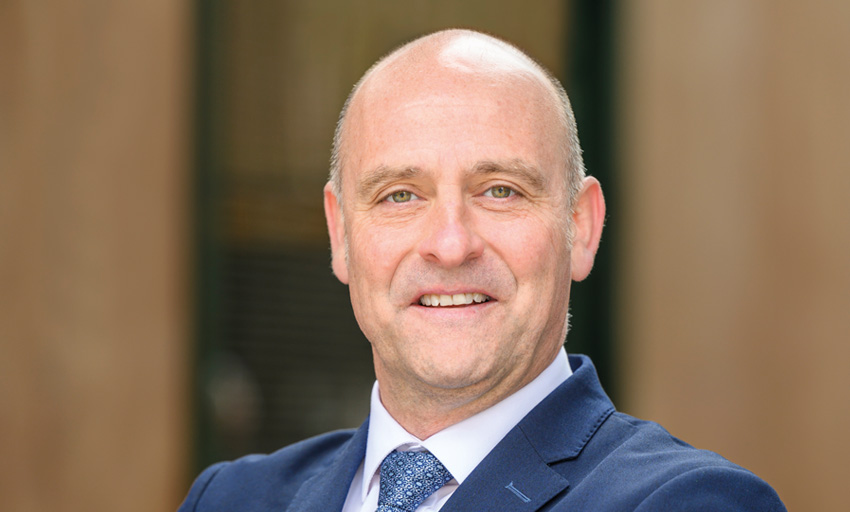 Sustainability
In late 2022, Dublin Bus published its new sustainability strategy with three main pillars:
environment;

governance; and

employee wellbeing and social responsibility.
While electrification of the fleet is the single most significant of Dublin Bus's climate action ambitions, the bus service provider has several initiatives seeking to enhance the sustainability and liveability of Dublin city. For instance, Dublin Bus has installed beehives at two of its depots – Phibsborough and Broadstone – under its Dublin Buzz initiative.
"In the push to enhance biodiversity and support the recovery of the native black bee population, Dublin Bus is playing its part. We have also planted several wildflower embankments at our depots to support the beehive installations," Hann remarks, adding: "Recently, our Dublin Buzz initiative secured the biodiversity initiative award at the 2023 Business and Finance ESG Awards.
"We have also launched a very successful rainwater harvesting pilot project at one of our depots. Each of our buses must be washed and cleaned nightly; a process that requires a considerable volume of water. As an alternative, we have begun to capture, filter, and use rainwater instead, an initiative which will be rolled out at all our depots in due course."
"Each day, Monday to Friday, the total number of people transported by Dublin Bus is larger than the combined city populations of Cork, Galway, Limerick, and Waterford."
Governance
Under the sectoral emissions ceilings agreed in July 2022, the transport sector is required to halve its emissions by 2030. Climate Action Plan 2023 has established a pathway for a "radical, equitable transformation in how we travel over the next seven years", and, ultimately, complete decarbonisation by 2050.
Reflecting on Dublin Bus's contribution to this transformation, Hann explains: "When a government target is set around sustainable mobility, as a bus service provider, we have a legal obligation to ensure that we take action to deliver those targets, monitoring and exceeding them where possible."
Social responsibility
Emphasising the importance of the health and wellbeing of his colleagues, the Dublin Bus CEO adheres to the adage that "a happy workforce is a productive workforce". Advocating healthy lifestyle choices, Dublin Bus employs dedicated staff to "provide our colleagues with information and training to ensure that their physical and mental wellbeing is looked after".
Within communities in the Greater Dublin Area, meanwhile, Dublin Bus is engaging with primary school age children, educating them on the significance of public transport, particularly bus services. "There is a challenge around antisocial behaviour in relation to our buses, so we are working closely with communities, stressing the importance that bus services should not be subjected to vandalism or antisocial behaviour," Hann notes.
"We have also teamed up with Bohemian Football Club as an official club partner. Bohs recently launched a robust social responsibility programme, and the club has undertaken fantastic work around diversity, accessibility, and inclusivity.
"That really resonates with the values of Dublin Bus, which has over 78 nationalities represented across its organisation. Making sure that these people are represented and valued is very important to us."
Ambitions
In the immediate term, the CEO is determined to return Dublin Bus services to "the performance levels which meet and exceed customer expectations". Looking ahead, while conceding that the PSO contract does not have much scope for profitability, he insists that the commercial aspect of Dublin Bus services – for example, the DoDublin and Ghostbus bus tours – have significant potential.
"Currently, due to driver shortages we are unable to put as much investment into our commercial aspects as we would like. However, as we begin to reverse that challenge, we will begin to invest in the services which we think will enhance our profitability.
"Our commitment to sustainability is not only a responsibility but also an opportunity to create a better future for our city and our planet. Dublin Bus wants to play a leading role in tackling climate change by reducing its carbon footprint and providing a more sustainable and reliable service. With the continued support of our customers, we are confident that together we can build a better Dublin, one journey at a time", Hann concludes.