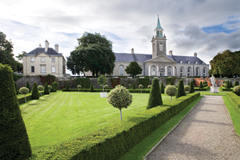 eolas previews the Irish Museum of Modern Art's upcoming exhibition celebrating its twentieth anniversary.
An exhibition celebrating the twentieth anniversary of the Irish Museum of Modern Art will feature twenty young Irish artists, whose work is being increasingly viewed on an international scale. With art installations, photography, painting and sculpture, 'Twenty: New Irish Acquisitions' will open on 27 May and will feature works from artists such as Patrick Michael Fitzgerald, David Godbold, Paddy Jolley, Nevan Lahart and Niamh O'Malley.
A sculpture by Spanish artist Juan Munoz – made of granite slabs mounted by flags and inspired by Edwin Lutyen's Cenotaph in London – will also be installed in the grounds that day.
In addition, an ongoing anniversary programme includes temporary exhibitions by other leading Irish and international artists.
A "highlight of the year", according to the museum director Enrique Juncosa, is the exhibition of paintings by Mexican modernists Frida Kahlo and Diego Rivera who are known world-wide for their contributions to the evolution of art. Opened on 6 April, the 20 paintings are supplemented by photographs, diaries, lithographs, drawings, pastels and collages, offering a wider insight into the artists' lives and work.
Paintings and sculptures by Irish abstract expressionist painter Barrie Cooke will include 'Slow dance on the forest floor' from 1976 and will open on 15 June. This will be followed by a 10- year survey of the film and photographic works of another Irish artist, Gerard Byrne. Many of his works were inspired by popular magazines and the work of modern playwrights such as Brecht, Beckett and Sartre.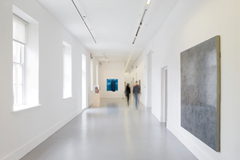 Brazilian artist Rivane Neuenschwander's work will be displayed for the first time in Ireland on 16 November. The exhibition will involve "visitor participation" and will include highlights of Neuenschwander's 'Brazilian conceptualism' which merges painting, photography, film, sculpture and installation.
Commenting on the overall collection for the anniversary year, Juncosa welcomed the way in which it "focuses especially on the most contemporary, to highlight the IMMA's commitment to new developments in the visual arts."
He added: "There is also a significant international dimension, in recognition of the new global art scene."
• The Irish Museum of Modern Art is housed in the 17th century Royal Hospital Kilmainham.
• It was established by the Government in 1990 as Ireland's first national institution for the presentation and collection of modern and contemporary art.
• Since its foundation, it has held 240 separate exhibitions.
• Its collection now includes 7,200 artistic works.