Transport
A bright future for bus transport in Ireland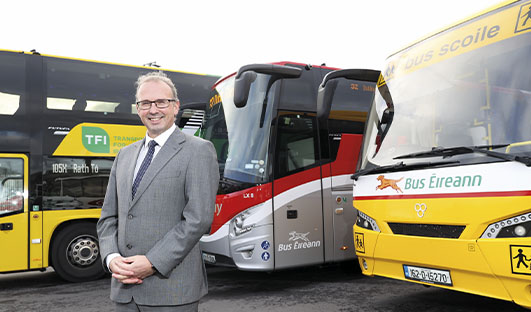 Bus transport is the most popular form of public transport, with Bus Éireann clocking up 120 million kilometres of journeys in 2019, more than any other operator. Good public transport for Ireland is important as we emerge into a post-Covid reality, writes Stephen Kent, Chief Executive Officer at Bus Éireann.
As people begin to travel again and form new habits around commuting, Bus Éireann continues to collaborate with the National Transport Authority to improve our bus network. We believe that to encourage more people to choose buses over private cars, public transport must be affordable, reliable, and sustainable and should connect people with who and what matters to them.
Affordability will be a key consideration for those returning to the workplace and to education when deciding how to travel. The Government's decision to reduce fares on PSO bus services by 20 per cent for all passengers and by 50 per cent for those aged 19 to 24 shows a commitment to moving away from private cars. This is the biggest discount across the board since 1946 and Bus Éireann was the first public transport operator to provide this deduction to our passengers. This reduction in fares will impact 20 million passenger journeys, significantly reducing the cost of taking the bus.
Considering these reductions at a time when fuel prices are high, leaving the car behind makes more sense than ever. For many young people who will benefit from the 50 per cent reduction with the new Young Adult Leap card, this is an opportunity to form a lifelong attachment to public transport by making it an affordable alternative to car usage. The ambition to make a lasting, positive connection between buses and our young people can be seen in our goal to increase the size of the school transport scheme, which currently carries over 122,000 students each school day, by 20 per cent by 2030.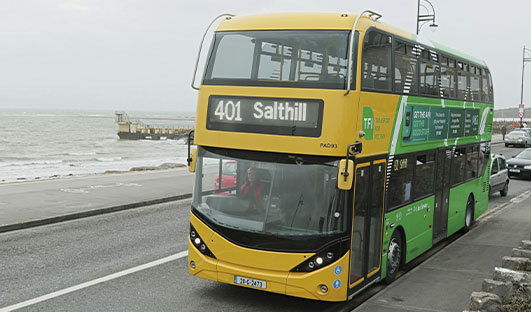 Challenges remain for the operation of a reliable bus network in Ireland, with congestion being a concern. Dublin and Cork both rank among the 100 most congested cities in the world1 and this presents not only a daily frustration for commuters, but a significant barrier towards a reliable service for bus users and potential passengers. Among the main benefits of taking the bus for those commuting is the ability to relax as they travel, read the news, check social media, and reconnect with family and friends. Congestion impacts on the reliability of our services, making it more challenging to get passengers to their destinations on time. This creates the perverse incentive of more people taking their own cars and increasing congestion further as a result.
Outside of Dublin, there is just 30km of bus prioritisation in Ireland and the Government has signalled their intention to increase this significantly. The BusConnects Cork plans announced by the NTA would see 75km of new bus lanes in the city, significantly reducing journey times and in Dublin, core bus corridors with bus prioritisation are a key element of BusConnects Dublin. The challenge of congestion is not insurmountable, but it does require thoughtful planning in order to convince more people that travelling by bus is a fast and reliable alternative to commuting by car.
"Our entire Galway city bus service is currently operating on hybrid buses, which reduce emissions by 30 per cent. We are also the first operator in the country to have three hydrogen fuel-cell buses in service, in the greater Dublin area."
Sustainability is also an important consideration for any modern public transport system, and we are committed to making our services sustainable for our customers and the communities we serve. Bus Éireann published our first sustainability strategy in 2021, with the ambition of reducing our own greenhouse gas emissions (GHGs) by 50 per cent by 2030. We collaborate closely with the NTA on the transition of our PSO fleet to the latest zero and low-emission vehicles. Our entire Galway city bus service is currently operating on hybrid buses, which reduce emissions by 30 per cent. We are also the first operator in the country to have three hydrogen fuel-cell buses in service, in the greater Dublin area. By the end of this year, the Athlone town fleet will have transitioned to Ireland's first fully electric town bus service.
With the Government's commitment in the Climate Action Plan to achieve a 51 per cent reduction in carbon emissions by 20302, we are carrying out upgrades and enabling works in our own depots to facilitate the latest, sustainable bus technologies and rolling out an eco-driving telematics system on our fleet to improve fuel consumption, passenger safety and comfort. Bus Éireann will continue to play our part in offering a sustainable public transport option for communities across Ireland.
Following enhancements on the Navan town bus service by the NTA and Meath County Council, the town bus saw a four-fold increase in average monthly passenger numbers by the end of last year3. The Government's Connecting Ireland Rural Mobility Plan also proposes a 25 per cent increase in rural bus services, enhancing connectivity to communities who are unserved or under-served by public transport currently. We in Bus Éireann are conscious of our duty to the 65 per cent of young people and the 29 per cent of older people who use our services currently and who say they are dependent entirely on us.
There has never been a more exciting time to be involved in bus transport, with buses increasingly able to offer a viable alternative to private cars. Although challenges exist, Bus Éireann will continue our commitment to delivering an affordable, reliable, and sustainable bus service to communities across Ireland.
T: 0818 836 611
E: info@buseireann.ie