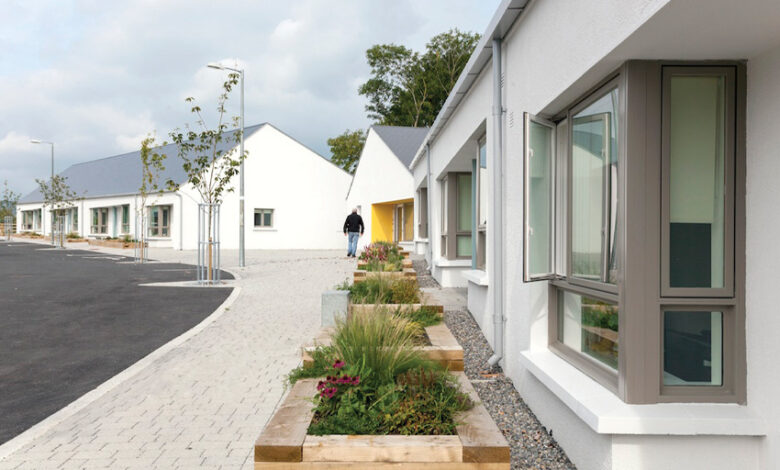 Construction of new dwellings appears to be on track to at least meet, if not exceed, Housing for All targets for 2023. Meanwhile, despite increases in both supply and planning permissions, residential property prices have climbed to all-time highs in 2023.
Housing supply
Government figures state that 6,716 new homes were completed in Q1 2023, meaning that 2023's rate of new home completions should be on track to reach its target under Housing for All, assuming new home completion rates stay consistent with Central Statistics Office (CSO) data from 2011 onwards. While CSO data differs from the Government's Housing for All progress report for Q2 2023 and records a total of 6,664 completions for Q1 2023, both represent increases on the totals recorded for Q1 2022, which also differ in official government and CSO datasets.
Both the Government's and the CSO's figures for Q1 2023 account for less than one-quarter of the Government's target of 29,000 new home completions for the year (23.2 per cent in the Government's data and 23 per cent in the CSO's), but encouragement will be taken from the fact that Q1 has accounted for the lowest number of new housing completions in every year since 2014, excluding 2020, when Covid-related shutdowns in Q2 caused a decrease in completion totals. This is borne out in CSO data for completions in Q2 2023, which states that 7,353 new homes were completed, bringing the total for 2023 thus far to 14,017, or 48.33 per cent of the annual target in the first half of the year. Q4 typically accounts for the bulk of new housing completions, being the quarter with the most new dwelling completions in every year since 2012.
Meeting the target of 29,000 for 2023 should be seen as the bare minimum for housing construction in Ireland, given that 29,851 or 29,776 new housing units were completed in 2022 according to Government and CSO data respectively. Both figures far exceeded the Housing for All 2022 target of 24,000. 13,247 new homes were completed in the first half of 2022 according to CSO data, meaning the first half of 2023 recorded an increase 5.8 per cent. 2022's first half accounted for 44.5 per cent of total completions, again an encouraging metric that the Housing for All target is one that could and should be far exceeded for the second year in a row, making it unsurprising that government figures have committed to scaling targets upwards as part of the ongoing National Planning Framework review.
With completions typically reaching their annual nadir in Q1 of each year, construction commencements tend to be at their lowest in Q4 of each year, with 2022 no different according to data from The Housing Agency. Construction activity in this regard has since recovered, with Q2 2023 seeing a total of 8,212 new commencements, the highest of any quarter since Q3 2021 and an annual increase of 14.8 per cent on Q2 2022 levels. Q1 2023 also recorded an increase of 4.7 per cent on Q1 2022.
What should also offer encouragement in terms of supply is the issuance of planning permission for 34,177 units overall in 2022 and 20,382 units in the first half of 2023. However, high levels of planning permissions issued have not always been an indicator of forthcoming commencements and completions: 2019 saw 38,461 units approved, 2020 saw 42,371, and 2021 saw 42,991. In the years following, Ireland has never exceeded 30,000 housing units built in a single year. In this context, 2022 totals for planning permissions are significant decreases, but still enough to meet Housing for All targets; the challenge appears to be one which has been raised often in recent times, that of unused planning permissions.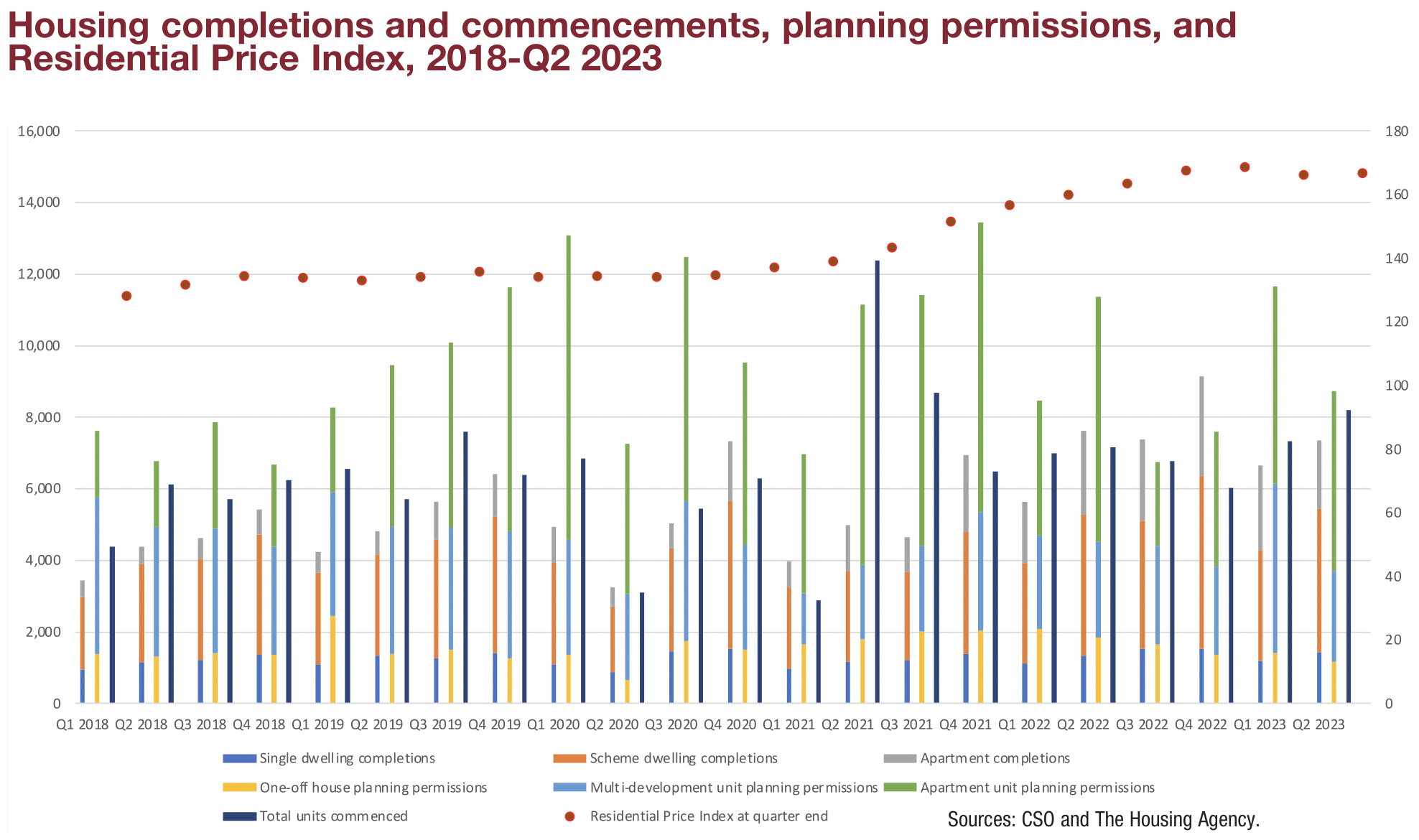 Construction and price indices
The CSO's provisional data for production in residential building shows Q2 2023 to have had a monthly decrease of 2.3 per cent and an annual decrease of 10.3 per cent despite the uptick in both completions and commencements. However, the Government will be encouraged by the fact that three of 2022's quarter recorded decreases in the residential building production index but only one of these decreases resulted in a fall in overall completion numbers (Q3).
More worrying will be the seemingly incessant climb of the CSO's residential property price index, which set a record in July 2023. The residential property price index was recorded at 167.4 where 2015 prices are 100, a 2.3 increase on the index's peak during the Celtic Tiger property boom in April 2007. The index hit its new peak (168.8) in December 2022, during the best quarter for new dwelling completions in recent memory.
The first five months of 2023 recorded successive decreases from that record level, before June and July recorded successive increases once again. January-May 2023 marked the first instance of successive decreases since December 2018-February 2019.
Despite the decreases in the first half of the year, July 2023's residential price increase sits at a level 14.8 per cent higher than that of July 2021. At a time when delivery of new housing in Ireland has significant increases, the price of these houses has continued to increase, all while both homelessness and eviction notices are also on the increase (see pages 148-150). What the data appears to be telling us is that if supply is to be the answer to the many crises intersecting in the Irish housing sector, the significant increases of late will need to be significantly increased upon themselves.
2023 Q2 Housing for All implementation highlights
 €150 million fund for tackling vacancy and dereliction in towns and cities introduced

Roadmap for increased adoption of MMC in public housing delivery published

Funding approved for 853 social homes and planning permission granted for 2,557 units on state lands in Dublin

Review of the National Planning Framework commenced

Phase 2 of Project Tosaigh commenced

First contract under Croí Cónaithe (Cities) Scheme signed