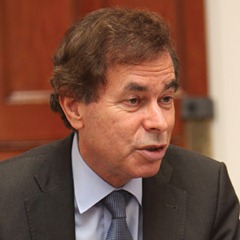 For law and order
Minister for Justice, Equality and Defence Alan Shatter updates Owen McQuade on his reform agenda across two departments and where costs will have to come down.
Alan Shatter has a lot on his agenda. Between legislative and non-legislative plans for his two departments, there is a lot he wants to achieve. When asked at the start of the interview what his priorities are, he laughs uproariously. "Oh dear God! How many hours do you have?" he asks. When he reveals at the end of the interview that his day starts at 5am and doesn't finish until 10-11pm, except Fridays ("which usually means finishing sometime between 5.30 and 7.30"), the earlier laughter seems appropriate.
"I have a whole range of issues I want to address," he tells eolas, yet it is the looming financial decisions under the EU-IMF requirements that seem most immediate on his agenda.
"Justice is a huge department with a whole range of obligations and services" that must "operate within significant financial limitations," he states. A major difficulty on the current spending side is the commitment in the EU-IMF deal to reduce the Garda numbers to 13,000 by 2014. The previous government committed to reducing the force to 13,500 by the end of 2011 (it had 14,337 at the end of 2010) "without putting in place any mechanism to achieve it, so it was something of a nonsense."
He expects approximately 500 members of the force to retire by the end of the year, but the financial allocation for the Department of Justice and Equality for 2011 was based on an assumption of 13,500 gardaí. "Well, as matters stand, I presently have to ensure we pay the wages for over 14,000 gardaí," he comments. On 11 October there were 14,113 in the force.
In tandem with Shatter's need to reduce the policing wage bill (90 per cent of the Garda budget is pay and pensions), the Garda Commissioner is producing a draft plan for 2012 that is looking at the use of resources, including "the extent to which current Garda stations may need to be maintained or the extent to which there may be changes", particularly the economics of "one person or two people stations." He expects the Commissioner to propose the closure of urban Garda stations at 10pm to allow "a sufficient number of gardaí available in squad cars for community policing, to respond to incidents that occur," rather than having "a significant number of them sitting at 2 o'clock in the morning in garda stations unnecessarily."
He states: "There's no point in having a station open at 11 o'clock at night so that somebody who suddenly remembers they should have got a passport form signed and who could do it earlier in the day lands into the station." Shatter is also anticipating proposals to reduce garda overtime.
Shatter doesn't know if "the reductions up to 2014 will stop at 13,000 or whether the financial and fiscal difficulties confronting the State may require us to recalibrate and re-look at that figure."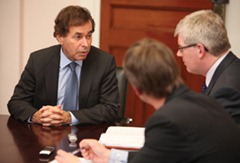 Prisons
Cuts to prison service spending are also within Shatter's range of sight.
The Justice Minister is considering whether the Prison Service or the Gardaí provide the most efficient way of transferring prisoners to and from court, services presently performed by gardaí. He doesn't have "a hard view" on which service provides it once "people are brought from prisons to the courts with appropriate security." He sees the potential in using video-conferencing rather than prisoners being brought "backwards and forwards [to the courts] with all of the expense and man and womanpower involved in that."
He agrees with the Prison Service that there is "a degree of over-crowding". Granting temporary release to prisoners before they are entitled to remission is an "unsatisfactory" situation.
Shatter has already effected the Criminal Justice (Community Service) (Amendment) Act 2011, which requires judges considering imposing sentences of 12 months or less to consider community service as an alternative. He hopes it will lead to "a lot of individuals who are in our courts convicted of non-serious offences" being required to do "serious community service".
Other measures include:
• a review of the remission system (it is 25 per cent for good behaviour in Ireland; compared to 50 per cent in England and Wales);
• the possibility of extending the remit of the Parole Board: from seven years or more to five or more years;
• a pilot scheme that will allow prisoners still ineligible for remission but who "pose no risk to the community" early release on condition that they do community service (supervised by the Probation Service) is about to commence.
On prison building projects "there's undoubtedly a need to implement the recommendations of the Thornton Hall Committee, on a scaled down version of prisons for Thornton Hall" and a replacement of Cork prison, which is subject to overcrowding "inappropriate in this part of the 21st century". However, he is unsure if the funding will be available for 2012 or 2013.
Shatter believes there needs to be a public debate on the State's general approach to sentencing and prison. "There's some people who believe that people engaged in criminality should just be put behind locked bars and we throw away the key," he states. "But that's not the way the world works; that's not the way it can work." People who commit serious offences should serve "appropriately long sentences" but the meaning of long sentences has changed dramatically.
He states: "People sentenced to life sentences in the 1970s would generally have served about seven or eight years; the average lifer today serves 17 years. So there's an issue: 'Is society benefiting from that? Is this costing the taxpayer too much money?'" He hopes to initiate a debate on criminal law in 2012 "because the system that we presently have is far too expensive."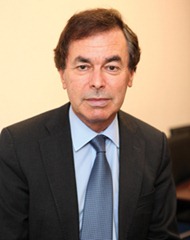 Legal services
Another item on his agenda is the Legal Service Regulation Bill, a requirement under the EU-IMF deal, which provides for a new legal services regulatory authority, an adjudicatory office on legal costs, a disciplinary tribunal for the legal professions and a liberalising of the professions (see page 100). The Law Society and the Bar Council have criticised the Bill.
"I think the initial reaction was disappointing," says Shatter, but he hopes that "on reflection" they will "revisit it in a more considered way."
He states: "The self-regulation model failed to detect the enormous difficulties that were being created by a number of people who have since been struck off." He cites Michael Lynn and Thomas Byrne (solicitors) "whose behaviour was despicable, who were struck off for misconduct, and who cost millions to the Law Society's compensation fund."
As a result of regulatory failures, middle range firms that have never had negligence claims made against them, have seen their indemnity insurance costs rise from €10-20,000 approximately seven years ago to €40-50,000 today.
He criticises the legal professions' claims that the Bill allows the Government too much say in oversight as "complete nonsense". The Government will appoint the 11 members of the proposed regulatory body because "but that's what governments do: they appoint members to a body." He asks: "Should some unelected group, unaccountable group make appointments?"
All members will have to fulfil express eligibility criteria such as expertise in competition law or disciplinary procedures concerning professional bodies. "So I can't appoint my pet poodle to this body," he adds. There is nothing in the legislation that will undermine the independence of the profession: "There's actually more provisions contained in this Bill about the independence of lawyers than in any legislation ever enacted in the country."
Shatter, who worked as a solicitor for approximately 30 years, knows "lawyers aren't a species that the general public generally applauds" and simply wants to see the legal profession reformed, "working well in the interests of consumers."
Immigration
Among Shatter's non-legislative reforms, he has changed the citizenship application business model and application forms to address the problem of 55 per cent of forms "being returned to the applicants because they were not properly filled in."
In 2010, 5,038 citizenship applications were decided on (90 per cent of applications are successful, consistent with previous years); by mid-September approximately 11,500 decisions had been made since Shatter took office.
He hopes by "sometime between Easter and June" next year all decisions will be made within six months of receiving them, in contrast to the two-and-a-half to three-year wait which applicants have been experiencing.
The changes have resulted in "substantial additional income coming into the department."
Shatter has announced a new visa scheme for tourists or businesspeople from 16 countries who visit the UK and would previously have required a separate visa to enter Ireland. The separate visa will no longer be required.
He hopes it will have a "significant impact in the medium term on our tourist industry," and attract businesspeople going to the UK to come to Ireland without unnecessary complications. The pilot scheme runs until 31 October 2012.
Two other visa scheme reforms are being considered: one to facilitate the establishment of third-level colleges that might provide education for non-EU Irish residents and a residential visa scheme for people "who have funds available to them," who want to invest in Ireland. "We're now in competition with the UK in this area," he states.
For Shatter the job is "sort of exciting, it's interesting, it's demanding". He reveals that he has encouraged his counterparts in Fianna Fáil and Sinn Féin to table private member's bills "in areas that we can't prioritise because of other pressures" and "genuine [legislation] amendments that are helpful."
It is in response, perhaps, to having "battled from the outside looking in, to try and get private members' bills enacted" whilst in opposition.
Tags: Justice reform