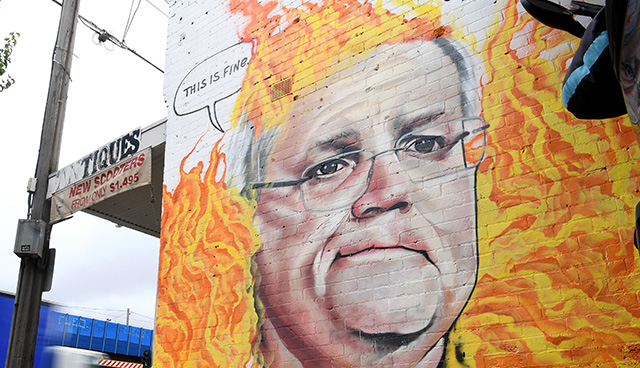 As the Australian summer once again sets records for scorching temperatures and drought, the increasing intensity of annual bushfires caught global attention and kindled a debate about the Liberal Government's commitment to climate action. Prime Minister Scott Morrison, who infamously showcased a lump of coal in the Australian House of Representatives, has had his fingers burnt.
Aside from a severe reduction in air quality as acrid smoke blotted the skylines of the east coast cities of Canberra and Sydney, the respective political and economic capitals, the Lucky Country's urban centres escaped relatively unscathed from the infernos that engulfed vast areas across rural New South Wales, Queensland and Victoria. Some 30 people were killed while over 2,000 homes were destroyed.
Bushfires are a common phenomenon in each of Australia's six states and two territories. Any visitor who ventures beyond its metropolises is likely to encounter Bush Fire Danger Ratings boards displayed prominently in suburban outskirts, coastal towns and rural hamlets, as well as the fires themselves, albeit on a comparatively modest scale.
As such, the intensity of this summer's fires is notable for two reasons. Firstly, the scale of the fires is unprecedented (10 million hectares of land burnt) and secondly, the fires arrived earlier than the usual height of summer peak. Indeed, the fires appear to have reached their greatest intensity in late spring/early summer.
An additional factor is the social media effect which successfully positioned the most recent bushfires at the centre of the global consciousness for several weeks. Graphic images of incinerated animals, including kangaroos and koalas – quintessential symbols of Australia – went viral across the globe.
Ignition
An increase of over one degree Celsius in Australia's climate has resulted in an increased frequency and intensity of heatwaves and droughts. The 2018/2019 summer was the hottest on record and 2019 was the driest year since 1900. The natural propensity for bushfires to flourish in such a hot and dry country, colonised by tinder-like flora, is exacerbated by human carelessness – when disposing of cigarette butts, undertaking construction work and extinguishing campfires – as well as arson.
Writing in the Sydney Morning Herald, Paul Read from Melbourne's Monash University indicates that some 87 per cent of bushfires are ignited, whether deliberately or otherwise, by humans (with the other 13 per cent attributed to lightning strikes).
Conversely, however, controlled fires may also contribute to a solution to curtail the worst excesses of bushfires. Fire has been utilised as a land management tool by Indigenous Australians for millennia. The rationale for small scale 'cultural burns' as a component of bush and forest management is its ability to remove organic debris, which acts as fuel for wildfires, and create natural firebreaks in areas prone to ignition and spread.
Ecology
While in human terms, the 25 million population of Australia suffered only glancing damage, an ecological disaster is still unfolding. University of Sydney ecologist Chris Dickman estimates that over one billion animals, excluding fish, amphibians and insects, have perished in the state of New South Wales alone.
In subsequent radio interview, Dickman suggested: "What we're seeing are the effects of climate change. Sometimes, it's said that Australia is the canary in the coal mine with the effects of climate change being seen here most severely and earliest… We're probably looking at what climate change may look like for other parts of the world in the first stages in Australia at the moment,"
The coal mine analogy is apt given Australia's significant coal exports. Consequently, the Australian Government's reputation is more than a little smoke damaged.
Mining boom 2.0
Having underwent a mining boom in the 2000s, the ground is now being prepared for a second wave. While coal, iron ore and LNG continue to dominate Australia's mineral exports, attention has turned to titanium, lithium, nickel and cobalt. No surprise, perhaps, that US President Donald Trump referred to Prime Minister Morrison as "a man of titanium" during the Australian premier's 2019 visit to the States. Australia's resources are now a cornerstone of US-China trade tensions and the country finds itself in an advantageous position.
Paradoxically though, while a high-income country, the economy of the resource rich continent is ranked 93rd (out of 133 countries) on Harvard University's Atlas of Economic Complexity, behind Kazakhstan, Uganda and Senegal. "Australia's worsening complexity has been driven by a lack of diversification of exports," according to the Atlas.
Similarly, according to the Australian Government's Labour Market Information Portal, mining accounts for only 1.9 per cent of the total workforce (around 249,800 individuals). Likewise, the economic contribution of coal is drastically overstated. Coal mining employs a miniscule 0.4 per cent of Australian workers, representing a mere 2.2 percent of the country's GDP.
ScoMo
The Government's initial response to the bushfire emergency was roundly excoriated for its lethargy. Prime Minister Scott Morrison has been the object of smouldering criticism, exemplified by a moment captured by broadcast media cameras when an embattled firefighter refused to shake his hand.
Caught off-guard while on a family holiday in Hawaii, Scott Morrison's absence at the outset of the bushfire emergency brought to mind Tourism Australia's 2006 advertising campaign conceived under the Prime Minister's tenure as Managing Director of the government agency: "So, where the bloody hell are you?"
Seemingly unfazed, 'Scotty from marketing' later spoke to Australian radio broadcaster Ray Hadley about his judgement:
Morrison: "G'day Ray."
Hadley: "Jeez you copped a hammering while I was away."
Morrison: "Goes with the job mate."
Maintaining that his government had never disputed the connection between climate change and Australia's shifting weather patterns, the Sydney-native asserted: "There has been a lot of blame thrown around… It doesn't help anybody at this time, and over-analysis of these things is not a productive exercise." Morrison's swagger emanates from the Liberal Party's unlikely victory in the May 2019 federal election which defied opinion polls.
Meanwhile, the reluctance to acknowledge Australia's climate action obligations can be explained largely by Morrison's unwavering support for the coal mining industry. Two years ago, in his previous office as Treasurer of Australia, Morrison animatedly brandished a large lump of coal in the House of Representatives, taunting the Labor Party opposition and flippantly declaring: "This is coal, don't be afraid."
The political love-affair with mining and resource exploitation negatively correlates to rising climate consciousness among the Australian public. Meanwhile, Morrison's Liberal government can barely contain its contempt for climate activism. This was exemplified in his response to the September 2019 'climate strike' and the actions of Australian contingent of the global Extinction Rebellion protestors. "We are working to identify serious mechanisms that can successfully outlaw these indulgent and selfish practices that threaten the livelihoods of fellow Australians," threatened the Prime Minister.
As the ash settles, the fallout for Australian politics, climate action and biodiversity remains to be seen. The combination of repercussions represents a virtual tinderbox in a political environment prone to spontaneous combustion. Australian federal politics has burned through four prime ministers in only seven years. ScoMo could yet be engulfed.