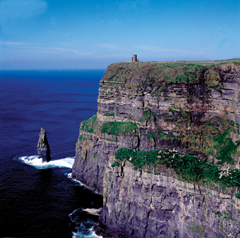 Peter Cheney sums up what the region has to offer tourists, from the wild West Coast to the quieter river route.
Traditionally known as a gateway from the USA, the Shannon region takes in Counties Clare and Limerick, as well as North Tipperary and South Offaly.
"Up until the advent of open skies, for a flight that went to Dublin, a corresponding flight had to go to Shannon which in essence meant that a lot of them stopped in both," Fiona Monaghan, Fáilte Ireland's head of operations in the West, explains. The region is marketed by Shannon Development and Tourism Ireland.
The area has a good reputation for hospitality and combines two "very distinctive visitor propositions" i.e. the dramatic West Coast landscape and the more tranquil river itself. The former appeals to Americans, who associate that scenery with Ireland, while the latter is favoured by French and German boaters. The Shannon-Erne Waterway, further upstream, can take visitors into Fermanagh.
Limerick
Shannon's city was founded by unwelcome visitors, the Vikings in 812AD and has enjoyed a colourful history since then. King John's Castle (13th century) was home to Ireland's royal mint in medieval times. Tourists can receive their own coin as a souvenir.
A visit to the revitalised waterfront is suggested by Shannon Development. Munster rugby's home ground, Thomond Park, can seat 26,500 and the city is known for its passion for sport; the Arena in the university grounds includes Ireland's first 50m Olympic swimming pool.
Limerick is the European City of Sport for 2011. Forthcoming events include the South of Ireland Open Senior Tennis Championship (19-25 June), the Pig'n'Porter Tag Rugby Festival (15-17 July) and the Irish Festival of Speed, at Adare Manor (31 July). Adare's thatched cottages are a picturesque contrast to the city.
The Foynes Flying Museum recalls the days when the port was a thriving hub for trans-Atlantic seaplanes between 1937 and 1945. The original terminal building still stands and exhibits include the only full-sized replica B314 flying boat. Foynes is also credited for the first Irish coffee, served in 1943 to passengers who had to fly back due to rough conditions. Chef Joe Sheridan put whiskey into the brew and it is still served to visiting dignitaries at Shannon Airport.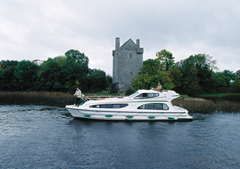 Clare
Clare's most alien landscape is also its best known. A rich variety of plants and animals can be found between the cracks of the Burren's limestone pavement. The rugged scenery continues underground in the Aillwee and Doolin caves. The national park meets the Atlantic at the 214m tall Cliffs of Moher, Ireland's most popular visitor attraction.
Bunratty Castle, in County Clare, is meanwhile described as Ireland's "most complete and authentic medieval fortress". It dates from 1425 but was restored in 1954. The castle is furnished as it was in the Middle Ages and hosts medieval banquets throughout the year. The extensive collection of artefacts and paintings can be viewed at www.bunrattycollection.com
Adjoining the castle, the 26-acre Bunratty Folk Park recreates life in a 19th century village, including a school, post office, old shops and a pub. Traditional music is played nightly in the Corn Barn over the summer months. Knappogue Castle, near Quin, and Dunguaire Castle, just inside County Galway, are two more examples of well-preserved tower houses.
The county town of Ennis is an "unspoilt, provincial market town" with narrow streets and neat old shops but also a relatively young population. It has an easy-going air and is home to the Glór Irish music centre.
Lahinch and Doonbeg are two of Ireland's prime golf links.
Spotting bottlenose dolphins in the estuary is a particular treat for children.
Tipperary & Offaly
Further inland, attractions include Birr Castle's Demesne of Discovery, which has a science museum celebrating Irish achievements and a restored giant telescope. Clocmanoise is a more spiritual retreat at the river bank. The Slieve Bloom mountains appear high due to the surrounding plains but are a gentle landscape. Thurles gave birth to the revival of Gaelic games in 1884.
Shannon's visitors
In 2009, the region attracted 1.7 million tourists who brought a total of €391 million in revenue into the local economy. Most of this (€250 million) was spent by out-of-state visitors, who numbered just under 800,000 and take eight-night breaks on average.
The largest out-of-state market was mainland Europe (16 per cent of all visitors), followed by the UK (14 per cent) and North America (13 per cent). Seventy-seven per cent of North Americans came on touring holidays while visiting friends and relatives was the main reason for UK visits (43 per cent).
Tags: Shannon