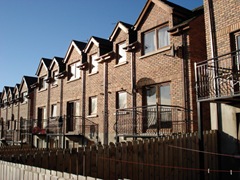 Dr Michelle Norris outlines how the provision of social housing evolved in Ireland and proposes some solutions to the current funding crisis.
Almost 10 per cent of Irish households live in social housing. While this is low compared to historic norms (in 1971 it accommodated 15 per cent of households), demand has risen significantly in recent years with waiting lists increasing from 42,946 to 56,294 between 2005 and 2008.
Ireland's 140,000 social houses are provided by local authorities and non- profit housing associations, let at below market rents and allocated on the basis of need. However, central funding for social housing acquisition and refurbishment was reduced from €1.7 billion in 2007 to €807 million in 2011.
Provision
When social housing first emerged as a solution to the housing problems of low income households in the early 20th century, government envisaged that dwellings in this sector would be funded primarily by loans repaid with tenants' rents, rather than by the public sector. However, this is not how the sector developed. Local authorities came to be the dominant providers and the public capital subsidy grew incrementally larger until the 1960s when it reached 100 per cent for the vast majority of social housing developments.
Since the late 1980s, central government has made several attempts to reform the dominant mode of provision; most notably, dedicated funding streams for non-profit sector housing associations were introduced and these agencies now provide 18.6 per cent of social rented dwellings. However, no significant attempts were made to reform funding arrangements.
This is because these arrangements were necessary to support two other distinctive and popular features of the Irish social housing system: sales to tenants at a marked discount from the market value, which were first introduced in the 1930s, and a system of income related rents, whereby low income tenants pay lower rents, which spread slowly across the country from the 1950s.
That system of large, up-front capital subsidies (albeit accompanied by modest ongoing revenue subsidies) proved unaffordable for government in the long run. Funding for social building and therefore output was cut radically during the fiscal crisis of the mid-1980s.
Although funding and output increased again during the Celtic Tiger period, in absolute and relative terms, social house building never returned to the levels seen during first half of the 20th century. Instead, rent supplement, which was introduced during the late 1970s to supplement the rent of unemployed households accommodated by private landlords, took on the role of a de facto second tier social housing sector. In 1994, 28,800 households claimed rent supplement, while 95,735 households were local authority tenants. The equivalent figures for 2008 are 94,038 and 118,398.
The growing reliance on rent supplement was problematic. It is more expensive than social housing for some categories of households (e.g. families with children). It is a 'demand-led' scheme and therefore costs increase exponentially during recessions and in districts where take up- take is high it acts as a 'floor under rents' which inhibits price corrections. Furthermore, there is significant evidence that rent supplement claimants have difficulty in accessing accommodation which is good quality and not located in a low income neighbourhood.
Recent reform
Since the mid-2000s, a range of reforms for financing and procurement have been implemented. The pace and scope of this reform has recently increased following the emergence of the latest crisis in the public finances.
The first wave of these reforms saw the establishment of the Rental Accommodation Scheme (RAS) in 2004. Under the terms of this scheme, rent supplement claimants of 18 months or more will no longer source their own accommodation from a private landlord. Rather, local authorities will do so for them by long-term leasing private rented dwellings for re-letting to rent supplement claimants. It was envisaged that landlords would be willing to accept sub- market rents in return for this guaranteed revenue stream and therefore the RAS would achieve significant expenditure savings compared to rent supplement.
Although some savings have been made, these have been less than envisaged largely because many rent supplement claimants were found to be living in sub- standard accommodation when assessed for transfer into the RAS. Consequently, local authorities were forced to lease better quality and therefore more expensive accommodation to re-house them. However there is evidence that the RAS has effected a significant improvement in the quality of housing occupied by former rent supplement claimants, particularly in cities.
The RAS model was extended in Budget 2009 when the Government announced that the vast majority of capital funding for new social house building would be withdrawn and in the future, most additional social rented housing would be sourced by means of long-term leases from the private sector, including both developers and landlords. In view of the marked oversupply of new dwellings in many parts of the country, to date, uptake of this scheme has been disappointing (it has delivered in the region of 3,000 units) and the Department of the Environment is currently refining this scheme to promote increased take up.
Most recently, in Budget 2011, the Government announced efforts to promote the mixed funding of social housing provided by non-profit housing associations. €15 million in public capital funding will be provided to enable these agencies to leverage private loan finance to deliver new social housing. If necessary, aid will be provided by the Housing Finance Agency, which borrows funds for housing projects on behalf of the state.
Challenges
During the first half of the 20th century, social housing delivery and funding systems emerged in Ireland which were unusual compared to our western European neighbours. Since the 1990s these arrangements have been extensively reformed and independent, non-profit agencies play a key role in delivering social housing. Public funding for the sector consists mainly of revenue supports rather than capital grant aid. Other European countries have successfully used similar mechanisms for decades. However, embedding this reform in Ireland will prove challenging, especially in the context of a fiscal crisis of unprecedented scale and rising unemployment which will increase the need for housing support from government.
Some of the problems associated with reforming social housing delivery are technical and therefore more straightforward to address. For instance, take-up of the long term leasing scheme has been impeded by the fact that participating developers will be liable for VAT which is passed onto buyers on the sale of dwellings. This could be resolved by converting this scheme into a 'hire purchase' type arrangement, whereby ownership would revert to the social landlord at the end of the leasehold period.
In the context of the recent radical decline in house prices, this option would also probably achieve better value for exchequer investment. The scheme to enable housing associations to borrow to fund social housing acquisition has been established very recently; therefore it would be premature to attempt to assess its achievements. However evaluations of similar programmes elsewhere in Europe clearly indicate that in order to be successful they require ongoing government subsidies in cash (e.g. interest rate subsidies) or inkind (e.g. loan guarantees).
The other key challenges to social housing sector reform are related to the fragmented structure of this sector. The 23,000 dwellings in the housing associations are distributed among some 700 separate agencies, over two-thirds of which supply only a handful of dwellings and are managed entirely by volunteers. The 120,000 dwellings provided by local authorities are distributed among 89 landlords, but only seven landlords in this sector own more than 3,000 dwellings.
From the perspective of housing management, this stock distribution pattern creates significant diseconomies of scale. From the perspective of reforming funding, very small landlords are unlikely to own enough dwellings on which to secure private sector loan finance, therefore some amalgamation of landlords will be necessary to enable diversification of funding. In the case of local authority-provided social housing there is an added complication. Their borrowings form part of the national debt, which may explain which this sector was excluded from the funding diversification plans announced in Budget 2011. Other EU members, notably the UK, have surmounted this issue by transferring social housing from local authorities to the ownership of a housing association or an especially created independent agency known as an arms-length management company. In view of the shortage of large social landlords in Ireland, rising social housing need and the extreme pressures on exchequer funding for the sector, radical interventions of this type are also required in Ireland.
Dr Michelle Norris is senior social policy lecturer at University College Dublin.
Tags: Time for a radical revamp
Date posted: Thursday, March 31st, 2011 at 9:52 am