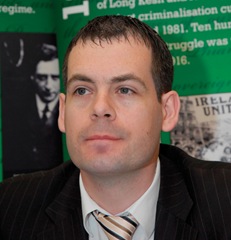 Pearse Doherty is a Sinn Féin TD for Donegal South-West and party spokesman on finance. Before politics he worked as a civil engineering technician and on an EU-funded project that trained, educated and counselled former republican prisoners. He was elected a councillor in 2004 before becoming a Senator in 2007. In 2010, after taking the previous government to the High Court over a delay in holding the Donegal South West by-election he was elected a TD in the by-election. He is married to Róisín and has three sons.
How did you get involved in politics?
I never expected to get involved in electoral politics. From a very early age I wanted to be involved in Sinn Féin. I wanted to be involved in the republican struggle, to be part of freeing our country. Though I was only three or four years of age in 1981, 10 years later, reading about the hunger strikes as a 13 year old lit a spark inside me, and from that I just knew that I wanted to be involved in playing my part to try and bring an end to what was the injustice in the North. That was at a very young age and then I opened my eyes to see that we didn't just have injustice in the North, we had injustice right across the island and from there eventually I kind of stumbled into getting involved in electoral politics.
What issues is Sinn Féin prioritising during the 31st Dáil?
To make sure that whatever policies the Government brings forward are fair, that they don't affect the most vulnerable and the most in need in a negative way, to try and protect public services while at the
same time trying to reduce our deficit and get back into the bond markets.
Our job is to put very credible alternatives on the table, to show to people that there is a real alternative: that people shouldn't buy into this notion that there is no other way. We have a range of proposals that will see the middle income earners, those that are dependent on social welfare and public services protected, while at the same time there are hard decisions in our policies for some people who have additional wealth, because we believe they should pay more so we can protect those at the bottom of the ladder.
The other issue is job creation. We have a genuine belief that our economy and country can't recover unless we create jobs, that we can't afford to have nearly half a million people out of work, and we can't afford the social consequences of trying to make it affordable.
What are the main issues facing Donegal South West and the region?
The main issue is unemployment, even during the height of the Celtic Tiger unemployment rates in Donegal South West were over 20 per cent, so getting people back to work and providing them with those opportunities.
Another major issue is the services which people rely on, because it is very much an isolated rural constituency, and the border makes it all that much harder because we're cut off from the rest of the state. It's about making sure we have the proper investment and giving people the proper opportunities.
When, if ever, do you think there will be a united Ireland?
Bobby Sands wrote in the last words he ever wrote in his diary on hunger strike: "The day will dawn when all the people of Ireland will have the desire for freedom to show." I think that's one of the things that we need to work on, that we need to get more people to realise that a united Ireland is achievable. For the first time, since the Good Friday Agreement, we now have the legal instruments to bring about a united Ireland through a border poll. It's impossible to set a date on it but I want to see a united Ireland in my lifetime.
I'm an impatient republican. I'm not happy just to wait and let it happen gradually, I believe that we can make decisions and take actions today that will lead to a united Ireland quicker than it may happen. It will happen eventually but I want to see it happen quicker than eventually.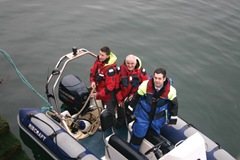 What do you think are the three biggest challenges facing the Minister for Finance?
To ensure that the budget that he brings in, with the type of adjustment that's talked about, is fair, and that it's seen to be fair by the public.
The second thing is to convince our European partners that we cannot pay back all of the €64 billion of banking debt, and we need a write-down on that debt.
And the third thing is to steer our economy in a different way, away from the kind of greedy, ugly, selfish style in which the economy developed during the Celtic Tiger, into a fairer, more equal, balanced economy into the future.
From your own experience how does the Dáil contrast with the Seanad as a parliamentary chamber?
I think there's a massive difference between the Dáil and the Seanad. For a start there's a chance that somebody is listening to you when you're speaking in the Dáil, there's very little chance in the Seanad. The Seanad doesn't get the media attention that it deserves.
During my time in the Seanad I felt very frustrated because I felt that what I was doing was quite irrelevant, and that's very different than in the Dáil. In my own experience I saw a huge contrast because I went from being in the Seanad one week to the Dáil the next week, delivering the response to the budget, carried live on TV. That kind of example showed me that people do not have a huge regard for the Seanad, and the reason they don't is because they don't know their senators. It's undemocratic, elitist and out of date. There's a huge difference and there is no need for the Seanad in its current form.
What deputies in the other political parties do you admire and why?
Admire is a word that I don't use, whether you ask me about my own party or other parties. I think respect would be a more appropriate word. I respect people who speak their minds. Recently we've seen Tommy Broughan and Peter Matthews speaking their minds. There are many others in the different political parties that I respect as well. I respect people who have conviction politics. I respect the stance that was taken by Denis Naughten in what was a difficult stance for him.
Name three people you would invite to a dinner party?
Tommy Tiernan to keep craic going at the dinner table, Francis Black for a good sing song afterwards, and my wife so I don't get into trouble the next day.
How you do you like to spend your spare time?
Just relaxing, catching up with the boys. I love a good movie at the cinema or on TV just to chill out.
Tags: Political Platform