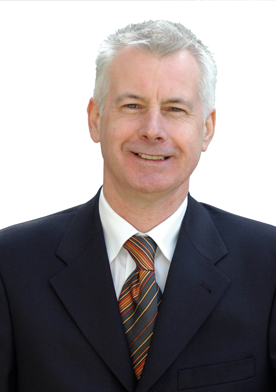 First elected to the Dáil for Dublin South West in 2002, Sinn Féin's Seán Crowe lost his seat in 2007 but regained it in 2011. He was a councillor on South Dublin County Council from 1999 to 2003 and 2008 to 2011.  Now the party spokesman on education and skills, he reflects on a changed Dáil.
How did you get involved with politics?
I suppose the big influence was what was happening in the North: the Civil Rights Movement, people being treated like second class citizens in their own land, the denial of housing because of religion and or perceived politics, the gerrymandering of votes, the pogroms and the events that led to Bloody Sunday. I travelled to the North, saw what was happening with communities torn apart and decided to get involved in the Irish Civil Rights Movement.
Why Sinn Féin?
After looking around, who was doing what, what they were saying and doing or not doing, I decided on Sinn Féin. I believed it was, and still is, the only Irish political party with a credible strategy for uniting the people of Ireland and its core values are rooted in achieving a fair and equitable society, where all of our citizens are treated equally. We take our inspiration from the Easter Proclamation, Ireland's Freedom Charter, a document that was before its time and is as relevant today as it was in 1916.
What is your main priority in representing Dublin South West?
Dublin South West has some of the highest levels of poverty and unemployment in Ireland. Jobs and their creation, particularly amongst our young people, is my main priority.
We have to begin the slow and difficult task of rebuilding our economy and the social cohesion of communities that for decades have been poorly served or ignored by the political establishment. This means attracting investment through a range of incentives that can ensure sustainable and, hopefully, long-term job creation.
What are the most challenging and rewarding aspects of your job?
The importance of managing my time as a full-time legislator in Leinster House, providing effective representation for my constituents at a local level and spending quality time with my family can be a difficult balancing act. One of the most frustrating aspects of my job is trying to prevent the Government from implementing regressive legislation which you know in your head and heart is going to make things worse or more difficult for ordinary people.
The media's representation of politicians, particularly when we are all derided as being corrupt, is also challenging. There are many rewarding aspects to being a TD, not least of which is being able to use my role as a public representative to make a difference in people's lives.
What are the three most important reforms needed in the education system?
Top of the list would have be security of funding.  Our education spend needs to be sustained and we would link it to our GDP, making sure a minimum of 7 per cent was spent on education.
Greater investment in pre-school and early school intervention: This neglected area is where international best practice shows that the great leap forward in education can be made.
'Access to Education: Making our education system open to all' means the introduction of financial and other supports for students. It doesn't involve cuts in special needs assistants and does include the full implementation of the EPSEN Act. It has to mean real equality of access for all, not just an elite. This will have to involve the lifting of the cap on PLCs, the reduction of student fees and the opening up of school transport links and supports.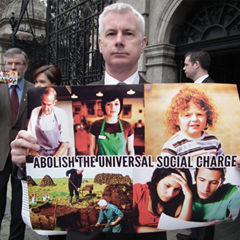 How has the Dáil changed since you regained your seat in 2011?
The most striking feature was the huge reduction in the members of Fianna Fáil and listening to their leader complaining profusely about the lack of speaking time "for the opposition". It was a bit hard to reconcile and to be honest a bit of a shock to the system. For me personally it's great to be joined by so many party colleagues which literally means I don't have to cover the five or six portfolios that I was trying to cover in the previous Dáil.
Name three people whom you would like to have lunch with.
Martin Sheen, who led a really interesting life as an anti-war activist, a civil rights activist, an environmentalist and a brilliant actor. He was a seanchaí in the true sense of the word.
Gareth Peirce, the human rights lawyer, who is renowned the world over for her defence of miscarriages of justice. Gareth is a hard worker, who has inspired many marginalised people or those that the British establishment left to rot in gaol.
Nelson Mandela, the anti-apartheid activist who became the first South African President to be elected in a fully representative democratic election.
How do you relax outside politics?
I've followed the Dublin GAA team most of my life. I also try to get to Shamrock Rovers in Tallaght Stadium. I also follow the Irish football team and I'm an avid reader and I even have an allotment that I try get to get things to grow on!
Tags: Political Platform