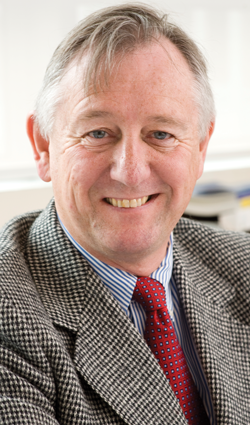 Professor Richard Milner, Director of MIT's Laboratory for Nuclear Science, talks to Stephen Dineen about his membership of the Global Irish Network and the Irish diaspora's efforts to aid recovery.
"I can't tell you how or why," says Richard Milner of his invitation to the inaugural meeting of the global Irish economic forum in Farmleigh back in September 2009, but he was pleased. While he did not attend, Milner did attend the second meeting in October 2011, paying his own air fare to be there. By extension of attendance, he is a member of the Global Irish Network, a group of approximately 350 Irish private-sector decision-makers in almost 40 countries involved in promoting Ireland.
The two-day event at Dublin Castle "was constructive" according to Milner. "I think a lot of us got certainly a sense of the Government, about where Ireland is now and where it is heading."
As a network member he now receives regular letters from the Taoiseach and Tánaiste, who "keep the network informed on what's happening economically in the country." In February he attended the 'Invest in Ireland' forum in New York, organised by Bill Clinton.
For the Cork man who has been living in America for over 30 years, Ireland's economic crash must be put in perspective. "The context was there was a much bigger crash going on here," he says. "Around that time the whole world was falling apart. Lehman Brothers went bust."
"I grow up in Ireland in the 60s and 70s," says Milner. "Look at the infrastructure the country has now compared to what we had. Look at the wealth that exists compared to what we had, my parents had." He asks: "What the hell's all this complaining about? I mean: get on with it."
Yet he is shocked by "the toll it's taken on the people in the country, more than anything else, particularly younger people," who he believes are having a "difficult time dealing with this."
For the physics professor, who returns to Ireland every few months, "every country goes through economic cycles, Ireland never had a bust because it never had a boom." People need to be realistic about emigration and mobility, he believes. "I think anybody who grows up in Ireland that has any curiosity about the wide world will want to leave and understand what the broader world looks like."
Milner does not believe Ireland's reputation has greatly suffered. When Ireland's fortunes went down "people said it was a regret to hear about it but there isn't much of an opinion here [that] I can tell."
Work on experiments has taken Milner to Germany every month for the past six months. "The impression is the Irish are keeping their heads down, they're trying to work their way out of this thing," he says of discussions there. "I'm sure in the financial markets and banks it's probably different but I think in general I don't see any damage to Ireland's reputation."
Economic recovery
The seeds of recovery and future growth were sown even before the crash, argues Milner, who distinctly remembers the late Séamus Brennan visiting MIT for St Patrick's Day celebrations as Minister for Social and Family Affairs in 2006.
"He was very clear. He said: 'We're riding this construction boom. We know it can't last, and we really want to basically move to the smart economy, technology.'" Milner believes the Government "wisely invested in science" during the boom. Science Foundation Ireland, which exemplifies this decision, has been "very successful".
In the coming years, investment in education and science will remain crucial. "You always play to your strengths," he says. "In the discussion in October with the Minister [for Education] we basically said: 'We know there isn't going to be any real new money so  you've got to make sure the money that is spent is spent effectively and that the quality is kept high.'" The quality of the education system, he believes, explains in part why foreign investment has been attracted into Ireland.
Young Irish people impress Milner because they are "educated" and have "stronger communication skills I think than the young people in the US."
The director of the laboratory (which has about 274 staff and students, some off-campus and abroad) is involved with the wild geese network, a group of Irish scientists in North America, driven mainly by younger scientists. "Here at MIT we have an Irish club, we have a lot of young postdocs and students here from Ireland who are getting educated," he explains. "I think the vast majority of them would be interested in going back to Ireland, and I think one of the functions of the network was to basically enable them to do that."
With colleagues in the US and in University College Cork, Milner has organised a session for the Euroscience open forum (in Dublin in July) on Ireland considering the possibility of establishing a large science facility. "Ireland should pick an area in science [or technology] and really decide to commit to that and build a world-class focused area in that."
Comparable sized countries like the Netherlands, Israel and Switzerland have done that, with "pretty much world-class facilities in specific areas."
One of the suggestions put to the Government in October was to maximise the potential from ministerial trips abroad for St Patrick's Day celebrations. "I know there's always this feeling: 'Oh they're junkets for politicians and they're just having a good time,'" says Milner, but delegates told the Government it should "really plan them, to include the opposition to make them non-political, and to use them very effectively for the economic development in the country: to do one's homework."
Following the forum's recommendations, the Government invited the opposition leaders to participate in the St Patrick's Day celebrations. The offer was declined by Micheál Martin for personal reasons and by Gerry Adams due to prior commitments and to reduce public costs. 
Milner recalls the words of another delegate: "What other country in the world has such an international holiday?"
Global Irish Network

Consisting of Global Irish Economic Forum delegates and other influential members of the diaspora, the network is run by the Department of Foreign Affairs and Trade's Irish Abroad Unit and diplomatic missions. Members "act as an additional resource for the Government and state agencies in promoting Ireland's economic, cultural and tourism message in key markets," according to a department spokesman. Last October 130 forum delegates agreed to sign up to a register of advocates in areas such as foreign direct investment, tourism, culture and reputational enhancement.
Tags: Global Irish Network
Date posted: Tuesday, April 3rd, 2012 at 2:38 pm