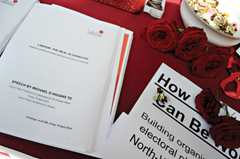 This spring will see a full season of party conferences for the first time since 2009. Neither Fine Gael nor Fianna Fáil have held ard fheiseanna in three years, due to the political and economic turbulence since then. Both governing parties will reflect on their first year for government, which has seen steady support for Fine Gael but a fall for Labour.
The Fine Gael ard fheis is expected to take place in Dublin on 29-31 March. The event has been scheduled on Dublin Convention Centre's website, but the party has declined to confirm this. Its last national conference, in Killarney in March 2010, was not an ard fheis as no internal elections were held. Opinion polling puts it in good stead across all demographics and all areas outside Dublin.
Labour's 65th national conference takes place on 13-15 April in the Baily Allen Hall at NUI Galway. Last year's special delegate conference was held specifically to discuss going into government.
Eamon Gilmore's 2010 conference presented Labour as a potential lead government party and sharply criticised the Cowen Government.
Held at the RDS on 2-3 March, Fianna Fáil's ard fheis is an opportunity for Micheál Martin to make his mark as leader and convince members that renewal is possible; the 2014 local election is a key goal.
During the presidential campaign, the party was embarrassed by Éamon Ó Cuív's threat to resign as deputy leader, Labhrás Ó Murchú's attempted candidacy and Sean Gallagher's 'envelope episode'.
Its standing, though, has improved since October. Members will discuss 'one man one vote' for candidate selections, which would reduce the power of cumainn, especially in rural areas.
Sinn Féin holds its ard fheis on 25-26 May in the INEC in Killarney and is expected to follow the same theme as last time: Towards a New Republic. At last September's event in Belfast, eolas noted a distinct difference between the opposition rhetoric of southern activists and the more reserved northern ministers, after four years in government.
The latest Sunday Business Post/Red C poll (23-25 January) shows Fine Gael on 30 per cent, Fianna Fáil on 18 per cent and Sinn Féin reaching third place, on 17 per cent.  Labour is the main loser, on 14 per cent and reportedly retaining just 48 per cent of its general election support.  Independents and others polled 21 per cent, a significant fifth of the electorate.
At the general election, Fine Gael had received 36 per cent of votes, Labour 19 per cent, Fianna Fail 17 per cent and Sinn Féin 10 per cent, and the others 17 per cent.  Sinn Féin has consistently done better in post-election polls while the Government has lost ground.  Fianna Fáil declined to 14 per cent in October but has revived since then.
Geographically, Labour performs best in Dublin before trailing off to minimal support in the west while the opposite is still true for Fianna Fáil.
Tags: Public affairs