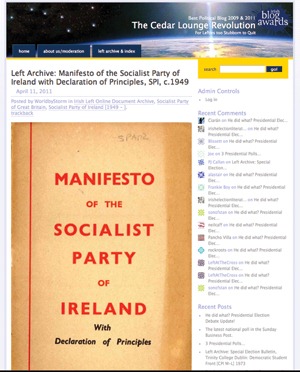 Stephen Dineen talks to Donal Mac an Eala, one of the founders of Cedar Lounge Revolution, winner of best political blog at the 2011 Irish Blog Awards.
Five years ago, over a pint in the Stag's Head in Dublin, Donal Mac an Eala and several others decided to create "a more focused blog style" website than the "forum style" of other political sites. They wanted to provide a blog "where there could be longer pieces written on a regular basis" and to "open up a less confrontational space which could be reasonably easily moderated and provide a neutral ground for the left."
Mac an Eala had been in the Workers' Party and Democratic Left before campaigning for Tony Gregory. The bloggers decided to avoid writing "simply from a party perspective", something they saw as important for "generating a sense of neutrality." Conjuring the name from the Cedar Lounge pub in Raheny and the 2005 cedar revolution in Lebanon, the Cedar Lounge Revolution (CLR as it is commonly known) was created in 2006.
"Thinking back, I can recall how exciting the idea of having our own website was," says Mac an Eala, who posts as 'worldbystorm', "because blog platforms allowed non-tech people like myself an 'in' into generating online content with little or no cost."
The timing of its inception was important too. In the run-up to the 2007 election "it appeared that the left was likely to do well," says Mac an Eala. "The blog was certainly political in the sense that we argued for all left-wing forces to work together either in loose alliance or in informal agreements." In hindsight, it was "a fairly utopian idea." The subsequent history, "with the Green Party going into government, perhaps underlines just how utopian."
When they created the blog, Mac an Eala and his colleagues welcomed comments from those not on the left "as one person put it, to 'keep us honest' and prevent the site from simply becoming an echo-chamber of left wing tropes." He believes this has worked.
Though Mac an Eala's co-founders have subsequently moved on, the blog still has a core of four or five contributors who post "at least once every fortnight" and several others who post material three or four times a year.
There are six regular slots. On Mondays a historical left-wing document is scanned and posted ('Left Archive'). 'Open Thread' occurs on Wednesdays, in which "people can comment on topics or events of interest to them". Thursday or Friday features a slot looking at some of the more interesting statements from the Seanad. Friday has a post linked to an Irish election literature blog while the weekend has a music post and one on a Sunday newspaper.
Interspersed among these are commentaries on "contemporary Irish and international politics, the economy, culture, media, equality, republicanism, social democracy and so on." While he believes the blog has gone from strength to strength, Mac an Eala concedes that "there's been a lot of catching up on economic analysis." It gets an average daily hit rate of approximately 2,000 ("a dubious metric admittedly") and at times of high political activity it can rise to 4,000.
Mac an Eala is particularly proud of the blog's 'Left Archive' of historical documents. The slot started "informally and irregularly" but each document is now accompanied by a short history of the relevant organisation or party and an overview of its contents.
It contains between 150 and 200 documents, from sources such as the Communist Party of Ireland, the British and Irish Communist Association, the Irish Republican Socialist Party and "documents produced by British left-wing parties that relate to Ireland."
Modern blogging
"It's very hard to say precisely what the changes have been," says Mac an Eala. "Certainly there's been a winnowing of blogs, with fewer being established or maintained than before," in part due to "consolidation of social media around Facebook and Twitter" and blogging being "time consuming, voluntary, and in some ways quite difficult." It requires "considerable effort both in terms of writing material, filling web pages and maintaining regular output."
An interesting aspect to the world of blogging is "that people often seem to mistake news-breaking and news-making with commentary." The CLR has stayed away from news-breaking, but with its range of contacts "we now often get a handle on an issue fairly early in the day".
After these last few dramatic years how does the blogger view the left in Ireland? He believes there are diverse strands with "remarkably little sense of a common purpose" amongst different groups.
The unions "although nominally of the left are perhaps functionally more centrist, with obvious exceptions." Their relationship with Labour "is perhaps contentious" and an argument can be made that they had a strong relationship with Fianna Fáil.
The political parties are "so widely disparate" that it's "near impossible to see them as essentially of a piece". A "cleavage on the left" also exists between those who have and haven't been in government. The far left is "very strongly antipathetic to other formations", while the United Left Alliance's (ULA) arrival in the Dáil "is an interesting development, but so far it has yet to make a mark as a distinctive formation." There has also been the emergence of an "utterly fragmented" independent left, as exemplified by "six, or perhaps seven" independent TDs in the Dáil.
"I can't help but feel that the rise of Sinn Féin, the ULA and independents of the left is indicative of increasing local activism in communities," says Mac an Eala, "so that in and of itself strikes me as a good thing."
He's unsure if the relatively little amount of protesting in Ireland is "the sign of a very stable polity or a sort of economic and social war-weariness."
Despite energetic protests across the globe this year in Greece, Britain (on tuition fees), the Arab spring and the new, syndicated peaceful movement emanating from Wall Street, Mac an Eala is not excited.
"In some respects online activism is strong," he observes. However, "the past five years, or perhaps longer still, have shown the limits of protest in advanced democracies such as our own." Mac an Eala concludes: "Simply put: governments don't appear to bow to such pressures (Greece being a good example) and perhaps never did."
"Profoundly unpopular" policies "go through", protests or not.
www.cedarlounge.wordpress.com
Tags: Politics