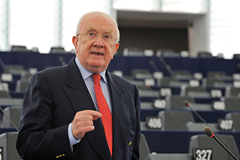 North West MEP Pat the Cope Gallagher talks to Stephen Dineen about the Common Fisheries Policy, Ireland, Iceland and the EU.
In the final analysis, all politics are local. Pat the Cope Gallagher hasn't forgotten this despite European integration, globalisation and his return to Europe. His Thursday morning interview with eolas is briefly delayed so he can listen, from his Brussels office, to the news (in Irish) on local Donegal radio.
Fisheries are also local for him, and part of his background, having worked as a fish processor and exporter. The proposed reform of the Common Fisheries Policy (to come into effect in 2013) is high on his policy agenda.
While Ireland has "benefited greatly" from EU membership, its fishing sector "has paid too great a price and the wrongs of the past should be rectified."
Gallagher wants to see modifications to the proposals published by Commissioner Maria Damanaki last July. Regionalisation that would allow a group of member states to resolve fishing disputes rather than by an EU-27 decision is necessary. "The one-size-fits-all policy hasn't worked. We cannot let the opportunity for reform pass without establishing credible decentralised structures," he states.
The North West MEP wants to see fishermen who operate inshore and from small coastal isles covered by a separate section of the new policy, with specific financial supports and the right to fish. "When areas are closed for conservation purposes," he explains, "they're closed for all vessels, whereas I believe these small vessels should be exempt from this because they have such a minor impact." He points out that "in these areas there's normally no alternative source of employment."
Proposals to end the practice of discarding unwanted fish by 2016 need to be modified, he believes. "I support the principle of eliminating discards over time. But we must be practical, we must be realistic and we must be pragmatic."
When asked what would be an appropriate timescale for ending it, Gallagher says that setting one would be difficult. "What we do first of all is we try to avoid catching the small fish," he states. "We minimise the landings of these. And we provide incentives," he says, citing the examples of "change of the gear and the mesh that's used to allow the smaller fish to flow through."
Gallagher is also opposed to individual transferable concessions (quotas) as "it could mean large companies from the larger member states come in to Ireland, buy these concessions, and that the Irish sector would be at a loss." The Danish presidency has proposed that each member state be allowed implement its own management arrangement for quotas, i.e. optional not mandatory.
"She has her own very strong views," Gallagher says of Damanaki, "but of course she must listen to us because of the co-decision [procedure], which is a fallout of the Lisbon Treaty, and that's extremely important."
Despite being a conservative party, Fianna Fáil MEPs are members of the Alliance of Liberals and Democrats for Europe (ALDE) which has 85 members (from a total of 736 MEPs). Where "controversial issues" arise, "we outline our position and try to convince members of our group that they should conform with our views," says Gallagher. Where there are disagreements "then the arrangement is that we flag these, we outline our position and this is generally accepted by the group." They can vote against the group's line. A "very liberal attitude" in ALDE produces problematic policies for Gallagher such as abortion, tax, defence and the federalist inclinations of some members.
Ireland and the EU
The euro crisis and the Fiscal Treaty debate have put Ireland's relationship with Europe under scrutiny. He lists some of the benefits accruing to Ireland over 39 years' membership as: free access to goods and services, €65.66 billion in net EU transfers to Ireland, the change from an economy "primarily driven by agricultural activities" to one of "technology-driven growth" and the rise in income per capita from 64.2 per cent of the EU average in 1973 to 128 per cent in 2010. Average weekly industrial earnings were €38 a week in 1973 and €617.11 in quarter one of 2010.
Looking forward, Gallagher comments: "The European budget is a contracting budget, therefore we must try and ensure that we can maintain our level of funding from agriculture, so that has to be the main focus at the moment." Horizon 2020 and investment in infrastructure "with assistance from Europe" are important for job creation.
On the architecture of the EU, and Ireland's place within it, Gallagher states: "I, of course, would almost always prefer decisions to be taken on a subsidiarity basis if it's possible." He adds: "But then, of course, we must abide and work within the framework of the treaties."
Removing Ireland from the euro would be "a major retrograde step," according to Gallagher. ECB President Mario Draghi said in early May that he could envisage fiscal union in ten years' time but Gallagher is opposed. "This was never the intention of the founding fathers."
Another country undergoing debate about its relationship with the EU is Iceland and Gallagher is familiar with it as he is Co-Chairman of the EU-Iceland Joint Parliamentary Committee. He was also rapporteur for the European Parliament's Committee on Fisheries regarding proposed sanctions to tackle overfishing by non-EU countries such as Iceland and the Faroe Islands. Formal negotiations on Icelandic accession to the EU began on 27 June 2011. A referendum on membership will follow negotiations but public opinion is against joining the EU for economic, sovereignty and cultural reasons.
"But my advice, every time I've spoken in Iceland, is not to dig up an entrenched position until they know exactly what is on offer," Gallagher explains. Negotiations are ongoing: "Agriculture will be a big issue with them, fisheries will be an issue with them, finance, all of that." However, he believes that apart from a potential impact on Iceland's fishing sector, membership would benefit Iceland, and also the EU.
Tags: A local voice in Europe