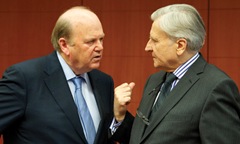 A political veteran takes on his toughest brief so far.
Michael Noonan needs few lessons in the nuances of cabinet government nor in the hardships of leadership. The deficit and bail-out make the Minister for Finance post as unpopular as it is important.
Appointed Minister for Justice just 18 months into his Dáil career, the Limerick City TD also oversaw health in the last Fine Gael-Labour administration. A former teacher, he represented Limerick East for nearly 30 years from 1981, before contesting the new seat in February.
Fearing heavy losses, the party deposed John Bruton only for Noonan to lead it to its second worst defeat in 2002. The Minister has since revealed the intense pressure of caring for his wife Flor, who is now in the final stages of Alzheimer's disease.
Taking on the opposition finance brief last July marked a considerable comeback; he had held the same post twice before (1987-1993 and 1997-2001) as well as the the Public Accounts Committee chair (2004-2007). The "puppet government" jibe over Budget 2011 came in a solid, methodical Dáil performance.
A change of government has brought fresh momentum to the process but time is short and Noonan has a weak hand to play.
In a tentative early achievement, IMF and EU officials did not object to the Programme for Government.
The Government wants both low corporation tax and lower interest rates but other governments expect a concession in return; Herman van Rompuy has suggested "constructive engagement" on EU tax co-ordination. Proposals on bank recapitalisation or burden-sharing with the bondholders depend on the stress test results.
The IMF's review mission is also due to visit this month, having been postponed by the general election. Fine Gael is helped by its membership of the influential European People's Party bloc, which includes French and German governing parties, but Noonan's dealings with those countries' ministers are paramount.
Noonan has been a "political bruiser" who has been tempered his tone in recent years, according to Limerick Leader reporter Michael Dwane.
"He is a guy who's always been serious about his brief and not exactly the kind of parish pump politicians we have in Ireland, and in Limerick indeed," he told eolas. Noonan has always been elected comfortably and overtaking Willie O'Dea was a particular success in his tenth general election.
While private by nature, he is said to be great craic on a personal level. Comedian and Noonan impressionist Dermot Morgan became a friend and they watched rugby together in Limerick. Noonan is "quite capable of speaking unprompted" but Dwane says he was poorly coached during his Fine Gael leadership, which saw him focused on "optics".
Commentators note that experience, a sound grasp of detail and plain speaking are three of Noonan's political strengths. The first two lend themselves to the grind in Government Buildings and Brussels, while the latter will be crucial when explaining the end result to the public.
Tags: Economy