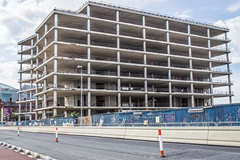 The National Asset Management Agency (NAMA) has said it will invest €2 billion over the next three years to complete construction work on commercial and residential properties and develop greenfield sites. It is "cautiously positive" that "important segments of the property market have turned a corner."
"Our view is that long-term prospects for much of this property are good. On that basis, we propose to invest … with a view to ensuring that this property is available to meet commercial and residential demand over the rest of the decade," said NAMA Chairman Frank Daly. He particularly highlighted the up-coming need for large office space.
Daly believes that the investment will create 25,000 jobs in construction and an additional 10,000 jobs in the wider economy. This conclusion is based on a 2010 Department of Finance study and a 2009 Construction Industry Council study.
NAMA will not achieve its objective of bringing its balance sheet down to zero as soon as commercially practicable by relying solely on the disposal of property, Daly commented. Rather, it must invest in the assets securing its loans. It predicts that it will repay its debts in full by 2020.
"We analysed all of the business plans of our debtors. We believe now that about two-thirds of our debtors will be working with NAMA and that they can have a commercially viable future," he added.
Ninety per cent of the agency's property assets are located in the greater Dublin area, Cork, Limerick and Galway including Anglo's proposed headquarters (pictured).
Tags: News