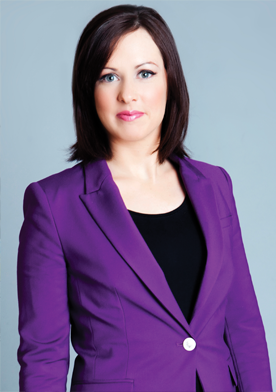 A self-confessed "current affairs junkie", Geraldine Lynagh began her journalism career in radio before moving to television with Sky News Ireland and then TV3. She tells eolas what makes a good news story.
What education and career pathway led you to your current position at TV3?
I always thought I would be interested in a career in journalism, but didn't want to pigeonhole myself into anything.  So after school I studied English and German at Trinity College.  After my degree, I worked in various German investment banks in Dublin, before taking the plunge and attempting to break into journalism.  I sent out CVs and demo tapes to just about every radio station in the country, and East Coast Radio hired me as a weekend news anchor.  After a year, I moved to 98FM, initially as their Dublin reporter, and eventually was appointed Chief Reporter.  After three years with 98FM, I moved to Sky News Ireland as a reporter.  When Sky closed their Irish service, I worked for INN and Today FM, before moving full-time to TV3, as a reporter and news anchor.
Please explain a typical working day.
There really is no typical day, which is good.  If I'm on a reporting shift, I get my story when I arrive into the office in the morning.  I don't specialise in any one area, which means I have to turn my hand to a variety of topics.  One day I could be tracking down the Taoiseach, the next meeting a family of a disabled child, the next reporting at a murder scene, or heading to the Electric Picnic.  I research the issue, decide how I'm going to approach the report, make phone calls and line up interviews, before I hit the road with a camera person and start filming. 
TV3 reporters script and edit all their own work, so often it can be stressful filming everything on time and battling back through the traffic to get everything ready for the 5.30 news.  But somehow, we (almost) always make it!  If I'm on an anchoring shift, the day is very different.  Today, for instance, I was reading the news on Ireland AM, which meant my alarm clock went off at 3.50am.  I was in work for 4.30am, and worked on my bulletin until 5am.  Then I headed into hair and make-up, and between 6am and 7am, I finished putting the news together with the help of an editor.  I was on air every half hour between 7am and 10am, and read the midday news before my working day ended.  I've discovered that the only cure for tiredness is sleep, so the night before an early shift, I'm in bed by 8.30pm.
What makes a good story for TV?
It might sound obvious, but television is all about pictures.  The strongest stories are the ones where you can keep your script to a minimum, and let the pictures do the talking.  I try to find a human connection in every story I do. For example, if I'm reporting on the latest set of financial figures from the Central Bank, I try to remind viewers what the figures mean for their lives.   Often, you have a good story that isn't visually stimulating, and that's when you have to be creative in your approach to filming it. 
What two stories stick out from your career to date and why?
I'm lucky to have covered a lot of interesting stories.  Last year I travelled with Goal to Niger in Africa, to cover the food crisis there.  It was a tough trip, but really opened my eyes as to how privileged we are here in the First World.  The children we met there stick in my mind.  They were beautiful little kids, always smiling.  But they face a tough time just trying to survive in the world they happened to be born into.  I returned home with a huge sense of how lucky I was.
Another story I remember well was the tragic death of Robert Houlihan.  It was the first story I covered for Sky News Ireland and I was sent to Cork for the search and the sad discovery of his body.  At the time, I was caught up with meeting deadlines and filming pictures, but after it was all over I was able to take a step back and appreciate what a terrible tragedy this killing was for both families involved.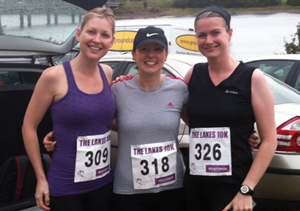 As a news broadcaster, what is unique about TV3?
Don't take a job in TV3 if you're afraid of hard work!  We're all multi-taskers here, and everyone's expected to do two or three jobs in addition to their main one. Everyone chips in when something needs to be done, no excuses.   We're a small team when you compare us to other national news organisations, but we've worked hard to command respect as a media outlet.  TV3 isn't afraid to take risks, and there are great opportunities here if you want to grab them.
What do you enjoy most about journalism?
I get to witness history in the making.  I've met many interesting people through the years, like Bill Clinton, Desmond Tutu, and of course all the Irish newsmakers.  I was there the day the Stormont Government met for the first time.  I announced Brian Cowen's resignation live on air.  I'm a current affairs junkie, and this job allows me to indulge that.  Every day is different, and I have no idea what I'll be doing from one day to the next.  And I never have to take my work home with me.  Once my report is broadcast, that's me done for the day.    
How do you like to relax?
I've taken up running over the past year or two, and it's great for clearing your head.  I live near the Phoenix Park, so most days I'll stick on my runners and head off for 5 or 6k.  I also love meals out with friends, something which I do at least once or twice a week (probably why I have to run so much!).  Friends and family are the most important thing, so while work is a big part of my life, I always make room for a life outside of it as well.
Tags: Public affairs