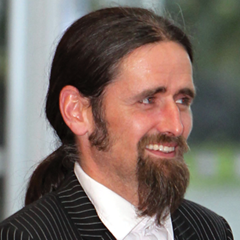 Continuing eolas' series on the independent TDs, Meadhbh Monahan speaks to Luke 'Ming' Flanagan about his frustration with the Government, his priorities as a TD and missing his children.
Turf cutting, starting a debate on Ireland's future in Europe and the legalisation of cannabis are the diverse priorities that will preoccupy Luke 'Ming' Flanagan's time for the next 12 to 14 months.
Flanagan was elected TD for Roscommon-South Leitrim in the general election, symbolising the disregard the electorate had for conventional politicians and the last government.
While he was "terrified" on his first day in the Dáil, he has found his feet and is "invigorated" by the access to a national platform, from which he can "espouse" his ideas. The Technical Group is working well, with no shortage of speaking time. Flanagan has been particularly impressed by Socialist Party TD Clare Daly. "If I had to send two people to Europe to fight our corner, it would be Clare Daly and Pearse Doherty," he tells eolas.
As PRO of the Turf Cutters and Contractors Association (TCCA), he is directly involved in the Peatlands Council, which was appointed in January 2011 by Environment Minister Phil Hogan to advise the government on drawing up a national strategy on peatlands conservation. This followed initiation of infringement proceedings by the European Commission which noted "systematic breaches" of the Habitats Directive. That EU law had designated 53 raised bog special areas of conservation (SAC) in 2000 but turf-cutting continued on these until 2010. The previous government decided that it should stop on 31 of the bogs in 2010 and in another 24 by the end of 2011.
Despite an apparent conflict between his call for turf cutters to be allowed to continue using these protected bogs and his membership of the Oireachtas' Environment Committee, Flanagan argues that he can justify his position and that the stalemate can be resolved.
The legalisation of cannabis has been on Flanagan's radar for many years. He tells eolas: "I do not smoke cannabis in the Republic of Ireland anymore." This is because the gardaí have come under pressure (possibly initiated by Fianna Fáil councillor John Coonan's formal complaint to gardaí in March 2011 about Flanagan's cannabis use) to search him and possibly his home, an experience he does not want to put his wife and children through.
2001 was Flanagan's last contact with An Garda Síochana over cannabis after he posted 600 cannabis joints to all TDs, senators and a number of journalists.
The Government are "political cowards" when it comes to the legalisation of cannabis, Flanagan claims. He points to other politicians who have spoken about changing the classification of the drug such as Minister of State Joe Costello, who has called for a debate on the reclassification of cannabis and whether it has medicinal value, and former Green TD Emmet Stagg, who supports its legalisation.
A private member's Bill is being prepared, with an economic case as its main argument. "Our preliminary figures are that the legalisation of cannabis would bring €476 million to the country every year. That does not include the economic impact that giving someone a criminal record has [i.e.] not allowing them to work in a good job like a teacher or nurse again," he explains. People dying from smoking adulterated cannabis and "criminal scumbags such as those who shot Veronica Guerin" receiving money, are other important considerations, Flanagan adds.
Asked how representative this issue is and how it has been received by conservative Ireland, Flanagan points to the fact that he was elected to Roscommon-South Leitrim, which he believes is "probably one of the most conservative [seats] in the country."
Despite the constituency's conformist values: "They elect someone like me, who calls for the legalisation of cannabis and refuses to say the prayer at my first meeting as the Mayor of Roscommon." Flanagan argues: "When you explain things to people, they are a lot more intelligent than politicians make them out to be."
Parish pump
 

Flanagan is finding political life "frustrating."  He explains: "When I came in here I made a specific decision to join the Environment Committee, but I have discovered that if I stay for the entire duration of a committee meeting, I miss leader's questions, the order of business; pretty much everything that's going on in the Dáil." Questions put to the Taoiseach or Minister receive "the most dumbed down version of an answer possible," he claims. In addition, Flanagan says that topical issues are, in fact, "an issue that happens to be convenient for the Minister to answer."
The role of a TD should be "be to cross the Ts and dot the Is on legislation, not to be running up and down the country sorting out every minor issue," Flanagan believes. However, dealing with 'parish-pump politics' is "a cross that rural TDs have to bear."
As a full-time councillor on Roscommon County Council, he could do his work "from the kitchen table" after he got the kids off to school. Now, he misses spending that time with them.
"There's a political downside because, the more detached I become from normal life, the less I am able to represent normal life," he remarks. For example, "the best way of knowing what's in the school curriculum is to sit down and try to help your daughter." Flanagan also fears that, with time, he might suffer from 'Stockholm syndrome'. He explains: "It's a lot harder to criticise Barry Cowen and his brother for [in his view] destroying the country when they are sitting across from you having a nice friendly chat."
Protest
Up to 10,000 people are expected to attend a rally on 7 March when the Dáil will vote on Flanagan's private member's Bill which will outline the TCCA's alternative turf-cutting plan.
On 7 July 2011, the Peatlands Council (which includes members from the TCCA, the Irish Farmers' Association, Bord na Móna and the department) agreed that no further turf-cutting would occur on the SAC bogs. The Minister also said that local clinics would be set up to "progress compensation and relocation arrangements."
Flanagan, claims: "If listened to, [the plan] will result in a guarantee that there will never be turf cut, ever again, in up to 46 of those 53 raised bog SACs."
TCCA members claim to have found alternative bogs with "good quality turf that are not of pristine ecological status" to which users are willing to move.
The plan will suggest that seven of the raised bog SACs should continue to be used by locals because there are no alternatives at a reasonable distance. "A reasonable distance is not seven or eight miles when you have to put diesel in a tractor to get there and back again," Flanagan remarks.
Of those seven bogs, the plan will say that four would need complete de-designation, while three would need partial de-designation. As compensation for this, the plan will suggest alternative bogs that could be classified as SACs instead.
"[They are] alternative, ecologically pristine bogs in the same general area that could be brought into the designation instead," he states. One example is a bog on the Leitrim-Longford border "with perfect eco-tope in the middle".
On the three bogs where users want to be allowed to stay, the plan will suggest they consolidate in one area e.g. Ballinagar bog in County Roscommon.
The National Parks and Wildlife Service (NPWS) is hosting the local clinics. Its argument is that the loss of Ireland's bogs would result in "an irreplaceable loss to global biodiversity." It argues that intact bogs, which are actively forming peat, play an important role in combating climate change by removing excess carbon dioxide from the air and placing it into long-term storage for thousands of years. "Conserving or restoring bogs is a positive action for climate change mitigation, water quality and flood relief," it states.
Ultimately, turf is a fossil fuel which is contributing to green house gases and, possibly, destroying biodiversity which is protected under the EU Habitats Directive. Asked to justify this, Flanagan responds: "If you are not pragmatic, no matter how much sense what you believe makes, it will never happen."
He accuses former Environment Minister John Gormley and the NPWS of "bull-dozing" the designations through and claims that NPWS and departmental officials do not have the trust of the people. Turf cutting is an issue which is close to his heart, and he asks: "If they can get away with putting a burden on people's bog land, what next? Will they put a burden on arable land?"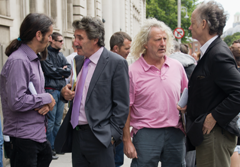 Europe
A referendum on the EU fiscal compact should be called "without a shadow of a doubt," according to Flanagan. He is surprised that "the Government seem terrified at the prospect of a referendum," because he believes that "regrettably" it would be voted through.
"It will take one hell of a campaign by the 'No' side to win," he predicts. "The fear levels are already sky high so I fear that, if there was a referendum, it would be very easy to spook people on it and we would continue with the status quo and mother Ireland would be gone," Flanagan comments.
He "loves Europe, loves croissants, loves Italian wine, German beer and Queen's Park Rangers football club in London," but he "hates with a passion" the idea that "someone in Brussels is telling us how to live our lives."
A debate on Ireland's future in Europe and in the euro is needed, Flanagan believes. It should focus on: "Was it a good idea to get into the euro? What do we do if it collapses and should we get out before it collapses?"
During his maiden speech, Flanagan said: "I dream and I hope that after five years of this government we will have solved the problem of emigration once and for all." Ten months later, he tells eolas: "I don't think my dream is going to come true."
He believes that the Fine Gael-Labour Government "has adopted similar polices to governments in the 1980s, pretty much urging young people to leave the country."
Ireland would have a "phenomenal future" if it could hold onto its young, confident, educated generation. His message is: "Don't leave. Don't let them off the hook."
Profile: Luke 'Ming' Flanagan
Born on 22 January 1973, Luke 'Ming' Flanagan ran unsuccessfully as an independent for Galway West in the 1997 general election. In the 1999 European election, he ran unsuccessfully for Connacht-Ulster. He was unsuccessful again in the 2002 general election for Longford-Roscommon.
He was elected to Roscommon County Council in the 2004 local elections and was elected Mayor in June 2010.
Prior to his election, he was unemployed and in part-time study.
A native of Castlerea, County Roscommon, he lives with his wife and two girls.  He says it is "a wonderful place to bring up your children" and remarks that "you get more stress in 10 minutes trying to cross the street at Trinity College than you would in a whole month in Roscommon."
Tags: Public affairs