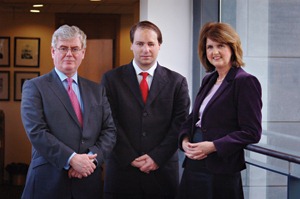 Dublin West now has two Labour TDs following Patrick Nulty's win on October 27.
Dublin West's newest TD cites his priorities as protecting Connolly Hospital in Blanchardstown, working for better public transport in Swords and west Dublin, and job creation in the constituency.
Patrick Nulty, 28, a Labour Dublin City councillor, won the by-election on the fifth count with 17,636 votes. His percentage of first preference votes (24.3 per cent) was an improvement on his general election performance of 6.3 per cent. Fianna Fáil candidate and 25-year-old music teacher David McGuinness came second in a total of 13 candidates, with 11,590 votes.
Fine Gael's performance was a reminder after a dismal presidential result that its political dominance cannot be taken for granted. Despite a recount demanded by Socialist Party leader Joe Higgins, Ruth Coppinger was eliminated on the fourth count. Nulty now joins Minister for Social Protection Joan Burton, giving the constituency two Labour TDs for the first time.
The death of former Finance Minister Brian Lenihan in June prompted the by-election and the Fianna Fáil candidate did well, claiming that the party's fight-back "starts now." Lenihan was recognised at the count centre with Nulty saying he "will be remembered with great fondness."
A housing policy analyst with Focus Ireland, Nulty will give up that job to concentrate on his new role. He suffered burns to his face in a house fire when he a child, an event which he says influenced his desire to seek equal and fair opportunities for everyone. "I had my own personal experiences. I learned from them, they are part of who I am," he has said.
He opposed Labour going into coalition with Fine Gael and has said that his position is to the left of the party therefore Nulty could put pressure on Bruton, who is tasked with making further welfare cuts under the EU-IMF deal.
In his acceptance speech Nulty said: "No party or candidate owns a seat in Dáil Eireann; the seat belongs to the people."
He "stands for real change from the old political establishment." Living in Corduff, Dublin 15, his entire life has made him "proud." He believes that "we need a clean break from 'business as usual' politics" and intends to restore honesty, ethics and accountability to public life in this country."
Results by count
Candidate
Party
Count 1
Count 2
Count 3
Count 4
Count 5
Patrick Nulty
Labour
8,665
8,885
10,186
13,027
17,636
David McGuinness
Fianna Fáil
7,742
7,935
8,720
9,873
11,590
Ruth Coppinger
Socialist Party
7,542
7,834
9,368
9,873
 
Eithne Loftus
Fine Gael
5,263
5,410
5,942
 
 
Paul Donnelly
Sinn Féin
3, 173
3,309
 
 
 
Roderic O'Gorman
Green Party
1,787
1,925
 
 
 
 
Others
1,530
 
 
 
 
---
Party performance since February
Party
General election
By-election
 

% share of vote

Labour
29.0
24.3
Fine Gael
27.2
14.7
Socialist
19.1
21.1
Fianna Fáil
16.6
21.7
Sinn Féin
6.2
8.9
Green Party
1.4
5.0
Others
0.7
4.3
Tags: Politics