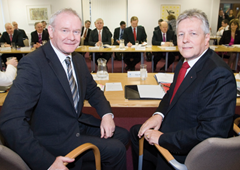 The North/South Ministerial Council is held up by delays and apparent apathy but Sinn Féin is more focused on its all-island political project. Peter Cheney assesses the state of cross-border relations.
Twelve years on from the North/South Ministerial Council's formation, the formal structures for cross-border co-operation are standing still although a new form of all-island politics appears to be gaining momentum.
Andy Pollak, the Director of the Centre for Cross Border Studies and a well-placed observer of North/South co-operation, has described the state of the Council as "minimalism (at best) or obstruction (at worst)" with meetings followed up by the "interminable internal processes for which the Northern civil service is famous".
On the North/South Ministerial Council (NSMC), formal areas of co-operation and implementation bodies remain unchanged since it started in December 1999. A review announced in the
St Andrews Agreement (October 2006) has still not reported and the latest deadline is June 2012.
The North/South parliamentary forum has long been at the discussion stage, the all-island consultative forum has been halted by the effective abolition of the North's Civic Forum (suspended since 2002) and the all-island charter of rights is practically impossible without a northern bill of rights.
Slow progress
The DUP is obviously unenthusiastic about North/South co-operation but Pollak is more surprised by Sinn Féin's apparent lack of interest. His sources indicated that the party's ministers "allow their DUP colleagues to set the snail's pace agenda". Writing on his blog, he suggested five reasons for its attitude:
1. failing to understand the economic dimension (by not taking the North's Department of Enterprise, Trade and Investment);
2. associating the North/South strand with the SDLP;
3. intergovernmental co-operation being secondary to the goal of a united Ireland;
4. the risk that North/South links legitimise two separate jurisdictions (and their border); and
5. the potential for the Irish Government benefitting from North/South success.
Pollak added: "They have few or no new ideas for north-south cooperation and when they come to north-south meetings they do the business with their DUP and southern counterparts but little more."
Responding, a Sinn Féin spokesman told eolas that it had "led the way on all-Ireland development and will continue to do so". The party has an internal all-island unit and the spokesman dismissed Andy Pollak as having "no such mandate" although as an academic, he does not require one.
Sinn Féin's Assembly manifesto aspires to two new North/South bodies (a merger of Invest NI and IDA Ireland and a new entity to promote innovation and high-tech industry) and all-Ireland strategies for exports, innovation, job creation, developing Gaeltacht areas, and women's equality.
None of these have been achieved to date as new policies depend on DUP endorsement at the Executive. Some progress is possible in Gaeltacht development as Sinn Féin holds the North's culture, arts and leisure brief. The party has lobbied on the A5 project, helped to draw up an all-island animal health strategy and established some all-island policy units in the Northern Ireland Civil Service.
On the last point, Pollak concedes that may be "technically correct" but those units have a low profile and tend to be hard to contact. The northern Department of Education, for example, has a high-level 'equality and all-Ireland directorate' with a wide remit e.g. all external relations, human resources and communications.
Unity and power
Republicans appear to prefer 'personifying' unity in a way that no other competitor can. As an all-island party, Sinn Féin holds 46 seats across both legislatures, has run a northern candidate for the presidency and has a northern-born 'leader of the opposition' in Gerry Adams. Nationalist MPs attend the Oireachtas' Good Friday Agreement Committee and Sinn Féin is demanding more northern speaking rights.
This indicates that that the party is more interested in concentrating its political influence in the centres of power, north and south, with Leinster House taking precedence over Stormont.
If the party were to enter government in Dublin, the NSMC would become a vital tactical tool. With Sinn Féin ministers on both sides of the table, a new form of all-Ireland governance would take shape, bypassing the authority of the two 'partitionist' administrations and outmanoeuvring unionists. The political consequences of that move are hard to predict but this could give the party the freedom to put its suggested strategies into action.
North/South links receive limited attention in the southern Programme for Government, which anticipates a further review to identify new areas for formal cooperation. More delay from the DUP can also be expected. Labour's manifesto senses "considerably more potential" for co-operation while the Fine Gael version focuses on building up economic networks and a joint economic plan for border areas.
The NSMC was championed by the SDLP which, despite its enthusiasm for new structures and strategies, is least able to act. Its Assembly manifesto proposes an all-island energy regulator, environmental protection agency, corporation tax rate (at 12.5 per cent), sustainable transport strategy, aviation strategy and eating disorders unit.
As with Sinn Féin, it seeks northern representation in the Seanad, presidential voting rights and a northern voice on the forthcoming constitutional convention. The SDLP also has a detailed blueprint for a united Ireland e.g. keeping the Assembly and Executive (with minority protections), the right to a British passport, and seats for unionists in the House of Lords.
Elsewhere, practical North/South
co-operation has made strides in health (Altnagelvin Hospital's radiotherapy unit in Derry will serve Donegal and Sligo patients), economic analysis from InterTradeIreland, the Single Electricity Market and a Northern Ireland advisory committee for NAMA. The latter two areas developed outside the NSMC and prove that co-operation is not necessarily limited by its structural constraints.
Funding for business links cut
The IBEC-CBI Joint Business Council's programmes face closure after a funding cut. The council will continue to operate but had been supported by £2.5 million in Interreg funding, provided through the Special EU Programmes Body (SEUPB).
Director Reg McCabe had submitted funding bids in January 2010 and January 2011. He withdrew the second application in October 2011, after "major frustrations" with the delay.
"The decision-making process around the funding was uncertain, long drawn-out, and that was creating difficulties," he remarked. He hoped that the application process for the next Interreg round would be more straightforward. McCabe added: "The whole system seems to be designed to suit the needs of the funders and the needs of the assessors and the public sector managers as opposed to the people who are running the projects."
He held the Department of Enterprise, Trade and Investment (in Belfast) responsible but the department declined to respond. SEUPB confirmed that its processes would have meant a decision in December 2011 for a bid submitted in January that year.
Tags: Is North/South stalling?