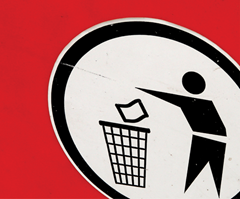 As Ireland prepares to modernise its waste infrastructure over the next few years, energy-from-waste will no doubt be part of the future technology mix to avoid waste going to landfill. eolas looks at the technology options and issues involved in generating energy from waste.
The Waste Framework Directive 2006 aims to avoid waste going to landfill, by encouraging the prevention and recovery of waste. The use of waste as a source of energy may be accepted as recovery.
Several European countries have deployed energy-from-waste technology to reduce the amount of waste going to landfill with some success. In Denmark, only 6 per cent of waste goes to landfill with 70 per cent recycled and 23 per cent to energy-from-waste plants. Denmark has 34 energy-from-waste plants, all of which are combined heat and power or district heating plants, ranging in size from 15 to 37 MWe.
Although the technology has not always been as readily accepted in the in USA as it has been in Europe, in 2003, the US Environmental Protection Agency undertook an assessment of waste-to- energy plants which concluded that the plants provided "clean, reliable, renewable power". It went on to say: "These plants produce 2,800 megawatts of electricity with less environmental impact than almost any other source of electricity."
Over the past decade, energy-from-waste plants been seen as a source of renewable electricity as governments try to reduce greenhouse gas emissions and avoid waste going to landfill.
There are a number of energy-from-waste technologies, including anaerobic digestion; direct combustion (incineration); pyrolysis; and gasification.
Anaerobic digestion is particularly suitable for the treatment of food waste. It is the biological treatment of biodegradable organic waste in the absence of oxygen, utilising microbial activity to break down the waste in a controlled environment. It results in the generation of:
• biogas, which is rich in methane and can be used to generate heat and/or electricity;
• digestate (or fibre) which is nutrient rich and can potentially be used as a soil conditioner; and
• liquor, which can potentially be used as a liquid fertiliser.
Direct combustion, or incineration, is the controlled burning of waste at temperatures typically over 850oC in the presence of air to ensure the destruction of pathogens (e.g. fungi, bacteria and viruses) and hazardous pollutants (e.g. volatile organics). It is an effective technology widely used in waste treatment which can reduce the volume of municipal solid waste by around 90 per cent. In many cases, heat generated from waste incineration is recovered and used as an energy source.
Pyrolysis is not a combustion process as such and can be defined as the decomposition of organic material through the application of heat in the absence of oxygen. In the pyrolysis process, the hydrocarbon content of the waste is converted into a gas, which is suitable for utilisation in either gas engines, with associated electricity generation, or in boiler applications without the need for flue gas treatment.
Gasification is a process that converts organic materials in any waste stream into carbon monoxide and hydrogen by reacting the raw material at high temperatures with a controlled amount of oxygen and/or steam. The resulting gas mixture is called synthesis gas, or syngas. The advantage of gasification is that using the syngas is potentially more efficient than direct combustion of the original fuel.
Tags: Environment