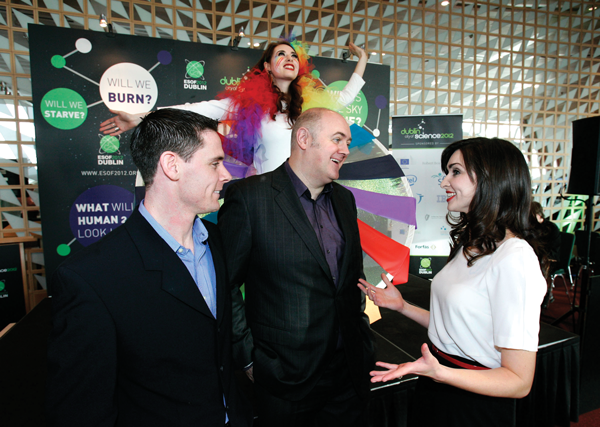 A year-long programme of science related events and activities will celebrate Dublin being host to Europe's most prestigious science gathering, eolas reports.
Dublin will host the Euroscience Open Forum, Europe's largest science meeting, from 11-15 July as part of Dublin's 2012 City of Science festival. The annual event brings together scientists and public policy officials to address major global challenges, e.g. in energy, food and health.
Dublin's City of Science designation was officially launched by Jobs, Enterprise and Innovation Minister Richard Bruton on 26 January. He said: "As a country we have a long history of scientific achievement, and in the past decade we have built upon that heritage with dramatic improvements in publicly-funded scientific research."
The Government aims to "grow" its way out of difficulty, and the forthcoming jobs plan will implement a series of changes "to ensure that this research is properly commercialised so that we can turn good ideas into good jobs," the Minister said.
Chief Scientific Adviser Professor Patrick Cunningham described the ESOF event as "the Olympics of science" and explained that some of the world's top scientists will attend in July. Notable keynotes include Craig Venter (one of the first scientists to sequence the human genome), European Space Agency Director Jean-Jacques Dordain, Oxford University mathematics professor Marcus du Sautoy, Jules Hoffmann (joint winner of the 2011 Nobel Prize in Physiology or Medicine) and CERN Director General Rolf Dieter Heuer.
The year-long celebration of science will feature 160 science-themed cultural and scientific events such as photographic and art exhibitions, theatre pieces, film festivals, tours, trails and treasure hunts, street performances (including a St Patrick's Day parade), large-scale interactive installations, experiments, public talks, debates and workshops.
Events include 'Happy? Wellbeing across the lifespan: 50 years of Trinity College School of Psychology' at the Dublin Science Gallery. This will run from April to December 2012 and entails an exploration of the factors that shape happiness and how these intersect with culture, innovation, health, creativity, ageing, entrepreneurship and social cohesion.
Dublin City's public libraries will run a programme of events with a scientific theme co-ordinating with national programmes such as science week, engineers' week, the Bealtaine festival of outdoor science, heritage week and the children's book festival.
Pupils in the junior cycle will be catered for by a national tour of one-man play 'A Man in Half'. Inspired by Robert Louis Stevenson's Dr Jekyll and Mr Hyde, the play questions Stevenson's assumption that, in a struggle between good and evil, it is always the evil in us that will triumph and requires audience participation.
Cunningham concluded: "2012 is the year where science becomes fun, exciting and entertaining for all and to show the world that Ireland is serious about science."
Tags: People