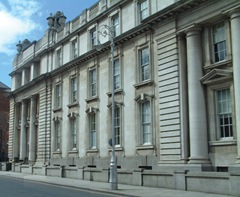 Departmental dossier A series analysing the work of government departments
A finance department plays a central role in any state, none more so than in Ireland over the last three years. The Department of Finance's main location in Government Buildings emphasises that status, but the harsh budgets of recent years also show that fiscal power does not necessarily bring popularity.
Its history dates from Eoin MacNeill's appointment as Dáil Éireann's first Minister for Finance in January 1919. A separate Irish Exchequer had previously existed from 1210 to 1817, when it was merged with its counterpart in Westminster. The Anglo-Irish Treaty re-established that exchequer, thus giving the new Free State considerable freedom over its budget.
The Department of Finance's remit is mainly but not exclusively economic in nature. As defined by the Ministers and Secretaries Act 1924, it comprised "the administration and business generally of the public finance of Saorstát Eireann and all powers, duties and functions connected with the same". These included:
• the "collection and expenditure" of revenue;
• the "supervision and control" of government purchases and supplies; and
• the "business, powers, duties and functions" of the public service.
Its remit was subsequently expanded to include the regulation of financial services, public service reform, decentralisation, freedom of information, and the National Lottery.
A distinct Irish currency from 1928 symbolised Irish autonomy, which progressed to political independence by 1949. However, the punt kept parity with sterling until 1979. Irish economic policy was increasingly set within EEC and EU frameworks, culminating in the single currency from 1999. The IMF is now emerging as another major external influence.
At present, the department has four internal divisions: financial services; budget taxation and economic; sectoral policy; and public services management and development.
Forming a new 'department of public expenditure and reform' will bring radical change in this part of government. Fine Gael plans foresaw the Department of Finance's sectoral and public service divisions merging with the Department of the Taoiseach's public service modernisation division.
The Cabinet includes Michael Noonan (FG) as Minister of Finance and Brendan Howlin (Labour) as Minister for Public Expenditure and Reform; Brian Hayes (FG) reports to both as Minister of State. The Government
aims to bring about a stronger 'centre of government'. Labour will ironically oversee public sector job losses but would have appeared weak if it turned the portfolio down. The revamped Department of Finance will take responsibility for the overall Budget and EU-IMF negotiations.
Budget 2011 allocated €57.5 billion in public spending (€52.8 billion current and €4.7 billion capital). Projected tax receipts for 2011 stood at €34.9 billion.
The Office of the Minister of Finance received €69.79 million for 2011 (€69.01 million current and €775,000 capital), a 1.5 per cent cut on 2010. This includes the department's own funds, several civil service-related offices and its contribution to the cross-border Special EU Programmes Body.
The overall finance group (€1.39 billion) covers bodies and funds overseen by the department, including superannuation and retired allowances (€470 million), the Office of Public Works (€401.7 million), the Revenue Commissioners (€391.1 million) and the President's Establishment (€3.15 million).
Curiously, €1 million is set aside for the "Secret Service Vote" to obtain "information which is necessary for the security of the country". Details of its staff and accounts are not published.
Website: www.finance.gov.ie
Tags: Departmental dossier