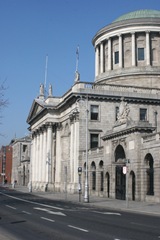 Purpose: to strengthen Garda powers of investigation into white collar crime and to allow the 24-hour detention period to be separated into segments.
Those found guilty of serious white collar crime, "rather than doing community service, should exchange the cufflinks for handcuffs," claimed Justice Minister Alan Shatter following a Dáil debate on the Bill's second stage on 23 June.
A Garda investigation is currently underway into Anglo Irish Bank and the Minister hopes this Bill will strengthen the powers of An Garda Síochana in that case and in future investigations. It would also end the situation, described by the Director of Public Prosecutions, as a "loop-hole", whereby potential witnesses cannot be compelled to co-operate with an investigation, even when they are not suspected of or accused of any wrongdoing.
Shatter told the Dáil: "The Bill is laying down a very serious marker that there will be no impunity for white collar criminals."
Offences
The Bill defines an 'arrestable offence' as one that is "punishable by imprisonment for a period of five years or more". These will include aiding, abetting, counselling, procuring and conspiracy. A ministerial order may be made for offences relating to: banking; investment of funds and other financial activities; company law; money laundering and financing terrorism; theft and fraud; bribery and corruption; competition and consumer protection; crime relating to electronic communications networks and information systems; and the raising and collection of taxes and duties.
Because these arrestable offences are complex and take a long time to be investigated, the Minister must consider that the powers under the Bill are "necessary" for the investigation of that offence.
In addition, the Minister must consult with other relevant ministers before making a ministerial order.
Detention
The Bill will also amend the section of the 1984 Criminal Justice Act relating to the 24-hour period of detention. Garda would be able to suspend the 24 hour detention period by breaking it into segments where the detainee will be released. During this time Gardaí can follow up on information obtained during questioning. Detention may be suspended on no more than two occasions and must not exceed four months from the date of the first suspension. The detainee must return to a specified Garda station to resume their detention on a set date and time. If they do not return they will be arrested without a warrant and returned to Garda detention.
The 1984 Act does not allow questioning between midnight and 8am. The Criminal Justice Bill would allow question during that time if there is a risk of: injury to other persons; serious loss of, or damage to property; the destruction of evidence; alerting accomplices or hindering the recovery of property obtained as result of an offence.
Questioning cannot take place unless the detainee has had legal advice either in person or over the phone (maximum three hours) unless they have waived the right to a solicitor or gardaí believe there is a risk of the above incidents.
The Bill would also give gardaí powers to apply to a district court for an order, calling for a person to provide information, documentation or computer files. In addition, a judge may order that gardaí be allowed to enter a premises to obtain documents and be allowed access to passwords which are non-legible, for example, are contained in a computer. The gardaí could also make copies and take them away from the premises.
Dublin North East Labour TD Sean Kenny told the Minister to consider more staff for the Office of Director of Corporate Enforcement, adding that "the electorate expects this and rightfully so."
Tipperary South independent Séamus Healy welcomed the bill hoping it would change the situation whereby "a poor person will be put behind bars for shoplifting to feed his or her family, whereas someone who does away with €1 million or €1 billion can look forward to escaping justice and enjoying a comfortable lifestyle either in Ireland or abroad in the UK, Europe or America."
First stage 11 May 2011
Second stage 31 May 2011
Tags: Statute summary