Stephen Dineen discovers the array of commemorative events planned in Cobh this year to mark the centenary of the Titanic's fateful maiden voyage.
On 11 April 1912 the Titanic anchored off Cobh to collect mail, food and 123 passengers. It was the last stop it made.
Four themes were chosen for the 'Titanic 100 Cobh 2012' project: remembering, connecting, imagining and believing. Project director Marc Anderson tells eolas: "We chose those themes because we thought that they related as much today as they would have, in our opinion, 100 years ago."
Remembrance is about the Titanic, people, and "days gone by in general". Connecting means linking Cobh with people from all over Ireland, and the fact that ships were built 100 years ago "specifically to connect people from the old world to the new world." Imagination was required to build a ship as large as the White Star ocean liner, as was belief.
"I think it's important that people use their creativity to get out of possible situations that we find ourselves in these days," says the New Zealander, who has been living in Cobh for three years.
The year-long programme of events culminates with the centenary week from 9-15 April. This will include a national tribute, comprising a commemoration ceremony and a Navy fleet review to be performed by the President.
The week will also include a concert called 'An Irish connection', with professional musicians and performers telling "the story of Ireland and emigration focusing on 1912," says Anderson. On 14 April, the anniversary of the liner hitting the iceberg, the Irish Coast Guard will perform a two-hour display in the harbour during which "everybody will actually hear what happens in a disaster or in a rescue." He remarks: "The tragedy of the Titanic changed the whole maritime safety, so it's an important day for search and rescue as well because that basically changed the way everybody thought about maritime rescue."
A maritime fair, workshop and an emigration exhibition are among the other events taking place that week (see text box). Anderson expects 20-30,000 people to visit Cobh during the seven days.
June will see a showcase of short films from a competition currently open to anyone interested in making a Titanic-related film, and a three-day music festival on Spike Island (22-24 June). August will witness the 'Cobh people's regatta'.
Some criticise the level of commercial activity associated with a tragedy in which 1,513 were killed, and view commemorations as more akin to celebrations. For Cobh's Mayor Jim Quinlan, a secondary school history teacher with a strong interest in local history, "there is a fine line there between kind of celebrating something like this and commemorating an historic event." He believes Cobh is "very conscious though, as a heritage town, that the commemorations are done in an appropriate fashion." However, the anniversary is also "a once in a lifetime opportunity to raise awareness about what Cobh is and what Cobh has to offer."
Anderson agrees that the commemorations must be respectful, but believes "it's not only just the commemoration of a tragedy, it's 100 years since the biggest ship in the world in its time was sent on its maiden voyage." It is a commemoration of "the engineering and the imagination of the boat itself."
While 2012 is a big year for the town, the Titanic is central to Cobh's heritage, identity and tourism. A daily one-hour walking tour takes place all year focusing on the Titanic and Cobh's links to the liner, encompassing the old buildings of the time. It also has a heritage centre, museum and the 'Titanic experience', an interactive museum that opened this year and is situated in original offices of the Titanic's owner, the White Star Line.
Cobh, then Queenstown, "would have been a very important terminal for the liner industry" at the time, according to Quinlan. For a number of centuries it was "part of the whole Irish emigrant story." Many convicts sent to Tasmania (Van Diemen's Land) travelled from Cork Harbour, with Spike Island "the last port of call, if you like, for all these convicts as well."
Poignant
As well as the commemorations, Quinlan is working to restore the historic Cobh pier, the same wooden pier on which the 123 passengers walked to board the two tenders that brought them to the Titanic. Uncertainty about ownership of the pier, now badly decayed, played a role in neglect of it over the years.
"I suppose like anything really it takes maybe an event or it takes maybe something to focus the mind on these things, and to make people think about it a little bit harder," says Quinlan. Much work has now been done on examining what kind of restoration work to do on it. He is hopeful the €300-350,000 project will commence in the next few months.
"Even though it's falling apart in a sense," he remarks, "it has a real sense of poignancy about it." Quinlan personally wants to see the vast majority of the current wood maintained so as to preserve "the actual boards across which people walked" to board the Titanic and many others ships.
In the next two months Quinlan also hopes to see a community garden open in the east of the town. It will include several commemorative plaques and a glass wall monument with an etching of the Titanic, where "if you're standing behind it you're looking at Titanic located in its original anchorage," says Quinlan.
Though the commemorations will revive memories of tragedy, emigration and loss, both men strike a note of hope. "When people were in Cobh 100 years ago leaving for the Titanic they were full of joy, hope, inspiration so we're commemorating that as well," says Anderson. "There were 44 Irish people who managed to get to America and to find the new life that they were looking for at the time," Quinlan remembers.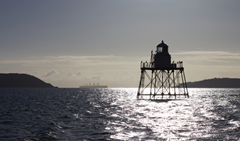 Highlights
11 April
National tribute: a commemoration ceremony and a Navy fleet review will mark exactly 100 years to the day the Titanic arrived in Cobh.
Four commemorative An Post stamps will be unveiled.
11-14 April
'An Irish connection': a series of outdoor concerts will tell the story of the Titanic's connection with the island of Ireland. Line-up includes Cara O'Sullivan, Eddi Reader and Paul Byrom.
14 April
National search and rescue display: performed by the Irish Coast Guard.
20-21 April
Two-day Titanic lecture series.
21 April
Commemoration of the Titanic voyage in poetry and music: with performances from poet and author Theo Dorgan, sean-nós singer Róisín Elsafty, concertina player Claire Keville and accordionist Charlie Piggott.
www.titanic100.ie
Tags: A Titanic legacy