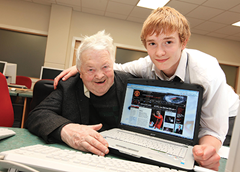 An Post outlines how the company's CSR programme benefits local communities and encourages energy sustainability.
An Post is one of Ireland's most trusted companies, at the very centre of Irish business and community life. The company delivers mail to more than two million addresses every working day and has an unrivalled retail network comprising post offices, postal and PostPoint agents. With more than 10,000 employees, An Post is connected into every town and village in the country.
In An Post, corporate social responsibility takes the form of a far-reaching company-wide sustainability programme, which connects with a number of international postal industry initiatives, together with deep-rooted community programmes in the areas of cycling and adult literacy, including computer literacy.
Working in tandem with the National Adult Literacy Agency (NALA) since 2007, An Post has developed and sponsored a suite of annual communications campaigns to encourage those with literacy and numeracy difficulties to participate in the many and varied support programmes available through NALA and other agencies around the country.
The impact of this activity has been measured each year since 2008 with over 15,000 people benefiting directly from our literacy awareness campaign. This programme has literally changed people's lives.
An Post also pioneered and continues to support the hugely successful Log on, Learn initiative, in conjunction with Intel Ireland and Microsoft, which involves secondary school Transition Year (TY) students teaching basic computer skills to older people in their local community.
It is one of the most widely adopted TY programmes and already over 35,000 older people and students have benefitted directly from the experience of receiving or giving the one-to-one tuition. The wider societal benefits of preventing social exclusion and isolation, particularly for older people living alone, are a key driver of An Post's involvement in this initiative, and the need for 'technical literacy' across all age groups has never been greater in our society.
An Post is the leading sponsor of Irish cycling. This includes young Irish riders racing internationally (mainly on the UCI Europe Tour) with the An Post Sean Kelly Team, the An Post Rás, Ireland's premiere UCI cycle race, and the An Post Cycle Series, with over 14,000 leisure cyclists participating this year. We are also supporting the Irish paracycling team in their preparation for the 2012 London Paralympic Games and An Post Rás na mBan, Ireland's premiere women's stage cycling race.
As well as being in line with An Post's clean, green, community-centred, accessible-to-all, business philosophy, cycling events such as the An Post Rás and the An Post Cycle Series bring a very significant economic boost into the cities, towns and villages within their vicinity. As a company whose products and services are at the very centre of Irish business and community life, having our community activities work as a tangible commercial catalyst is key attribute.
Sustainability at An Post
We continue to focus on making sustainability a reality within our business strategy. During 2011 we worked with the International Postal Corporation (IPC) to benchmark An Post's operations with other postal services across the world. This process guides the improvements we are making in the workplace and the marketplace. In 2011, An Post made significant progress in the areas of energy, transport and waste management. The company has committed to reducing its carbon emissions by 20 per cent by 2020.
Environmental data is collected, collated and managed centrally in respect of the company's carbon performance. This data is also inputted to the IPC Environmental Management and Monitoring System (EMMS).
Since 2008, the Company has assessed the carbon impact of its operations on an annual basis. We benchmark our performance each year with the IPC and implement an annual action plan for continuous improvement.

Tags: An Post
Date posted: Monday, May 28th, 2012 at 6:42 pm