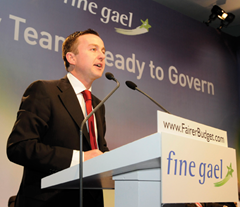 Brian Hayes represents Dublin South West and is Fine Gael spokesperson on education and science. The former secondary school teacher was first elected to the Dáil in the 1997 general election. From 1995 to 1997 he was a member of Seanad Éireann and was again elected to the Seanad in July 2002 where he was front bench spokesperson on Dublin and party leader in the upper house, where he was also spokesperson on defence and Northern Ireland.
How did you get involved in politics?
I joined Fine Gael when I was in college and I became quite active in the party at both a constituency and national level. After leaving college, I went to work for Fine Gael as the party's National Youth and Education Officer. That was a terrific experience in working behind the scenes, at a policy level but also in terms of running campaigns. I didn't set out to be a front line politician; I was more of a back room person, but as they say, events took a different course.
What attracted you to joining Fine Gael?
Largely the party's position on Northern Ireland. I was very much opposed to the physical force tradition in Ireland, and I felt that Fine Gael had the clearest
position on Northern Ireland of any of the parties here in the Republic. I was greatly impressed by the leadership of Garret FitzGerald, and his ability to remodel Irish nationalism into a much more inclusive and modern tradition. Fine Gael was also the most pro-European party and I remain passionately in favour of the European project and its benefits to Ireland. I was also attracted to Fine Gael because as a political party it is prepared to say difficult things to the Irish people at key moments in our history.
Did you have any mentors in the early part of your political career?
Richard Bruton TD was someone who I would have worked very closely with as he was my local TD. I also greatly admired his work rate, both as a front bench
spokesperson and as constituency TD. Jim Mitchell TD was also a person who was very influential in the early part of my career. He was an amazing campaigner and had a great ability to represent voters.
What is your main priority in representing Dublin South West?
The key challenge that we face in Dublin South West right now is the crisis of unemployment. Unemployment in the constituency has effectively doubled over the past 12 months. There is a particular problem of young males losing their jobs, often with very poor education and training opportunities. Making sure that where people become unemployed, proper training be provided; that is really the key priority in our area.
What is the most challenging and rewarding aspect of your job?
At a time when the economy is contracting by about 9 per cent this year, the most challenging task I face, as Opposition Spokesperson on Education, is to argue for fundamental reform within the education sector as funds become less available.
Education cutbacks will affect all of our primary and post primary schools from this September, and trying to safeguard frontline staff in this particular context is difficult. While I must scrutinise government policy in this area, one of the most challenging things is to be a champion of reform and be prepared to challenge all of the education partners to get more from less.
One of the most rewarding aspects of my job is to break through the bureaucratic system that often is in place in public administration to deliver a result for a constituent. Too often the system works against people and that system frustrates the concerns of ordinary voters. Sometimes it can be really rewarding to deliver for a constituent something that they are entitled to. Public sector reform and improving the relationship between the citizen and the State is something that I'm very interested in.
Has being a teacher helped in being Party Spokesperson on Education and Science?
I think that there are benefits in having a teacher, or at least someone from the education sector, as the Party Spokesperson on Education and Science. You certainly have a sympathy and understanding of the difficult tasks that teachers perform. Having taught myself, albeit for a very short period of time, you do at least appreciate the range of problems that teachers have to face on a daily basis in their work. Really successful economies value teaching. The key difference you can make in education policy is through improving teacher quality and improving accountability for the investment that goes into our schools.
What would you like to be recognised for?
I would hope to be recognised as a politician who in the first instance could be straight up and honest about the problems that we confront here in Ireland. Whether you are in government or in opposition, you have a fundamental responsibility to lead people by telling them the truth. Too often, politicians treat politics as a continuous game. I really believe that your mark as a politician can only be determined on the basis of solving problems and being upfront about the nature of those problems with
the wider electorate. Saying the difficult thing, rather than saying the popular thing, is crucial in making the political system work.
Name three people who you would like to have lunch with.
I would like to have lunch with Tom Watson, the great American golfer, who might be able to give me a few lessons about being competitive at 59 years of age. Declan Ganley, the prominent 'no'campaigner for the Lisbon Treaty, interests me greatly. I really would be interested in finding out exactly why he is so opposed to the European project. Finally I think I would like to have lunch with David Milliband, who invariably will become the next leader of the British Labour Party when Gordon Brown loses the general election in Britain next year.
How do you relax outside politics?
I enjoy playing the odd game of golf over the summer months. I also enjoy reading, mostly history and biography, and if I get a chance I try and go to the cinema or theatre on a regular enough basis. Probably the only day of the week when a politician can switch off from politics is Sunday. The thing I enjoy doing most during my free time is to cook for the family.
Tags: Political Platform