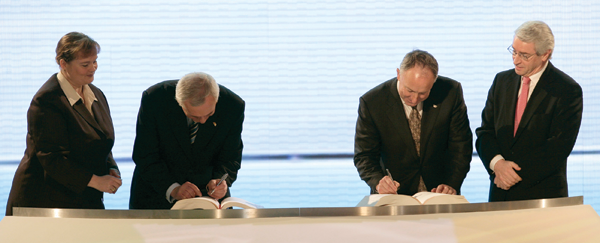 As the decisive day approaches, Peter Cheney reviews Lisbon's current status and weighs up its chances of success or failure this October. While prospects for a 'yes' are better than before, victory for the treaty's supporters is still not yet certain.
Most EU countries will have just one European election this year, with voters attending polling stations with varying levels of enthusiasm. For many of the continent's citizens, especially the apathetic British and eastern Europeans, the June poll will soon be forgotten with even its winners turning anonymous. Slovakia, where 80.36 per cent of voters stayed at home, will hardly be stirred again by such matters until it chooses MEPs again in 2014.
Not so in Ireland. Following up the 5 June poll, decision day for the Lisbon Treaty looms on 2 October. Of course, in proper terms, it is a sequel to last year's 12 June referendum with the hopes of the political mainstream, and European governments generally, pinned on a better result this time round.
In summary, the treaty now returns to the ballot box with one u-turn, three guarantees and a further 'solemn declaration' to explain what it will not do.
An agreement at last December's European Council allows for all 27 member states to continue to nominate a
Commissioner, an especially symbolic move for smaller countries and one which will keep all states on the same level at the top of Europe. Previously, only two- thirds of member states would have had a Commissioner after 2014.
Guarantees
Based on the Government's assessment of why Ireland said 'no', the legal guarantees – approved by heads of state and government in June – cover three areas which it hopes will satisfy voters. Many claims made by treaty opponents were based on fears, several of which were more imagined than real.
Some conservative Catholics had warned that the Charter of Fundamental Rights, which Lisbon incorporates into EU law, could override Irish law and potentially allow a European Court of Justice to rule in favour of same-sex partnerships or abortion. The charter does not specifically protect marriage or the right to life for the unborn. Opposition from this category has been led by the lobby group Coir.
The first guarantee reads that nothing in the treaty "affects in any way the scope and applicability" of the constitutional protection of the right to life, which includes the life of the unborn child, respect for the family unit or the Catholic Church's role in education. Coir contends that these assurances are not legally binding but are "simply political promises".
Libertas, meanwhile, claimed that tax policy would pass from Dublin to Brussels. To counter that claim, the second guarantee concisely says: "Nothing in the Treaty of Lisbon makes any change of any kind, for any Member State, to the extent or operation of the competence of the European Union in relation to taxation."
With this point secured, former Libertas director Naoise Nunn is now prepared to back a 'yes' vote. Declan Ganley's withdrawal from politics leaves no major pro-business voice saying 'no'.
A lengthy third guarantee, on the EU's Common Security and Defence Policy, is designed to reassure critics that neutrality is there to stay. Sinn Féin, the Socialist Party and various pacifist groups claim that the union is becoming 'militarised' and cite the involvement of Irish troops in EU-led military missions overseas as an example.
According to the EU leaders, this policy "does not prejudice the security and defence policy of each Member State, including Ireland". Lisbon does commit a member state to provide help if a terrorist or military attack takes place against another, but each country will decide the nature of aid or assistance that it will offer.
"The Treaty of Lisbon does not provide for the creation of a European army or for conscription to any military formation", it stresses. Member states retain full control over their defence spending, the make-up of their armed forces and whether or not to join a military operation.
Finally, the 'Solemn Declaration on Workers' Rights and Social Policy' states the EU's commitment to public services – and the responsibility of member states to deliver those services – as well as the protection of workers' rights.
Sinn Féin and the Socialists warn that the EU is still moving towards a 'common defence' structure, similar to the NATO alliance. Likewise, they claim that the European political establishment still has a neo-liberal policy agenda, which favours 'big business' over the workers, poor and unemployed.
The Green Party was divided over the treaty but backed it by a two-to-one majority at a special conference in July. John Gormley valued the views of treaty opponents within the party and hoped that Lisbon would strengthen the EU's hand at the Copenhagen climate talks in December.
The numbers game
Numerically, there were 862,415 'no' votes to 752,451 'yes' voters in the June 2008 referendum.
At the European poll, first preferences for the three main pro-Lisbon parties – Fianna Fáil, Fine Gael and Labour – totalled 1,228,120. Support for the three main anti-Lisbon parties – Sinn Féin, Libertas and the Socialists – added up to 355,832 'number one' votes.
These figures naturally include those voters who opted for a candidate out of personal or party loyalty. No serious pundit would assume, for example, that every Fianna Fáil supporter would back Lisbon this time round. However, there was a wide gulf between the two groups of parties and a number of extra factors now appear to tilt the electorate in the treaty's favour.
With the exception of the Socialists, anti- Lisbon European candidates were unsuccessful. Joe Higgins has replaced Mary Lou McDonald as the sole Irish voice against the treaty in the European Parliament. Libertas is winding down and Sinn Féin's single MEP is north of the border. While McDonald is promoted as that party's deputy leader, she now has no seat at any level of government.
That election also took place before the guarantees were offered, which may now sway voters with particular worries. An irreconcilable core of opponents will of course remain, particularly among 'conviction voters' e.g. republicans and devout Catholics.
Economy
With the state deeper in recession than last year, voters may see the treaty as a way to restore the Republic's reputation in Europe and therefore help rebuild the economy. Pro-treaty campaigners have placed an increasing importance on that point and, as jobs and money are the public's major priorities right now, many people may back the treaty if they are convinced that it could help the recovery.
"The EU is a safe harbour in the midst of global economic turmoil," IBEC's European spokesman Brendan Butler explains. "The scale of the global economic crisis has highlighted our vulnerability and the need for a strong Europe so we can together face shared challenges. It is vital we now focus on restoring our reputation abroad and reviving the economy."
The non-party campaign group 'Ireland for Europe' plays to the 'gratitude' argument, which can be paraphrased as "Europe has been good to us so it's time to return the favour." A pertinent question on its website – "What's Europe Ever Done For Us?" – is followed up by 100 examples as answers.
Another highlighted question – "What's It All About?" – assumes that voters do not yet understand the treaty and the group goes on to explain it in plain terms. Voters are encouraged to vote 'yes' to affirm Ireland's position as a "committed and engaged Member State … It is a message to the wider world that we are certain about where we stand."
In contrast, a 'no' vote would add "a new layer of uncertainty at this time of economic crisis" and Ireland, it claims, will not get a better deal. "We think there is good reason to be worried that a second 'no' vote will seriously undermine Ireland's
place in the EU. It will also add to the international uncertainty about Ireland's stability as a country," the campaign cautions.
Together for the treaty
Unity between the three main parties – together representing two-thirds of European election voters – does make Lisbon more likely to succeed in Ireland compared to, for example, Britain. While the Labour Government and the pro- European Liberal Democrats back the treaty, the Conservatives and the North's unionists are opposed.
There is no Irish equivalent of the UK Independence Party, which wants Britain out of Europe and tends to oppose all things emanating from Brussels. Euro- scepticism in Ireland is left-wing and limited; the British version is right-wing and widespread.
Tags: Lisbon Treaty