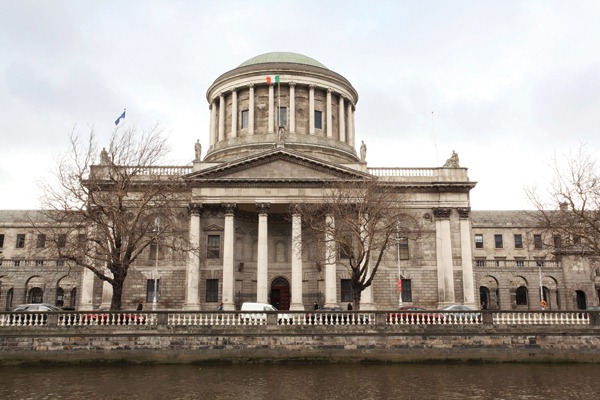 eolas outlines the main tenets of the criminal justice system.
The criminal justice system and its main components of law enforcement, trial, correction and victim protection are checked by constitutional rights such as the rights to trial by jury, liberty, fair procedures and privacy.
Policing
An Garda Síochána is headed by Commissioner Martin Callinan. On 11 October 2011 the force had 14,113 Gardaí and 1,002 Garda Reserve members. There were 2,098 civilian staff on 1 March 2011. In its 2010 annual report the force identified key actions for confronting crime such as better management of the risks associated with sex offenders and working with the Forensic Science Laboratory to develop a DNA database.
It also identified seven actions to reduce public disorder and improve responsiveness to community needs: identifying and targeting local 'hot spots; a faster approach to reports of public disorder; a low-tolerance stance to alcohol and drug-related anti-social behaviour; a youth crime case management system; increased use of behaviour warnings and civil orders (ASBOs); consultation with relevant stakeholders and a community policing approach in partnership with external stakeholders.
Gardaí also work on crime prevention initiatives such as the urban-based Neighbourhood Watch Scheme.
An Garda Síochána's 2011 priorities, determined by the Minister for Justice, are:
• protect the state against terrorism;
• combat serious crime, particularly organised crime;
• achieve safety for local communities;
• police the roads, to reduce the number of deaths and serious injuries;
• use resources efficiently;
• support and protect victims of crime; and
• prevent and detect human trafficking.
The Garda Síochána Inspectorate monitors levels of efficiency and effectiveness in the Garda's operations and administration. Its chief inspector is Kathleen O'Toole.
The Garda Síochána Ombudsman Commission investigates complaints against members of An Garda Siochána, or (in cases where no complaint is made) matters where it appears a garda has committed an offence or has behaved in a way that would justify disciplinary proceedings. It also investigates practices, policies or procedures with a view to reducing the incidence of related complaints.
The three Ombudman Commissioners are Dermot Gallagher, Carmel Foley and Conor Brady.
Criminal offences
The main categories of criminal offences are public order, sexual, drug and those concerning alcohol and road safety.
The main distinctions concerning criminal offences are:
• summary (offences tried without a jury) and indictable;
• minor (regarded as offences with a maximum prison sentence of 12 months) and non-minor;
• serious (offence for which a person without previous convictions, if convicted, could be imprisoned for five or more years) and non-serious;
• arrestable (offence for which a person, if convicted, could be imprisoned for five or more years) and non-arrestable.
The serious and non-serious distinction is important regarding the bail laws. Bail can be refused if someone is charged with an arrestable offence and is likely to commit further serious offences if released. A garda can arrest someone without a warrant if they believe someone to be guilty of committing or having committed an arrestable offence.
Bail can be refused where there is a risk of the accused interfering with witnesses, including the victim, or of the accused not turning up for a trial. It can also be refused where the accused is charged with a serious offence and there is a risk that the person will commit another serious offence on bail.
When a crime is committed, a victim normally makes a statement to a garda. The gardaí investigate the matter and for serious crimes send a file to the DPP for decision as to whether to prosecute or not. For less serious crimes the gardaí decide.
An arrest cannot take place for the purpose of gathering evidence, but a person may be arrested without a warrant if a garda suspects they are guilty of an arrestable offence. Force can only be used to make an arrest if absolutely necessary. After someone is arrested a garda can search them and take items related to the alleged offence, some other offence or items a person might use to injure another person, harm property or to escape.
In deciding if a case goes before a court the DPP will not proceed with prosecution if she does not believe a judge or jury will be convinced beyond reasonable doubt that a person is guilty. Other specific reasons include, for example, an offender being under 18 (where a case could be dealt with by the Juvenile Diversion Programme).
Whilst the DPP can be asked to review a decision, staff in the DPP's office cannot meet crime victims to discuss decisions.
Crime figures are measured by Garda recorded-crime and the CSO's Quarterly National Household Survey.
Courts
The courts system in criminal cases consists of:
• District Court: (no jury) deals with summary offences and certain indictable offences;
• Circuit Criminal Court: deals with all indictable offences except murder, rape, aggravated sexual assault, treason, piracy and related offences, and appeals from the District Court;
• High Court (Central Criminal Court): deals with murder, rape, aggravated sexual assault, treason, piracy and related offences;
• Special Criminal Court: (with three judges and no jury) deals with "scheduled offences" generally involving "subversive crimes" such as offences under the Explosive Substances Act 1983.
• Court of Criminal Appeal: deals with appeals against convictions, and appeals against the leniency of a sentence, which can only be taken by the DPP; and
• Supreme Court: can hear an appeal from the Court of Criminal Appeal if the later (or the Attorney General) certifies that a point of law is at stake or if it is desirable in the public interest that an appeal should be taken to the Supreme Court.
In a criminal trial anyone who has information about a crime can be called to be a witness. In the case of summary offences gardaí must lodge a complaint with the District Court within six months of an offence being committed. Whilst there are no time limits to prosecuting indictable offences the judge may not decide to hear a case if there is an excessively long delay in prosecuting an offence.
Anonymous evidence in criminal cases is not allowed because the Constitution says that all cases should take place in public. Cases concerning rape and some sexual offences and cases where the accused is under the age of 18 can take place without the public present (the in camera rule). The accused have rights in certain cases, such as rape cases, to have their names not made public unless convicted.
Criminal legal aid is available in certain circumstances for the defence of people who can't afford criminal proceedings.
Victims
A court must take into account the impact of a crime on a victim when deciding sentences for those convicted of violent or sexual offences. The court can receive this evidence through a victim impact report, which deals with the physical, emotional, mental, economic or sexual harm to a victim.
A victim impact statement can also be made. A court must hear the evidence of a victim if they apply to tell the court about the effects of a sexual or violent crime. Where a victim has died, is incapacitated or ill the court may hear a victim impact statement from the family of the victim.
In cases of rape or sexual assault the victim's name is not made public, and only those with a direct interest in the case can be present in court. Cases where a court order is being sought arising from domestic violent acts are the same, though court orders to protect victims are given in civil courts.
Prison and alternatives
There are 11 closed institutions, one "semi-open" place of detention and two open centres in Ireland.
On 10 October 2011, the prison population was 4,229, with a further 765 on temporary release, according to the prison service. On 1 March, with a population of 4,591 the service was operating at 104 per cent of bed capacity. The average daily number of people on temporary release in 2010 was 732, up 37 per cent on 2009.
The average prison population on any given day in 2010 was 4,290. Ten years earlier it was 2,919. This represents a 47 per cent increase.
In 2010 there were 17,179 committals to prison. However, 12,487 committals were under sentence (an increase of 14.9 per cent on 2009) as people sentenced for non-payment of fines are often released before incarceration begins. In 2010 there was a 28 per cent increase in committals to sentences of less than three months, which the Minister for Justice has attributed to the number of court-imposed fines.
Irish prisoners have a right to remission of one quarter of their prison sentence. It can be cancelled, however, because of behaviour in prison. An electronic tagging pilot scheme was introduced last year for 31 prisoners and is currently undergoing a cost-benefit analysis. The Minister for Justice has outlined his plan to commence a pilot scheme for the temporary release, with the requirement to do community service under supervision, of prisoners who are considered no threat to the community.
The most common alternatives to prison are probation orders and community service orders. In 2010 there were 8,934 referrals by the courts to the Probation Service (a decrease of 741 on 2009).
In a move designed to increase the use of alternatives to prison, the Criminal Justice (Community Service) Act 2011 requires judges to consider imposing a community service order if considering a jail term of 12 months of less.
The 2010 Fines Act is also expected to result in a decrease in the number going to prison because of the non-payment of fines.
Children
Children are dealt with differently by the criminal justice system. For example, children under 12 cannot be arrested and detained in a garda station except in cases of rape, murder, manslaughter or aggravated sexual assault. A Garda Juvenile Diversion Programme is aimed at preventing young offenders under 17 (but can be extended to 18) from entering the full criminal justice system by offering them a second chance.
The Children's Court deals with the trials of children under 18. Most minor and indictable offences committed by children are dealt with in this court. Certain cases may not be heard by the Children's Court, and a child also has the right to trial by judge and jury for non-minor offences, if they wish. Children's Court cases typically take place in District Court buildings and restrictions apply to which people are entitled to attend a sitting of the Children's Court.
The system of detention for young offenders is also different. Boys under 16 and girls under 18 can be remanded or committed by the courts can be remanded in child detention schools. Offenders between 16-21 are sent to a place of detention instead of prison.
Further reforms of the criminal justice system are planned through legislation currently on the order paper of the Dáil and Seanad: the European Arrest Warrant and Extradition (Amendment) Bill, the Criminal Justice (Female Genital Mutilation) Bill, and the Criminal Law (Defence and Dwelling) Bill.
| Crime | 2009 | 2010 | % Difference |
| --- | --- | --- | --- |
| Homicide | 88 | 79 | -10.2 |
| Attempted murder, assaults & harassments | 18,353 | 17,208 | -6.2 |
| Sexual offences | 1,482 | 2,376 | 60.3 |
| Burglary and related offences | 26,911 | 25,340 | -5.8 |
| Theft and related offences | 77,032 | 76,755 | 0.4 |
| Controlled drug offences | 21,983 | 20,002 | -9.0 |
| Public order and other social code offences | 57,351 | 54,687 | -4.6 |
Tags: Justice