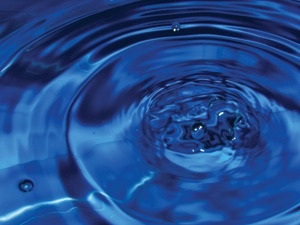 Water reform will help Ireland meet its EU targets and address the dispersed nature of services, Ivan Grimes told delegates at the Environment Ireland conference. Meadhbh Monahan reports.
Water services and water quality need a "joined up approach" because the Department of the Environment has traditionally viewed them as separate. It must be remembered that water service delivery is about regulating "the quantity of water taken from the environment and the quality of the water returned to the environment," said Ivan Grimes, Principal Officer in water services policy.
Addressing a workshop on 'a new direction in water service delivery', Grimes outlined the context for the reform currently underway.
The Water Framework Directive "introduced a holistic approach to water management," he pointed out. It was transposed into Irish law in 2003 under the European Communities (Water Policy) Regulations, which required the establishment of seven river basin districts with corresponding river basin management plans and district advisory councils.
Their objectives are, by 2015, to increase the proportion of rivers and canals at good or high status from 54 per cent to 68 per cent and the proportion of lakes at good or high status from 65 per cent to 84 per cent.
Before 2020, the European Commission will inspect member states' strategies for water scarcity and water vulnerability due to climate change and the results will feed into the 'Blueprint to Safeguard Europe's Water'; due to be published in 2020.
He referred to the 2010 OECD Environmental Performance Review of Ireland which highlighted the dispersed nature of Ireland's water service provision. It also warned that Ireland is "unlikely" to meet the directive's 2015 goals and was critical of the fact that nitrogen levels in rivers and groundwater are still rising. It said that the clean-up of nutrients at the point source has been compromised by late implementation of the Nitrates Directive, which only improved when the European Court of Justice (ECJ) ruled (in 2004) that Ireland had failed to fulfill its obligations to establish a pollution reduction programme. The outbreaks of cryptosporidium in Galway in 2002 and 2007 are examples of how problems persist with bacterial contamination in many group water schemes serving small settlements, the report added.
Ireland still has an uncommonly high leakage rate from its urban supply systems and old lead pipes cause unacceptably high lead levels in some towns, it continued. Many sewage treatment stations have a poor record regarding statutory effluent limits and there is no inspection regime for septic tanks.
The absence of household water charges, according to the report, "impedes the development of an economically, environmentally and socially efficient water services sector."
Water reform
The Programme for Government pledged to create a new water network, including a new state water company, Irish Water. It will take over the water investment maintenance programmes of the 34 existing local authorities and will also supervise the planned investments needed to upgrade the leaking water network.
Ireland faces a fine of €2.7 million and daily penalties of more than €26,000 until it legislates for the monitoring, inspection and maintenance of septic tanks, therefore Environment Minister Phil Hogan announced a septic tank inspection system, on 14 September, whereby households will be required to pay a €50 registration fee. This would pay for inspections by the EPA, which are likely to commence in 2013. If risks to the environment or public health are identified, householders will have to improve the maintenance of their systems or, in more serious situations, upgrade or replace the treatment system.
Domestic water charges are also set to make householders more accountable for their water use. They will not be introduced until after meter installation, by 2014.
Plans to appoint an economic regulator for water service delivery were welcomed by Grimes.
Tags: Environment