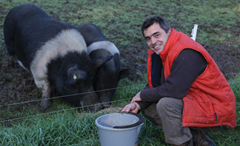 Former actor and film director Kevin Allen tells Meadhbh Monahan how he is finding life in rural Ireland and outlines his preparations for this year's Flatlake Festival.
The sleepy village of Scotshouse in County Monaghan, where the Hilton estate has stood since the 17th century, is a far cry from Hollywood, where Allen made a name for himself as a film director and producer.
After the Welsh-born film executive pulls up in a tractor (returning from feeding his herd of organic pigs), he tells eolas about his transition from life in Los Angeles to being a full-time farmer and producer of an eccentric but popular literary and arts festival on the estate.
He hasn't yet acclimatised to life on the border, describing it as "a case of balancing [the film executive] life with a bit of farming, pig breeding and the festival."
At times "it's deeply frustrating," Allen admits. He had thought that "given the Celtic connection" between Ireland and Wales, he would have found it easy to identify with the Irish way of life, "but it's not."
Allen says: "It's a culture that I struggle with at times and at other times it's great. It's a balance."
He notices that "border edginess is very real."
Borders are "world-wide odd places [because] there's always an identity struggle at play with people who've been here all their lives," Allen adds. However, he concedes that "there is a magic here."
First recognised in the UK for his series of video diaries depicting an England fan's view of the 1990 FIFA World Cup, Allen went on to appear in 'The Thin Blue line' with Rowan Atkinson. Despite being involved in drama since his youth, Allen didn't take acting seriously, seeing it as a means of paying his bills. Directing was his passion and he began working on BBC documentaries in the 1990s.
In 1997 he got his big break, directing and writing the cult Welsh black comedy 'Twin Town' with Danny Boyle. An invitation to Hollywood in 1999 to make a movie for Warner Brothers called 'The Big Tease' was another "good experience."
While in America, Allen met his future wife Laura Madden, a production executive for Miramix, who grew up on Hilton estate. The couple got married in Death Valley and had two children in America.
"I never really meant to stay in Hollywood. I was only there to make a movie and then I would have went straight back to London. I was so desperate to get out of Hollywood, I cashed in my chips to make a big kids action adventure film for money," Allen recalls.
That film was 'Agent Cody Banks 2: Destination London', which Allen "loathed". But at a time when he increasingly wanted to "entirely" change his lifestyle, the film was his "ticket out of Hollywood". It paid for his cosy timber home which he built himself on a four- acre apple orchard, and where he now lives with Laura and their four young children: Gracie, Nell, Hywel and Iris.
The Flatlake Festival
Despite the conflict he often finds with border life, Allen – who is brother of musician and actor Keith Allen and uncle of pop-star Lily Allen – has made many acquaintances in his locality, especially since he, and Clones author Pat McCabe, established the Flatlake Literary and Arts Festival in 2007.
Run by the pair and a team of volunteers, the festival has become a staple event on calendars across Ireland and the UK.
"People who go to Listowel Writers' Week will want to come here," Allen contends. The Butty Barn (a barn filled with bales of hay which are used as seats, and a stage where the likes of Seamus Heaney, Stephen Rea, Colin Tobin, Medbh McGuckian and John Maher have given readings over the intervening years) is "becoming known as a lovely place to read."
McCabe became Allen's ally in the venture after the two decided to put on an event that was a cross between a 1960s Irish agricultural show and the Fleadh Cheoil, where all types of art and creativity are encouraged.
The festival "has a strange life of its own," Allen reflects. "There's an alchemy at work, which Pat and I manipulate. What the festival brings is something that only Pat and I as artists can create as opposed to professional event organisers."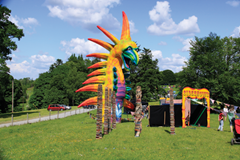 News of the festival has reached far and wide, with the latest edition of The Lonely Planet describing it as: "A 'no-brow' event [aiming] to mix high art and popular culture. Expect heavyweight poets and authors discussing or reading their work along with top notch comedy, film and theatre. Go now before it's discovered."
They wanted literature to feature heavily because "it would give it a bit more gravitas and stop it just becoming like a rock festival."
In fact, Allen readily admits that having Lily Allen perform at last year's festival, while a good publicity stunt, brought in a 'rock and roll' element that he and McCabe did not want.
"It ran the risk of eclipsing the overall uniqueness that the Flatlake Festival has always strived to maintain."
This year Allen will "try and bump up the writing and visual art side of things" and promises "a nice diverse mix of musical offerings" as well as "a few big literary names from the US and beyond."
Originally "a labour of love" for Allen, there was a €10,000 deficit last year and despite the fact that €20,000 worth of tickets have already been bought online for this year's event – before the programme being finalised – Allen contends that "surviving without major sponsorship is very tough".
He explains: "We're still going strong by virtue of taking a calculated risk in terms of making the figures add up each year. But none of this would be possible without the huge volunteer help that contributes to the success of this little treasure of a festival."
He is grateful for "the commitment of so many that has secured a growing loyal following of guests who simply want something different to anything out there on the ubiquitous summer festival scene."
Pointing to the rolling hills and the glimmering lake, from which the festival gets its name, Allen concludes: "I would challenge anyone to show me a better place where you could pitch your tent and get up in the morning, even if there was no festival."
Tags: People